Last week I posted my  Roasted potatoes with onions and bacon and mentioned that growing up, almost every Sunday we had a "Sunday Roast". It's a tradition that I think needs reviving – it's easy, delicious AND it provides leftovers for meals during the week – which makes up for the humble star of the show – an eye of round roast.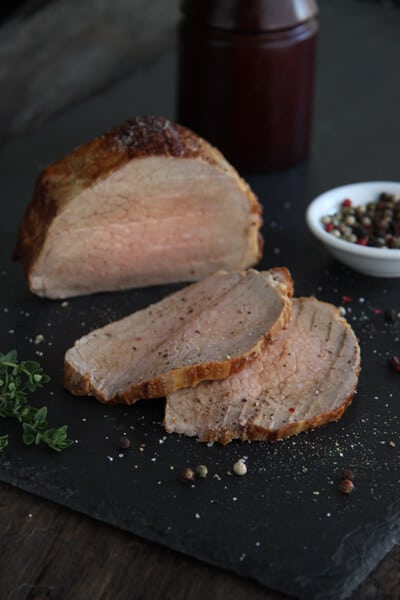 Eye of Round roast isn't a popular cut (do a search of recipe databases and you'll see what I mean). It's a shame really, because if it's prepared well, its very good. Not only that, it is extremely lean, making it a great choice for those who are watching their saturated fat intake.  It's also inexpensive, which makes it a great choice for those watching their food budgets too! Last, but certainly not least, is it's a meal that doesn't require a lot of tending or last minute work – which is perfect any time but for me, especially on Sundays when I really want to spend time catching up with my family.
This was my grandmother's roast of choice for Sunday Roast – back then she didn't "gussy it up" with onions and bacon – she just roasted it with potatoes and made a simple gravy –  a true testament to the fact that good cooking technique can turn even the simplest of ingredients into a delicious meal.
So, lets bring back the Sunday Roast!!!
Now that I have convinced you to make a Sunday Roast (with my potatoes of course!) what are you going to do with the leftovers?? Well, you could make roast beef sandwiches, use the meat in stroganoff or (my personal favorite), make a cottage pie!!!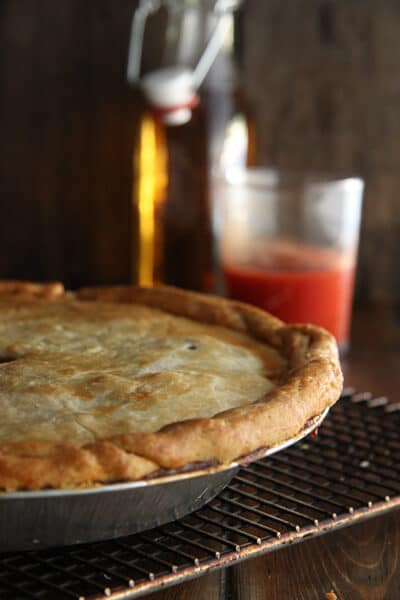 This pie uses what my grandmother called a "hot water crust" – which amounts to melting butter with water in a saucepan and dumping in flour and salt. Stir it up and then roll it out – that's all there is to it. Easy.
Ladies and Gentlemen… I give you Sunday Roast and Cottage Pie!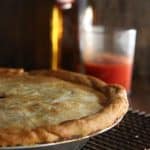 My Grandmother's Cottage Pie
I made this with only a top pie crust but the recipe makes enough dough to make a double crust pie if you wish! To make a double crust pie, simply roll out the dough, line the bottom of the pie dish and then continue on with the recipe! The yield on this depends upon how "hearty" your appetite is regarding the roast! If your family are big eaters, I'd recommend cooking two roasts - one for dinner and one for the pie! When thickening the sauce, start with two Tbsp.flour. If sauce is still too thin (doesn't coat back of spoon) add the additional Tbsp. of flour
Ingredients
One 3 - 4 lb. Eye of Round roast

7

Tbsp.

canola oil

for both roast and cottage pie

1

onion

chopped

4

carrots

peeled and sliced into 1/4 inch slices

2

stalks of celery

cut into 1/2 inch dice

1

cup

sliced cremini mushrooms

3

cups

beef stock

1

cup

red wine OR additional cup beef stock

1

tbsp.

tomato paste

3

tsp.

worcestershire sauce

2 21/2

cups

Eye of Round

cut into 1/2 inch pieces

2

tsp.

dried thyme

2 - 3

Tbsp.

flour

Hot Water Pastry

10

Tbsp.

unsalted butter

2/3

cup

water

2 1/2

cups

flour

1

tsp.

salt

1

egg mixed with 1 Tbsp. milk
Instructions
For the Eye of Round Roast:

Pre heat oven to 400 degrees. Heat 4 Tbsp. canola oil over medium high heat in a small roasting pan Pat roast dry with paper towels (in order to get a good sear, the meat must be dry!). When the oil is shimmering (not smoking!) Add the roast. Let cook until roast easily pulls away from the pan and bottom is browned - about 3 - 4 minutes. Flip roast and sear the other side. Remove roast from the pan. Pour off all but 2 Tbsp. of oil. Return roast to pan and place, uncovered in the oven. Roast for 45 minutes until 1 hour until roast reaches 125 degrees - do not cook past this point otherwise roast will be tough.

Remove roast from oven and let rest about 15 minutes. Slice thinly (1/4 inch thick) and serve with Roasted Potatoes, Onions and Bacon!

For Cottage Pie:

Pre heat oven to 400 degrees. In a large saute pan, heat remaining canola oil (2 Tbsp.) over medium heat and add the onions and carrots. Cook for about 6 minutes and add the celery. Cook vegetables until onion is translucent and vegetables can barely be pierced with a fork. Add tomato paste and cook until paste turns brown - about 2 minutes. Add the wine and then the beef stock, stirring and scraping up bottom. Bring mixture to a boil and reduce to a simmer. Add worcestershire sauce and thyme. Season to taste with salt and pepper. Simmer until liquid is reduced to 1 1/2 cups about 10 -15 minutes. Sprinkle with 2 Tbsp. of flour and cook until mixture thickens.

In a separate saute pan, heat 1 Tbsp. canola oil over medium high heat. Add the mushrooms and saute until browned. Set aside.

While the sauce simmers, make the pastry. In a large sauce pan heat the butter and the water. Bring to a boil. Add the flour and the salt and stir with a large spoon until a dough forms. Dump out onto a cutting board lined with parchment paper. Top with another sheet of parchment and roll out pastry to a 10 inch circle that is 1/4 inch thick - I used a 9 inch pie plate but if yours is larger roll pastry out to give you a 1 inch overhang. This recipe makes enough for either two pies with just a top crust or one pie with a top and bottom crust!

To assemble ( for a one crust pie): Combine the meat, sauce and sauteed mushrooms in the pie plate. Roll pastry up onto rolling pin and gently place over the top of the pie. Trim excess pastry, leaving a 1 inch overhang. Fold up pastry to form edge, pressing lightly to seal pastry to rim of pie plate. Using a small cookie cutter, cut a small whole in the center of the pastry to let steam escape. Brush pastry with the egg/milk mixture and bake pie for 30 - 40 minutes until pastry is nicely browned. Serve warm!