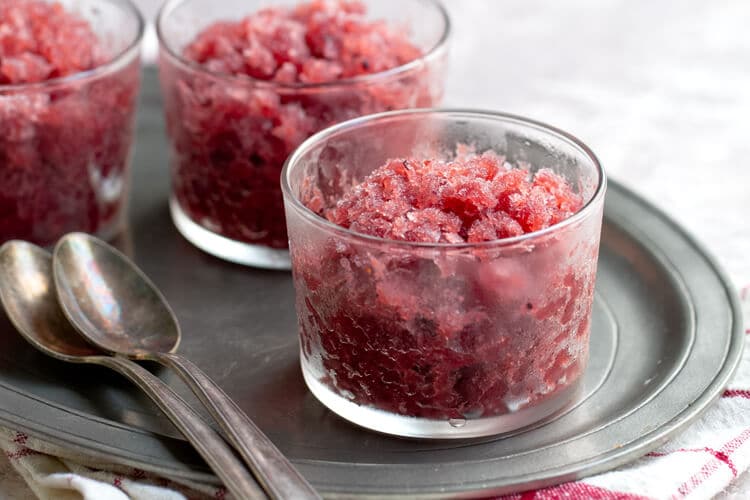 Granitas and sorbets are nothing new...thought to have originated in China, frozen drinks and chilled beverages were popular in both Greek and Roman times. The practice of freezing water and dairy based liquids however was perfected in Italy. While the technology used to produce these treats has changed, our appetite for them hasn't!!
I love ice cream. But honestly, some days it's just too hot for ice cream. Blasphemy, I know. Of course, there's no question we all crave something cold and thirst quenching on those scorching days and nights - and that is where granitas come in. Simply put, a granita is really just a fancier term for a snow cone/slushie - but with better flavors!!!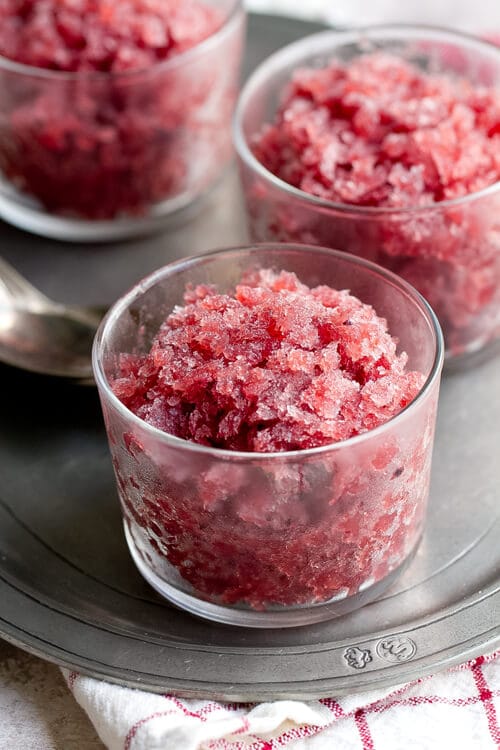 And if you thought last week's Two Ingredient Crustless Cheesecakes were easy - ha! This Moscato Grape Granita is even easier - no cooking is involved!!
So why Moscato Grapes? Well, when Melissa's sent me some of these fabulous black moscato grapes I did what any self respecting blogger would do - I immediately sampled the merchandise! If you've never had a moscato grape - you need to. These grapes (there are red and black varieties) have a deep almost wine like flavor and are absolutely, hands down, the best grapes to pair with a cheese plate. Trust me on this.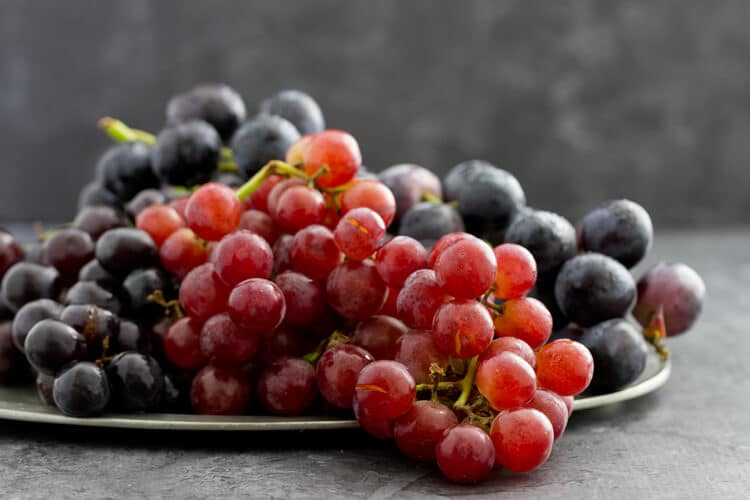 They are also rather addictive to eat all on their own. But I had bigger plans for them.
This Moscato Grape Granita. Because one of the best things about this granita, and what makes it different from my childhood snow cones/slushies is that I "boozed it up" a little.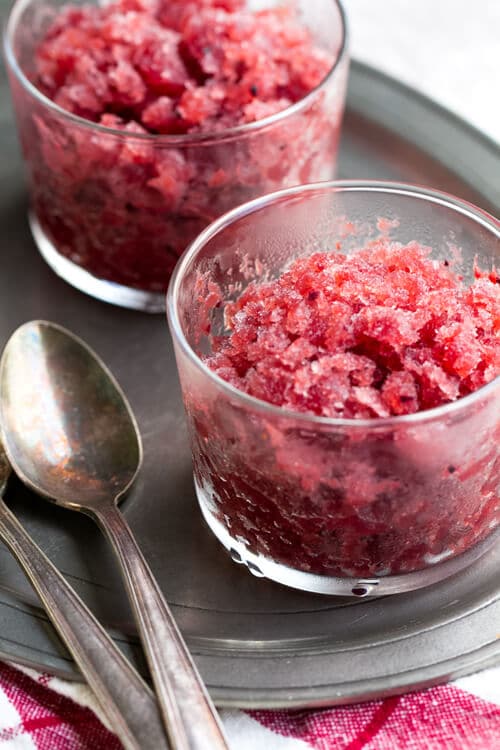 And while I probably don't need to explain why - ummm... booze, dessert is that a question???? There is a method to my madness. At least this time. Freezing tends to dull/dilute flavors a little. Alcohol however, does the opposite - it amplifies them.
My liquor of choice for this? Dubonnet Rouge. One of my favorite apperitif wines, I use it in a number of cocktails like this Queen's Cocktail. The Dubonnet added additional depth and sweetness to the grapes and had the added benefit of keeping the granita a little soft, so scraping it, even after freezing overnight, was easy - a definite plus if you want to make this granita ahead of time.
Which I highly recommend by the way... just make sure to buy enough grapes since you will be tempted to keep sampling "the merchandise".

📖Recipe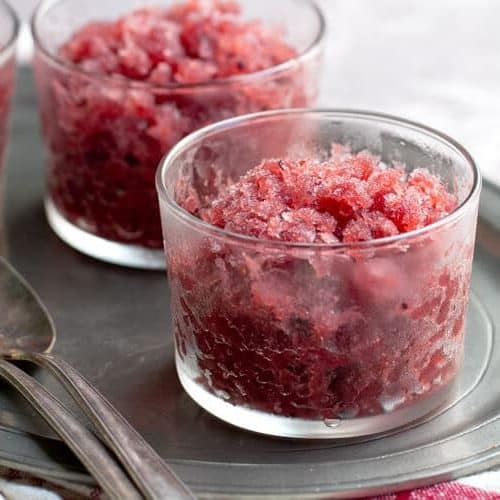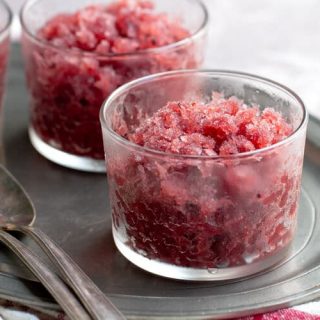 Ingredients
2

lbs.

Melissas Black Moscato Grapes

½

cup

Dubonnet Rouge

¼

cup

simple syrup

Simple Syrup - combine ¼ cup sugar and ¼ cup water in a small saucepan. Bring mixture to a boil and stir until all the sugar is dissolved. Cool. You will have extra simple syrup - place in a container and refrigerate. Use to sweeten ice tea

lemonade or in a cocktail!
Instructions
Stem the grapes and place them in a blender or food processor. Puree grapes. Drain the grape mixture through a mesh strainer, pressing down on the solids to release as much juice as possible. This should yield about 3 cups of juice!

I a bowl or 4 cup measuring cup add the juice, ½ cup Dubonnet Rouge and 2 Tablespoons cooled simple syrup. Stir to combine. Taste and add more simple syrup if needed. The mixture should be sweet, but not overpoweringly so. I used ¼ cup, but remember how much you need will depend upon how sweet your grapes are! Pour mixture into a 8 x 8 metal or glass baking pan. Freeze for 1 hour.

Remove pan and, using a fork, scrape the surface and edges to release and flake the frozen mixture. Return the pan to the freezer and freeze for another hour. Remove and scrape again - your goal is to create shard/chucks about ¼ of an inch. Return the pan to the freezer and freeze for another hour. Remove the pan and scrape again with a fork. By now, the majority of the mixture should be frozen and should have a slushie like texture. If liquid still remains, return the pan to the freezer and scrape again after freezing for another hour.

NOTE: the addition of the alcohol will allow the mixture to remain somewhat soft so it will not achieve a hard freeze - which is a good thing! After all the liquid is frozen, scrape again to "fluff up" the granita. Using a large spoon gently spoon ½ cup of the granita into each serving bowl or glass. Makes 8 ½ cup servings.
Nutrition
Calories:
116
kcal
|
Carbohydrates:
24
g
|
Protein:
0
g
|
Fat:
0
g
|
Saturated Fat:
0
g
|
Cholesterol:
0
mg
|
Sodium:
7
mg
|
Potassium:
236
mg
|
Fiber:
4
g
|
Sugar:
8
g
|
Vitamin A:
75
IU
|
Calcium:
43
mg
|
Iron:
0.7
mg