Creamy, rich and indulgent this Chocolate Dulce de Leche Semifreddo will have you swooning! Lighter than ice cream but just as easy to make!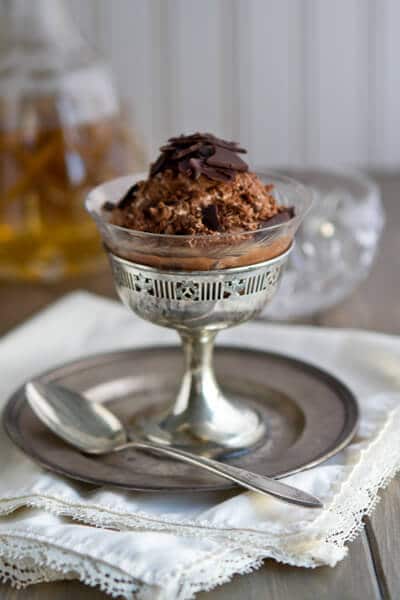 "Life is like a box of chocolates, you never know what you're gonna get" - Forrest Gump
That is sometimes how I feel when I clean out my refrigerator - I just never know exactly what I am going to get. Unfortunately, most of the time it isn't something as nice as a chocolate!! Occasionally though, I come across something that is a pleasant surprise - in this case that would be some leftover dulce de leche and some whipping cream. Being the thrifty soul that I am (yes, dear I can hear you laughing as I type this!) I figured I simply couldn't let it go to waste so the next question of course was "what am I gonna do with that"?
Fortunately finding uses for dulce de leche and whipping cream isn't brain surgery - ice creams, puddings and Chocolate Chili Dulce de Leche cookies all sprang instantly to mind. But I'd been wanting to make a semifreddo and thought this would be the perfect opportunity. For those of you who aren't familiar with it, Semifreddo is a frozen dessert that is (at least to my way of thinking) a cross between a mousse and an ice cream and typically consists of meringue, whipped cream and whatever flavoring combination you fancy. Hence, an internet search will turn up hundreds of recipes.
Yikes. Cleaning out the refrigerator was the easy part.
After reviewing a bunch of recipes it was easy to narrow down what I was going to use as my basic recipe - I passed on those that included gelatin (not that I have anything against gelatin but in this dessert it just seemed wrong) and on those that were heavy on the egg yolks since I really wanted something lighter and airier. I finally settled on one from The Essential New York Times Cookbook to use as my starting point - 1) because I didn't have to convert mL's and grams (tough for me when I am adapting a recipe) and 2) because it included a technique for an italian meringue that I'd never tried.
Suffice it to say that I will be using this technique for italian style meringue from now on...to be blunt, it rocks. No drizzling hot sugar syrup into egg whites and hoping I don't cook them.. those days are now gone!!
Have I lost you or bored you to tears yet? Sorry about that - I tend to "geek out" a little when it comes to technique but in the interests of brevity I think I am gonna just move on to the recipe.
And tell you that this Chocolate Dulce de Leche Semifreddo is ONE of the best desserts I have ever made.
And tell you that you really should try it. Today.
And that it is TOTALLY worth splurging on.
And that it would make a fabulous Valentine's Day dessert...so you can plan ahead.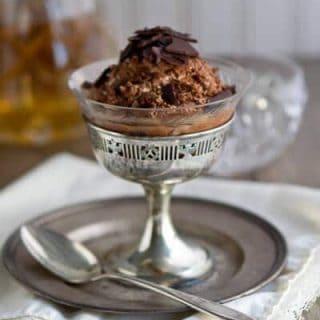 Chocolate and Dulce De Leche Semifreddo
Creamy, rich and indulgent this Chocolate Dulce de Leche Semifreddo will have you swooning! Lighter than ice cream but just as easy to make!
Print
Pin
Rate
Add to Collection
Go to Collections
Ingredients
3

egg whites

¾

cup

sugar

pinch

of salt

5

oz.

chopped bittersweet chocolate

plus 1 - 2 oz. extra for garnish

3

Tbsp.

unsalted butter

¾

cup

plus 2 Tbsp. heavy whipping cream

½

cup

dulce de leche

1 ½

Tbsp.

dark rum
Instructions
Combine the egg whites, sugar and salt in a metal bowl over a pan of water (don't let the water touch the bottom of the bowl) or in the top of a double boiler. Attach a candy thermometer to the side of the pan and cook over medium heat, whisking constantly, until the mixture reaches 140 degrees.

Transfer mixture to the bowl of a mixer and with the whisk attachment, beat on high speed for 20 - 25 minutes until the meringue is cool.

While the meringue is cooling, combine the chocolate and the butter in a metal bowl set over the same pan of water (or in the top of a double boiler) and cook over medium heat until the chocolate and butter are completely melted and smooth. Remove from the heat and stir in the dulce de leche. Set aside.

In another bowl, combine the whipping cream and the rum and whip the cream until soft peaks form. Cover and refrigerate until needed.

If serving as a sliced dessert, line a 9 x 5 inch loaf pan with plastic wrap and set aside.

Pour the chocolate mixture into a large bowl and stir in the dulce de leche. Fold in the whipped cream. Then fold in ¼ of the meringue mixture and then fold in the remainder of the meringue. If some meringue streaks remain, that is ok! Scrape the semifreddo into the prepared loaf pan or into a plastic container. Cover and freeze overnight.

To serve, remove the plastic and, if using the loaf pan, invert the loaf pan on a platter and peel away the plastic wrap and slice into ½ inch thick slices. If using a plastic container, use an ice cream scoop to scoop portions into dessert cups or glasses. Garnish each with chocolate shavings if desired.
Recipe Notes
Adapted from The Essential New York Times Cookbook. Traditionally, this is made in a loaf pan and served as a slice. You can serve it that way or place the semifreddo in a container and serve as you would ice cream or you can pour it into your serving dishes and freeze them!
Nutrition
Calories:
405
kcal
|
Carbohydrates:
38
g
|
Protein:
3
g
|
Fat:
26
g
|
Saturated Fat:
15
g
|
Cholesterol:
58
mg
|
Sodium:
39
mg
|
Potassium:
180
mg
|
Fiber:
1
g
|
Sugar:
33
g
|
Vitamin A:
635
IU
|
Vitamin C:
0.2
mg
|
Calcium:
36
mg
|
Iron:
1.5
mg