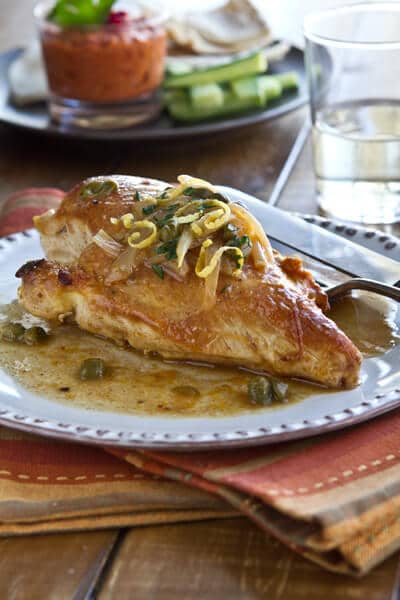 Growing up, I ate a LOT of chicken - -the "twice a week on the menu" kind - and no, we  didn't live on a chicken farm!
Why so much chicken? Well,  when I was 5 my father had a heart attack - which meant that virtually everything my mother knew how to make was relegated to the "occasional indulgence" category. They were replaced by things like fish and chicken - items my mother had NEVER cooked. Ever.
but being a stubborn  hearty soul, my mother embraced the challenge with gusto - she enrolled in cooking classes, poured over cookbooks and cooking magazines, and wrote  countless letters to manufacturers to find out what exactly was in  their product in order to figure out if it fit in with our new diet.
It was a strange new world - while my friends were dining on pot roast, pork chops and Sloppy Joe's I was eating Chicken Stir Fry's, marinated and grilled fish with zucchini and Tuna Chop Chop.
It was an adventure and is the main reason, I think, that I have such a passion for cooking.
And despite eating it twice a week for most of my life, I still love chicken and am still finding new and different ways to prepare it!
I came across this Morroccan Chicken dish  a while ago and bookmarked it - the mix of spices intrigued me and so the other night I gave it a go - and  after receiving a "three thumbs up" thought I'd share with you all!
It's easy enough to make for a weeknight and would even make a fun entree for a Morroccan themed dinner party!!
Morroccan Chicken
Adapted from Bon Appetit. I used boneless, skinless chicken breasts but this would be great with chicken thighs as well. If you prefer chicken with skin and bones, that would work as well. Serve with basmati rice. For even more flavor, add ¼ cup toasted slivered almonds and 2 Tbsp. dried currants to the cooked basmati rice.
Print
Rate
Add to Collection
Go to Collections
Ingredients
1

Tbsp.

olive oil

4

small

skinless, boneless chicken breasts

1

small onion

sliced thin

1

tsp.

cumin

½

tsp.

paprika

½

tsp.

cinnamon

zest of 1 lemon

1 ½

tsp.

flour

1 ½

cups

low sodium chicken stock

1

Tbsp.

honey

¼

cup

capers

2

Tbsp.

minced cilantro
Instructions
In a 3-quart heavy saucepan heat oil over moderately high heat until hot but not smoking. Pat chicken dry and season with salt and pepper. Cook chicken, until deep golden brown.Transfer chicken to a plate and reduce heat to medium. Add onion to pan and cook, stirring, until softened, about 4 minutes. Add cumin, paprika, cinnamon, and flour and cook, stirring, 1 minute. Stir in broth and honey.

Return chicken to pan and simmer, uncovered, 8 minutes. Transfer chicken to 4 plates. Simmer sauce 3 minutes. Add the capers and lemon zest. Taste and adjust seasoning - adding more salt and pepper if needed. Pour sauce over chicken and sprinkle with cilantro.