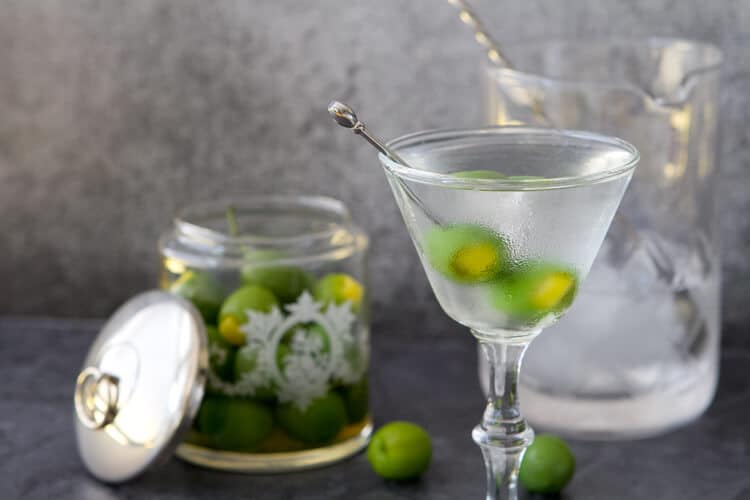 I am generally in the camp of not messing with the classics – they are, after all classics for a reason! But before you hang me out to dry for messing with the quintessential martini I will tell you straight up (ok, couldn't resist that one!) that I DID NOT mess with this cocktail… this Mediterranean Martini is just vermouth, gin and a a dash of orange bitters and although I'll tell you the ratio I prefer, far be it from me to dictate what that ratio should be!
So, this begs the question – what the heck  am I posting a martini "recipe" for when there are over 1,470,000 recipes for this cocktail on the internet?
Well, this isn't about the martini… it's about the garnish. Specifically, the olive… a preserved lemon stuffed Castelverano olive to be exact.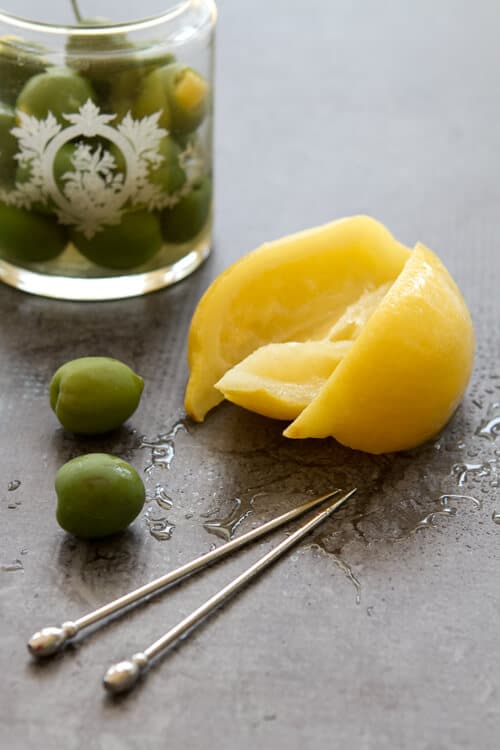 And quite frankly I think it's a game changer and should be the required garnish for every martini. Period.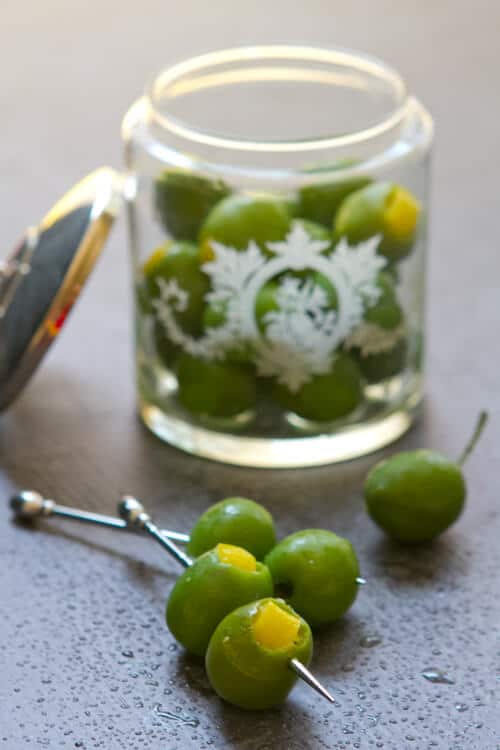 And yes, it's that good.  And makes a fantastic snack.. if a martini isn't quite your thing.
Which if it isn't, I understand… I won't judge. But if you've never tried a good martini you really should… at least once in your life. But even if you don't, you need to make these olives and serve them as part of your next  cheese/charcuterie platter… with or without martini's.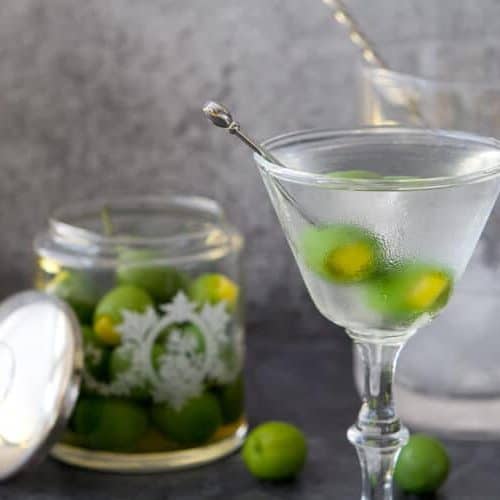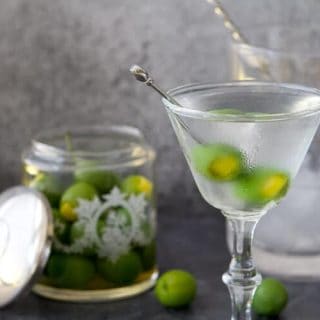 Ingredients
Martini

Preserved lemon Olives

24

Castelverano olives

1

large preserved lemon

Martini

2

oz.

white vermouth

Dolin recommended

1

oz.

dry gin

Sipsmith recommended

2

dashes Regan's Orange bitters
Instructions
For the olives:

Remove the flesh from the preserved lemon. Cut the lemon into thin strips. cut the lemon strips into ½ inch pieces. Carefully place the preserved lemon pieces into the olives. Store the olves in brine.

For the martini:

Chill a martini glass. In a mixing glass, add the vermouth, gin and orange bitters. Add 6 - 8 ice cubes. Stir for 30 -45 seconds. Strain into the chilled martini glass.
Nutrition
Calories:
290
kcal
|
Carbohydrates:
16
g
|
Protein:
2
g
|
Fat:
15
g
|
Saturated Fat:
1
g
|
Cholesterol:
0
mg
|
Sodium:
1496
mg
|
Potassium:
189
mg
|
Fiber:
6
g
|
Sugar:
3
g
|
Vitamin A:
375
IU
|
Vitamin C:
57.3
mg
|
Calcium:
78
mg
|
Iron:
1.1
mg