An infused simple syrup of with tropical flavors is the secret to this refreshing Limeade Rum Fizz cocktail.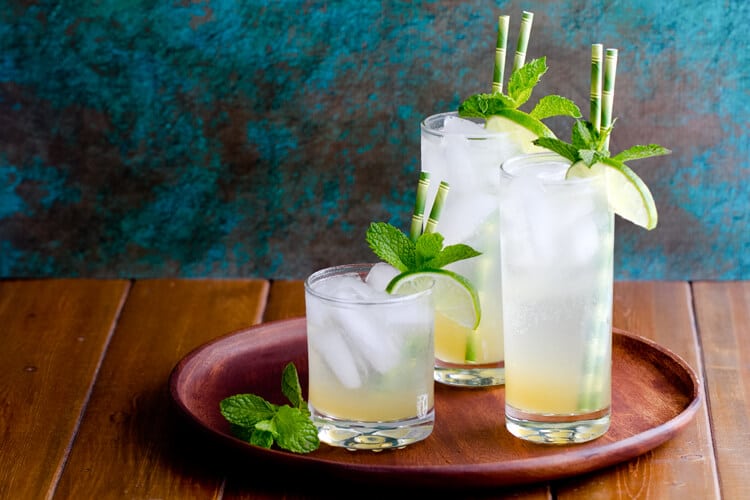 Lime, spices, rum... do I really need to say anymore??? Probably not, but I'm going to!!
Yes, it's a rum drink.. on A Communal Table! If you've been reading for a bit - you might have guessed I am not really a rum drinker. The Rum cocktails I've had are too sweet for my taste and too complicated.
And honestly, does anyone think that a cocktail named "Zombie" is a good idea?
So what in the world possessed me to create a rum based cocktail?
A Book.
The inspiration for this Limeade Rum Fizz came from Cradle of Flavor - James Oseland's cookbook covering the Spice Islands - Indonesia, Malaysia and Singapore. I'm not well versed in the cuisines of that part of the world, but it's always peaked my interest and, as a lecturer on food and culture, I definitely need to expand my knowledge!
There are an enormous number of drool worthy recipes in this book, but one that caught my eye was for a warm spiced limeade known as Bandrek. Made with fresh lime juice, lemongrass, cinnamon, cloves and ginger and sugar, it sounded delicious. Although normally served hot in the North Sumatran highlands, Oseland also recommended serving it over ice.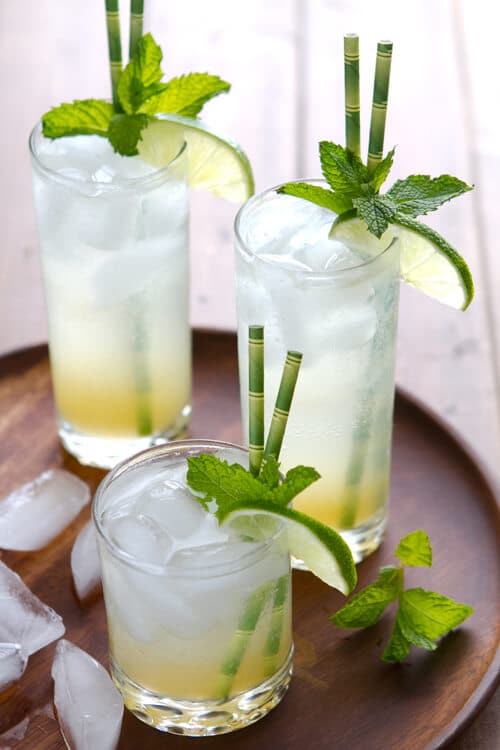 So, of course I thought.... cocktail!!!! After scoring some very fresh lemongrass at the farmer's market, I decided to make a simple syrup and infuse it with the lemongrass, cinnamon, cloves and ginger. The rest of cocktail was easy - fresh lime juice, white rum and sparkling water to finish.
And I have to say, it exceeded my expectations! This Limeade Rum Fizz was everything I think a "tropical drink" should be. Not too sweet, with a great balance of spiciness that brings out the flavors of the rum and a nice hit of lime to smooth things out.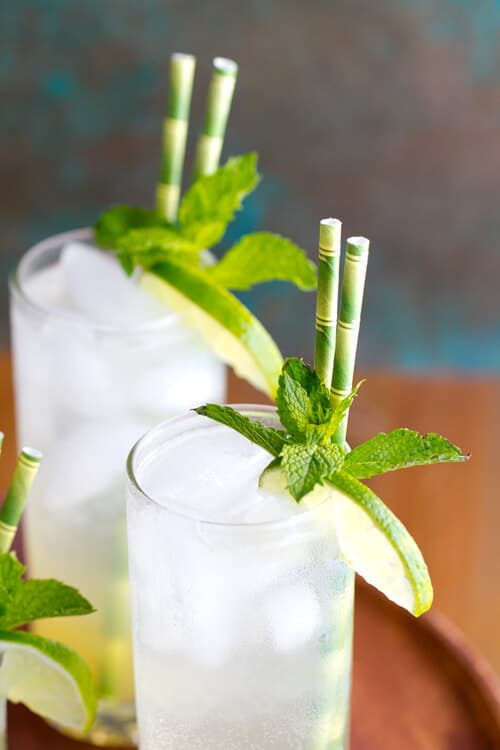 Now, if I only had a pool or oceanfront view to sip this by, I'd be set..... (sigh)
A girl can dream, right?
📖Recipe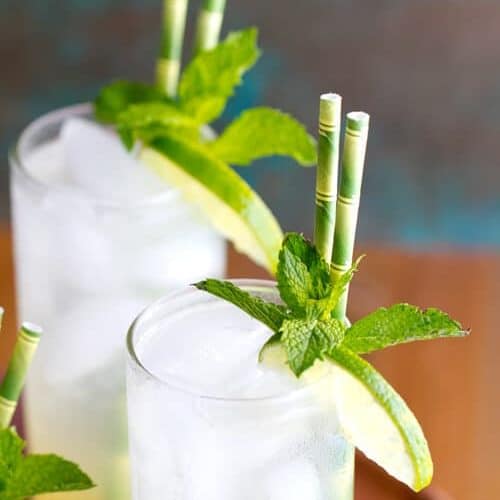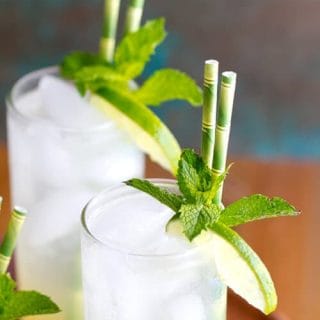 Ingredients
For the Syrup:

½

cup

water

½

cup

demerara or light brown sugar

3

lemongrass stalks - outer leaves stripped and base crushed with a rolling pin

2

cinnamon sticks

4

whole cloves

one 2 inch piece of fresh ginger

peeled and bruised

For Limeade Rum Fizz

1

oz.

fresh lime juice

½

oz.

Spiced Syrup

2

oz.

white rum

3 - 4

oz.

sparking water

ice

mint sprig

optional

lime slice

optional
Instructions
For the syrup: combine all the ingredients in a small saucepan and heat over medium high heat. Cook until the sugar is completely dissolved - about 6 minutes. Remove from heat and let infuse for 1 hour. Strain into a container. Refrigerate if not using immediately.

For the Limeade Rum Fizz

Add the lime juice, syrup and rum to a cocktail shaker. Fill with ice. Shake for 30 seconds and strain into an ice filled collins glass. Top off with sparkling water. Garnish with fresh mint and a lime slice if desired.
Nutrition
Calories:
64
kcal
|
Carbohydrates:
18
g
|
Protein:
0
g
|
Fat:
0
g
|
Saturated Fat:
0
g
|
Cholesterol:
0
mg
|
Sodium:
17
mg
|
Fiber:
3
g
|
Sugar:
11
g
|
Vitamin C:
8.5
mg
|
Calcium:
70
mg
|
Iron:
1.1
mg