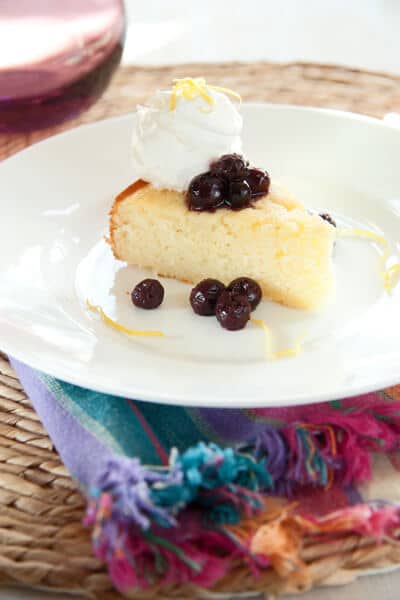 A few weeks ago, a large and heavy box arrived on my doorstep - filled with cans of Oregon Fruit Products cherries, blueberries, boysenberries and blackberries. The gracious people at Oregon Fruit Products had sent me some samples to play with and "play" I did!!
Now, I know what you are thinking... canned fruit?? Uh uh. But this fruit isn't like that - not even close. There is no heavy, gloppy syrup here - just fruit, water and a little sugar - just enough to balance the natural acidity of the fruit while not overpowering it. One of the first things I made was a simple lemon buttermilk cake topped with a blueberry compote - a perfect "make ahead" dessert for spring.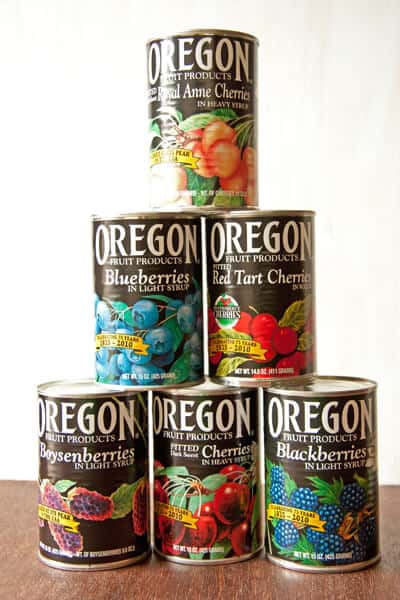 As I mentioned in an earlier post, I always keep frozen berries on hand for simple desserts but in my house, freezer space is at a premium and this canned fruit is a great alternative. It works beautifully in crisps, crumbles, compotes and makes a terrific syrup for cocktails!!
Spring Brunch Menu
Blood Orange, Beet and Goat Cheese Salad
Lemon Buttermilk Cake with Blueberry Compote
Here are some other Spring Desserts you might like:
Strawberry and Kiwifruit Pavlova - A Communal Table
Bakewell Tarts - The Urban Baker
Baby Bundt Cakes with Lemon and Coconut - Sippity Sup
[print_this]
Lemon Buttermilk Cake with Blueberry Compote - I did not add any additional sugar to the Compote. However, if it is not sweet enough for your taste, add honey, Lyle's golden syrup or agave syrup by teaspoonfuls until the desired level of sweetness is reached.
Serves 6 - 8
Lemon Buttermilk Cake

1 ¼ cups flour
½ tsp. salt
½ tsp. baking powder
¼ tsp. baking soda
½ cup unsalted butter, softened
¾ cup sugar
2 large eggs
Zest of 1 lemon
Juice of one lemon
¾ cup buttermilk
1 cup heavy whipping cream, whipped
Lemon zest strips for garnish (optional)
Blueberry Compote
1 - 15 oz. can Oregon Fruit Products Blueberries
1 Tbsp. chambord (optional)
Directions:
1 .Pre heat oven to 350 degrees. Butter an flour a 9 inch springform pan and set aside.
2. Sift flours, baking soda, baking powder and salt together. Set aside.
3. In a large mixing bowl, beat the butter until creamy. Slowly add the sugar and beat until fluffy.
4. Beat in the eggs, one at a time, and beat until fully incorporated.
5. Beat in the lemon zest and the lemon juice.
6. Beat in the flour alternating with the buttermilk, beginning and ending with the flour mixture.
7. Pour cake batter into prepared pan. Bake for approximately 30 minutes or until a cake tester inserted in the center of the cake comes out clean.
8. Cool cake and run a knife around the sides to loosen. Remove cake from pan.
For Compote:
While the cake is baking, drain blueberry juice into a small saucepan.
Bring juice to a boil over medium high heat. Boil until juices are reduced to a syrup like consistency, about 5 minutes.
Cool and stir in the reserved blueberries and the Chambord if using
Cake and compote can both be made 1 day ahead. Wrap cake and store at room temperature. Place compote in a covered container and store in the refrigerator.
To serve: Slice cake into wedges and drizzle with the compote. Dollop with whipped cream and lemon zest strips if desired.
[/print_this]