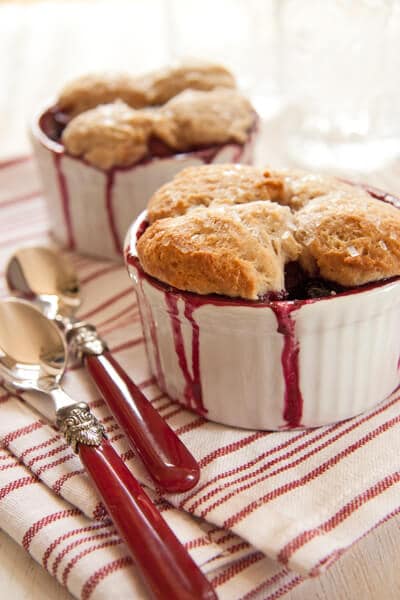 As I was saying last week, the calendar may say  "spring" but if you  look around your local market it seems that the fruits and vegetables haven't gotten the memo. That said, there are ways to satisfy that need for spring flavors despite their MIA status.  Whip up a batch of my  "Green Goddess Dressing" – or make this cobbler. Now, it will never win any beauty pageants but what it lacks in looks it more than makes up for in taste and ease.  This is one of those recipes that everyone should have in their collection – its delicious, dead easy to make and (here is the best part) you can pretty much make it at the drop of the hat with a few pantry/freezer basics – perfect for those days when you need/want an easy dessert and don't want to make one more trip to the grocery store. Have I sold you yet? Good! So, I'll let you in on the "big" secret of this dessert.
Frozen fruit.
That's right, frozen bags of fruit are the secret of this dessert and are  a must for any well stocked freezer. Perfect for smoothies, dessert sauces and of course this cobbler they definitely deserve a spot in your freezer.  I used a bag of frozen blueberries, a bag of frozen strawberries and a bag of frozen mixed berries – but it's equally good with frozen peaches or even fresh apples or pears.
Here are another cobbler recipes you might enjoy!
[print_this]
Berry Cobbler The topping is really a shortcake – and you could make this dessert  that way by dropping the batter on a parchment lined cookie sheet and baking as directed – but really, why bother? This is easier and tastes just as good!
Adapted from Bon Appetit (Serves 8)
Filling:
3 – 16 oz. bags frozen berries
6 Tbsp. sugar
1 Tbsp. tapioca
1 Tbsp. chambord (optional)
Topping:
1 ½ cups flour
½ tsp. cinnamon
4 Tbsp. sugar
1 ½ tsp. baking powder
½ tsp. salt
1 cup whipping cream
1 egg
1 tsp. vanilla extract
1 Tbsp. unsalted butter, melted
2 Tbsp. coarse sugar (optional)
Directions:
Pre heat the oven to 375 degrees.
Grease a 9 x13 inch casserole or 8 individual ½ cup ramekins. Combine all the berries, sugar, tapioca and Chambord. Stir and tansfer to casserole dish or ramekins, filling ramekins to within ¼ inch of the top.
In a large bowl, combine the flour, sugar, baking powder, sugar salt and cinnamon. In a measuring cup, add the egg  to the whipping cream and stir until egg is mixed in.  Add vanilla. Stir wet ingredients into the flour mixture and stir until thoroughly combined. Drop batter on top of berries in 8 mounds, spacing them equally apart.
Brush tops of batter with melted butter and dust with coarse sugar if using.
If using ramekins, place on a parchment lined sheetpan. Place cobbler(s) in the oven and bake for 35 – 45 minutes or until filling is bubbling and tops of cobbler are golden brown.
Remove from oven and cool. Serve warm or at room temperature with whipped cream or ice cream if desired.
[/print_this]