Shirred eggs are a favorite baked egg recipe and are brunch time's BFF. Creamy and custardy, these eggs are beyond simple to make, have almost infinite flavor variations and only take minutes to bake.
And isn't that something we all want for a morning meal?
Ingredients You will need:
eggs
cream
butter
parmesan cheese (optional)
chives or other fresh herbs (optional)
leeks, tomatoes, artichoke hearts (optional)
salt, pepper and paprika
Baked egg recipes are among my favorite brunch dishes since they can (a) be made ahead, (b) feed a crowd and (c) there are so many different versions! But, they aren't always the most elegant looking right?
Which is where these little cups of eggs come in. They are just as easy (if not easier!) to make, have almost infinite flavor variations, and, if you've got enough ramekins, can also feed a crowd!
But what about this whole "shirred eggs" business?
FAQ's about Shirred Eggs:
What are shirred eggs?
Shirred eggs are just another name for baked eggs! The name comes from the flat bottomed dish eggs were originally cooked in.
What is the cooking method used in making shirred eggs?
The eggs are simply baked in the oven. No water bath needed!
Tips for making this baked egg recipe:
One of the beauties of this baked egg recipe is that you can jazz them up with just about anything – onions, mushrooms, leeks, tomatoes, spinach, peppers, chiles, pancetta, bacon, ham, prosciutto, etc., etc.
Think of your favorite omelette or hashbrown recipe for inspiration and go from there!!
Although you can't bake shirred eggs ahead of time, if you are adding anything to the eggs you can cook that in advance as well as assemble the dishes in advance.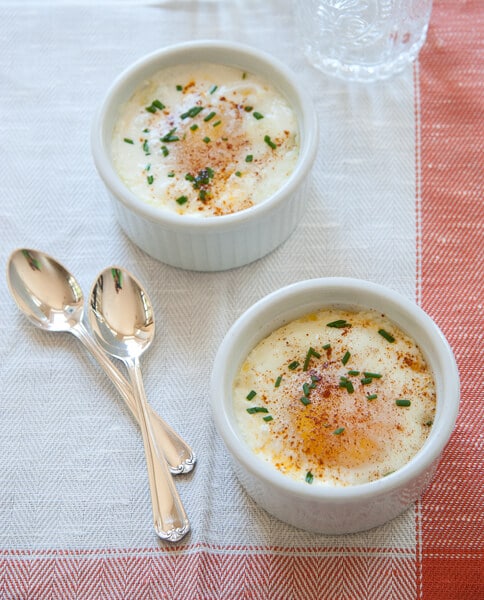 How to make Shirred Eggs: A Baked Egg Recipe:
Step #1: Saute the vegetables if using.
Step #2: Grease the ramekins and add the vegetables.
Step #3: Add an egg to each ramekin.
Step #4: Spoon the cream over and bake.
If you liked these shirred eggs, I would love for you to give it a 5 star rating!
Cheers! Nancy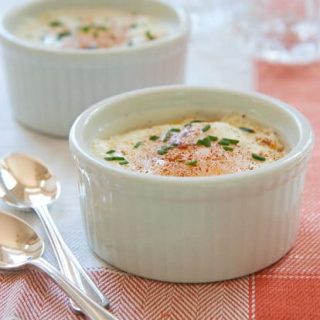 Ingredients
1

large

sliced Leek

2,

seeded and diced tomatoes

2

Tbsp.

butter

¼

cup

parmesan cheese

4

large eggs

¼

cup

cream

2

Tbsp.

minced chives

salt and white pepper

¼

tsp.

smoked paprika
Instructions
Pre heat the oven to 350 degrees. Heat 1 Tbsp. of butter in a medium saute pan. Add the leeks and the tomatoes and saute until leek is bright green and tender – about 3 minutes. Season with salt and white pepper.Use remaining Tbsp. of butter to grease 4 6 oz. ramekins. Divide leek mixture among the ramekins and using a spoon to spread the mixture in an even layer. Sprinkle the vegetables with the parmesan cheese. Carefully break an egg into each ramekin and season with salt and pepper. Drizzle 1 Tbsp. of cream over each egg. Place ramekins on a sheet pan and place in the oven.Bake the eggs for 9 to 12 minutes or until the whites are softly set.

Remove ramekins from oven and dust tops with smoked paprika and chives. Serve
Recipe Notes
I used leeks and tomatoes, but you could use any combination of ingredients that you like – vegetables, cheese, bacon, pancetta or ham… the list is really endless!
Nutrition
Calories:
205
kcal
|
Carbohydrates:
3
g
|
Protein:
8
g
|
Fat:
17
g
|
Saturated Fat:
9
g
|
Cholesterol:
204
mg
|
Sodium:
222
mg
|
Potassium:
145
mg
|
Fiber:
0
g
|
Sugar:
1
g
|
Vitamin A:
1120
IU
|
Vitamin C:
4.5
mg
|
Calcium:
111
mg
|
Iron:
1
mg