"$8.00".
On one of my recent "recon" missions (that is shopping to get ideas for holiday menus) I spied these  great looking crackers. Thinking I'd scored a great find for some parties I have coming up I perused the different flavors and tossed one into my basket. Then I spied the price – $8.00. Despite  my  reputation for having no qualms about splurging for high quality ingredients (just ask my husband, he still hasn't gotten over the shock of how much I paid for last years Prime Rib Roast!) I just couldn't quite bring myself to shell out $8.00 for a box of crackers. They were from  a small producer, had high quality ingredients and am sure were quite delicious – and I am sure that given all the above, that in order to make a decent profit, they had to be priced at $8.00 a box.
But I just couldn't spend that on crackers – especially when its something that can make.
So, armed with  some flavor combination ideas I headed back to the kitchen to experiment.  I remembered a cracker  we'd  made in culinary school –  a savory one flavored with parmesan and  toasted pine nuts  and I figured it would adapt pretty easily.  I dug out the recipe, made a couple of small changes and voila – fig and pistachio crackers!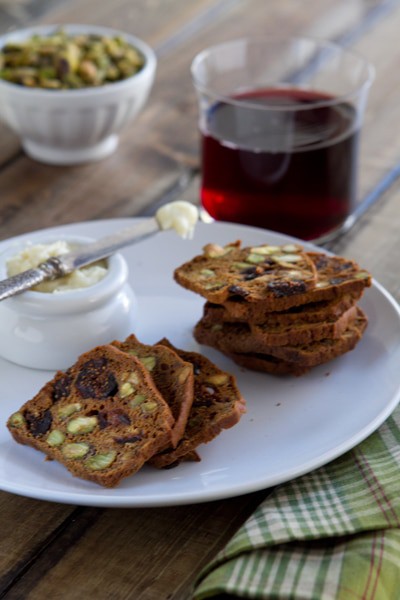 Fig and Pistachio Crackers
You can make the loaves and then freeze them whole. Defrost until you can slice the loaves and then bake them off. This makes these perfect for holiday parties and these make terrific hostess gifts!!
Ingredients
2 cups flour
2 tsp. baking soda
1 tsp. salt
2 cups buttermilk
1/4 cup dark brown sugar
2 Tbsp. molasses
1 cup chopped dried figs
1 cup shelled pistachios
Instructions
Pre heat oven to 350 degrees. Grease two 8 X4 loaf pans or four 6 x 3/14 inch pans (I like the smaller size pans for this but if you don't have them, not a problem! In a large bowl combine the flour, baking soda, salt, figs and pistachios. Toss to combine. In a large measuring cup combine the buttermilk, brown sugar and molasses. Stir to combine. Add the buttermilk mixture to the dry ingredients and stir with a spoon. Divide batter evenly between the loaf pans. Bake for 30 minutes or until a toothpick inserted into the center comes out clean. Let pans cool.
Refrigerate loafs until cold - I place mine in the freezer for about 10 -15 minutes before slicing since the key to these crackers is to slice the loafs very thin.
Pre heat oven to 300 degrees. Slice loaves into 1/8 inch slices. Place on an ungreased sheet pan and bake for an additional 20 - 30 minutes, turning slices after 10 - 15 minutes and bake until slices are crisp and brown. Cool.
Store in an airtight container for 3 - 4 days. Serve with fruit and cheese!
Copyright A Communal Table - www.ACommunalTable.com