Super quick to whip up, this ultra-moist Fresh Fruit Cake is loaded with summer fruit and finished with a sprinkling of crunchy sugar and candied ginger.
Straightforward to make, and a simple cake for afternoon tea or to finish off an easy summer dinner – like this Yogurt Marinated Chicken or Moroccan Chicken!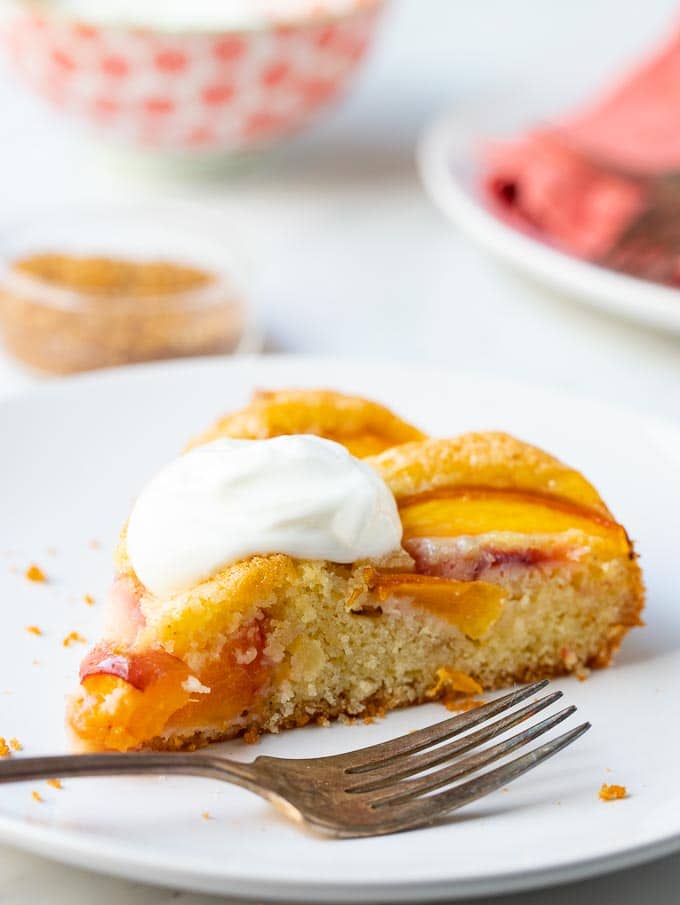 Fresh Fruit Cake Recipe
A simple butter-based batter topped with juicy, sweet nectarines – if that's what you have! -But really, peaches, plums, or pluots or… well, pretty much any stone fruit would work. For my fresh berry fans, check out this Berry Cake which used the same butter cake batter!
This is pretty much a one-bowl cake – ok, technically it's two since you need one for the flour, baking powder, and salt. But, since you can wipe it out when you're done and put it right back – it doesn't count, right?
What you need to make it: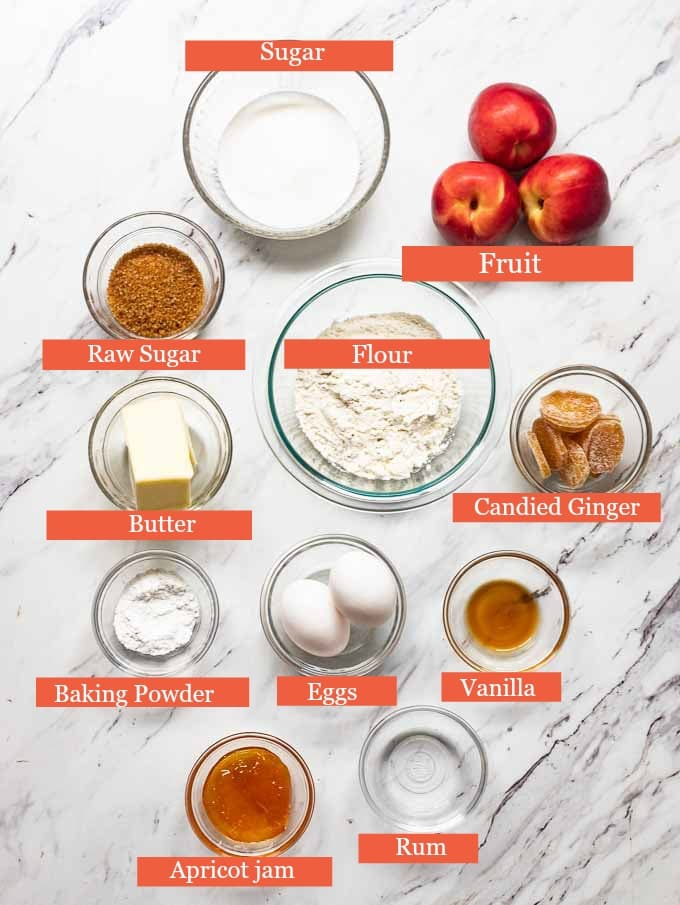 Fresh Fruit and Cake!
So what really sets this easy fresh fruit cake recipe apart is the coarse sugar topping, candied ginger .. AND the addition of a "wee" bit of rum! Regular ACT readers know that I'm a huge fan of adding a small amount of liquor to baked goods – and it's not just because I love cocktails!
The reason I add a bit of liquor (typically about one Tablespoon) is that alcohol acts as an amplifier. Liquor boosts flavors, and (depending upon the liquor you use) imparts flavor!
The dark rum and ginger both provide a deliciously simple flavor boost to the cake and require very little effort – and I'm always on board with easy additions that deliver more flavor!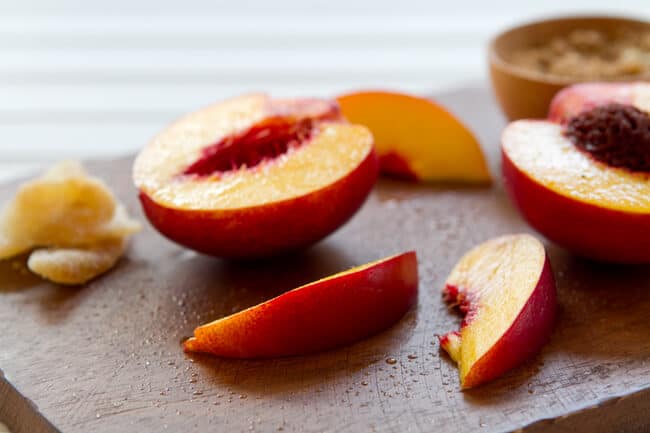 How to make this Easy Summer Cake!
As I said, this is an incredibly easy cake to make. You cream the butter and sugar, add the flour, salt, and baking powder and spread the batter into a pan.
Note: The batter for this cake is THICK and much closer to a pound cake – which is what you want since it helps to support the fruit. A fluffier cake wouldn't hold the slices which would sink to the bottom.
Which is messy and is not what you want ( I speak from experience!)
After spreading the batter in the pan, place the slices on top. I like to arrange them in a circle because (a) it's pretty and (b) I can add maximum fruit!
Sprinkle on the raw sugar and candied ginger and pop into the oven. And that's it – you're done! Once it's baked, you can absolutely serve this cake just as it is!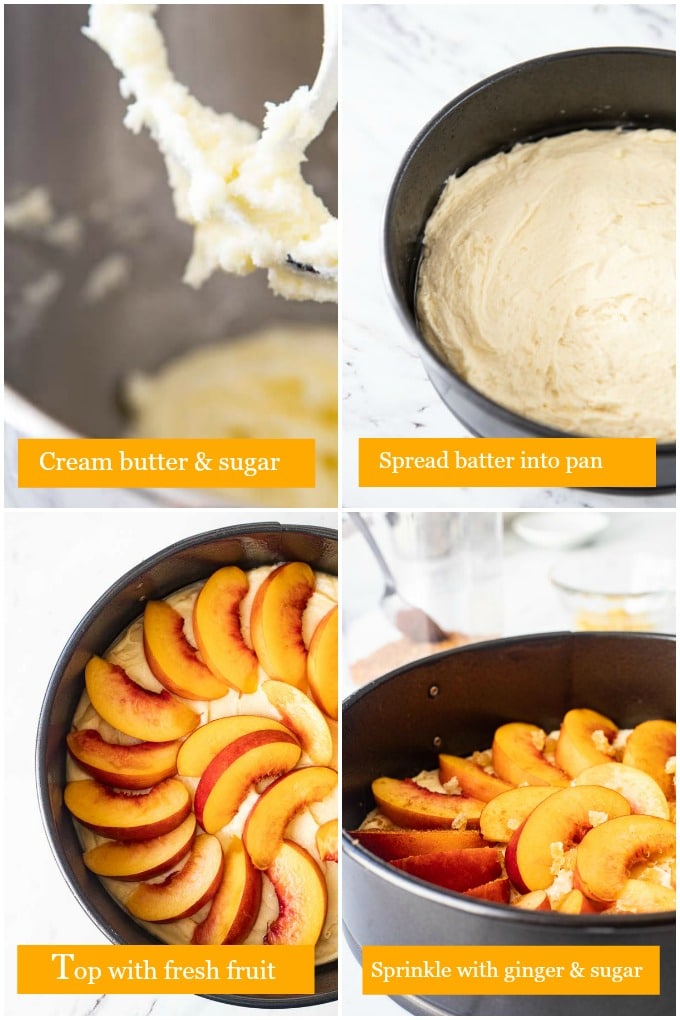 But… if you want to dress it up a bit, you can brush the fruit with a little apricot jam. Because… shiny!!! Don't worry that the cake will be too sweet – it won't be. You are just dabbing (with a pastry brush) a very thin layer of jam which you really won't taste.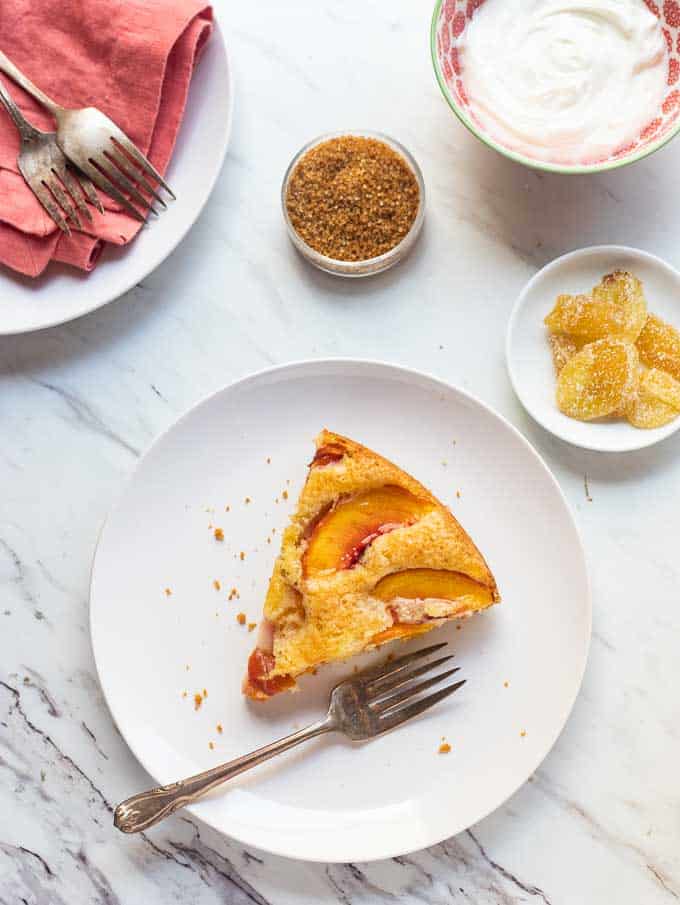 Other Summer Cake recipes you'll want to try!
If you enjoyed this recipe, I would LOVE for you to give it a 5-star rating! Cheers! Nancy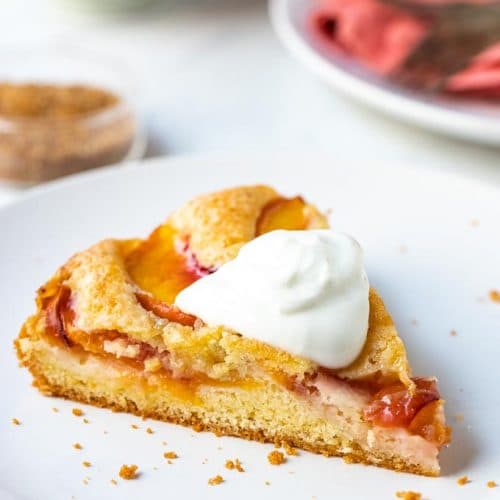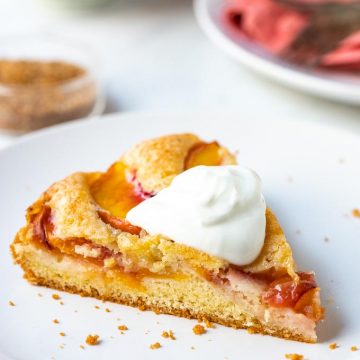 Ingredients
½

cup

unsalted butter

softened

¾

cup

sugar

1

cup

flour

2

tsp.

baking powder

¼

tsp.

salt

2

eggs

1

tsp.

vanilla

1

Tbsp.

white rum

optional

2

ripe nectarines

cut into ½ inch slices

2

Tbsp.

Raw, turbinado or brown sugar

2

Tbsp.

minced crystallized ginger

1

Tbsp.

apricot jam
Instructions
Preheat the oven to 350 degrees.

Spray a 9-inch springform pan with cooking spray and set aside.

In a small bowl combine the flour, baking powder, and ¼ tsp. salt.

In the bowl of a mixer, combine the butter and the sugar. Beat until creamy.

Add the eggs, one at a time, beating until fully incorporated. Add the vanilla and rum, if using.

Add the flour mixture and mix just until the flour is fully incorporated.

Spoon batter into prepared pan (it will be thick!) spreading evenly. Lay the nectarine slices side by side along the edge of the pan in a decorative pattern.

Sprinkle the top of the cake with the brown sugar and crystallized ginger. Bake for 35 – 40 minutes or until a tester inserted into the center of the cake comes out clean.

Let cool and brush the fruit with the apricot jam if desired.
Recipe Notes
Recipe Notes
FRUIT: When choosing stone fruit for this recipe, look for fruit that is not overly ripe since the fruit will disentegrate when it's baked. There is no need to peel the fruit – just wash and slice! 
SUGAR – for the topping, I used Raw sugar. Turbinado and Demerara are also considered raw sugars so all three can be used interchangeably in this recipe.
CRYSTALIZED OR CANDIED GINGER: You can omit this from the recipe but I love the little bit of spicy heat it adds to the cake. 
DARK RUM: You can definitely leave this out, but if you happen to have any on hand, do try adding it to the cake – the subtle caramel notes it adds really complements the fruit!
APRICOT JAM: Again this is optional, but it makes this humble cake look a little prettier!
STORAGE: This cake is best eaten within a day of baking. Cover it well with plastic wrap (or under a cake dome) and store at room temperature. For longer storage, wrap well in plastic wrap and store in the refrigerator. Let come to room temperature before serving.
SERVING SUGGESTIONS: I love this cake just as it is, but a little bit of softly whipped, lightly sweetened whipped cream goes really well. 
Nutrition
Calories:
300
kcal
|
Carbohydrates:
42
g
|
Protein:
3
g
|
Fat:
12
g
|
Saturated Fat:
7
g
|
Cholesterol:
71
mg
|
Sodium:
80
mg
|
Potassium:
232
mg
|
Fiber:
1
g
|
Sugar:
28
g
|
Vitamin A:
530
IU
|
Vitamin C:
2.1
mg
|
Calcium:
70
mg
|
Iron:
1.2
mg