Creamy Lemon Herb Shrimp on Zucchini Noodles
I've lived in Orange County for over 25 years, and yet I am still finding new "gems" in my own backyard. New (to me at least) shops, restaurants and of course, markets. For years, acres of orange trees and farms dominated the landscape of Orange County and market stands were plentiful. Sadly, many of those groves and fields have been replaced by housing tracts - but a few small farms do remain, including Manaserro Farms, a small, family owned organic farm with several locations in Orange County, Ca.
Recently, I attended a cooking class at their Irvine market location, taught by Ann Manaserro, a certified Yoga instructor as well as a gifted and talented cook. Ann teaches several classes a month focusing on creative and nutritious dishes using Manaserro Farms beautiful produce. The classes are held in their darling, open air market located on their farm in Irvine, Ca.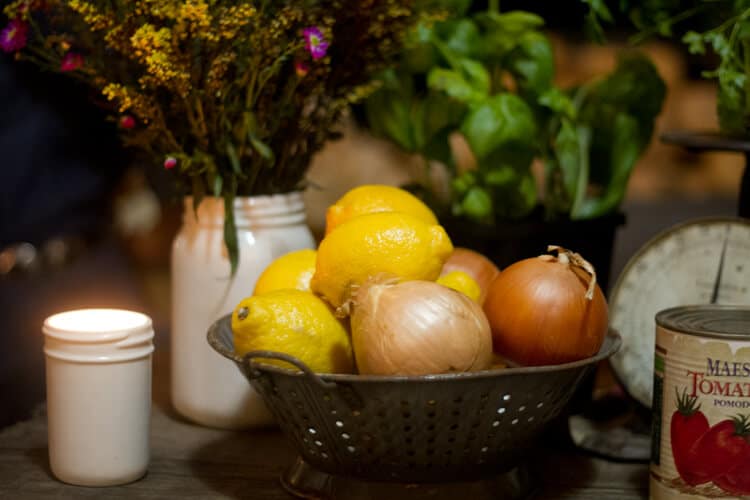 Class topics range from wine and appetizer pairings, to juicing to recipes based on paleo, raw and gluten free diets. In addition to teaching classes, Ann also hosts classes taught by local chefs including Zov Kamaradian of Zov's Bistro and Pascal Olhats.
Armed with glasses of wine and plush throws to ward off any chill, class attendees are treated to Ann's easy going and humor filled presentation where she dishes up cooking, nutrition and produce tips to accompany the delicious recipes she shares.
Ann demonstrated a lovely Zucchini and Quinoa Salad with Walnuts, Zucchini Noodles with Meat Sauce and Double Chocolate Chunk Walnut Cookies from The SkinnyTaste Cookbook, as well as incredibly easy No Bake Coconut Date Bars.
All the dishes were delicious - but it was the zucchini "noodles" I couldn't get out of my head and was the jumping off point for this Creamy Lemon Herb Shrimp with Zucchini Noodles. Inspired by how easy these noodles were I couldn't wait to get home and start experimenting with them. One of my favorite pasta dishes is Shrimp Scampi, so I amped up the herbs and added a bit of preserved lemon to the mix. With all the calories I was saving by using the zucchini noodles, I decided to splurge a bit and top each serving with a small dollop of creme fraiche - and I have to tell you, I think I like this Creamy Lemon Herb Shrimp with Zucchini Noodles as much as Shrimp Scampi!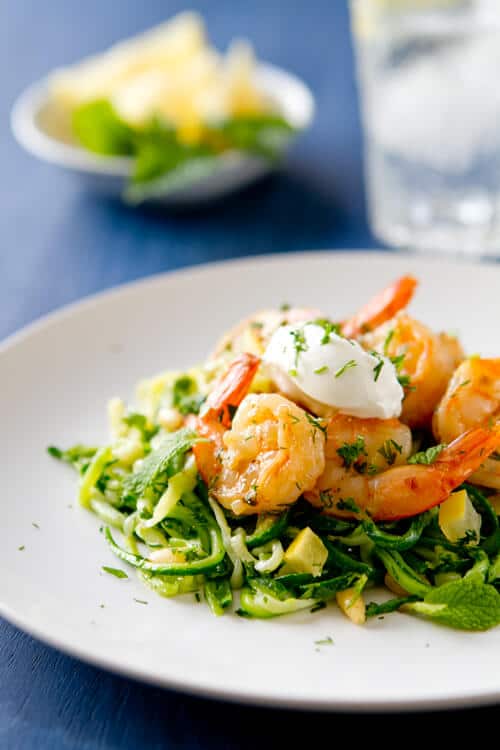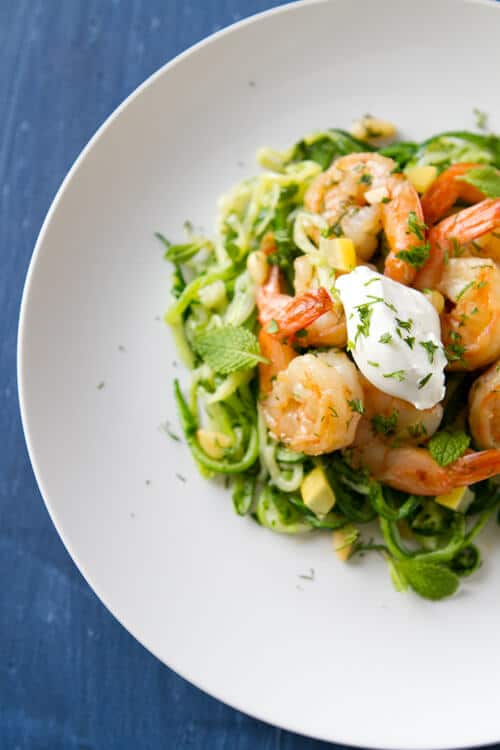 📖Recipe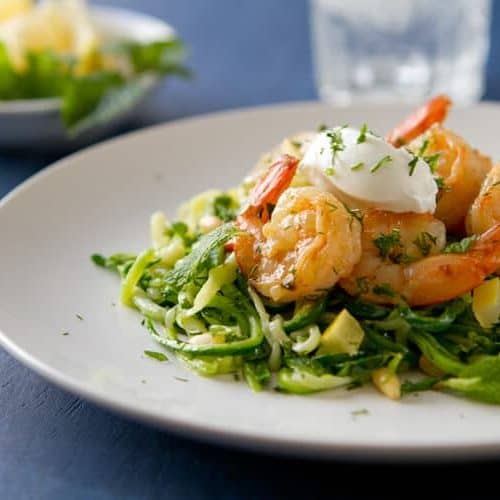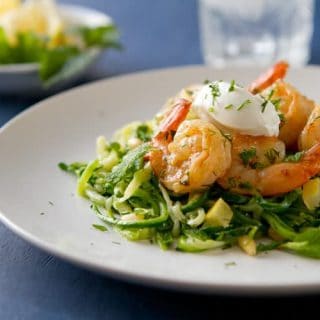 Ingredients
6

small zucchini

scrubbed

1

Tablespoon

unsalted butter

1

Tablespoon

olive oil

1

lb.

peeled and deveined shrimp

rinsed and dried well

½

cup

dry white wine

¼

cup

fresh lemon juice

2

garlic cloves

2

shallots

2

Tablespoons

fresh Italian parsley

minced

1

Tablespoon

fresh dill

minced

2

Tablespoons

preserved lemon

minced

¼

teaspoon

white pepper

¼

cup

creme fraiche
Instructions
Using a spiral slicer, cut the zucchini into long ribbons. Place zucchini ribbons into a mesh strainer. Sprinkle with salt and toss. Place strainer over a bowl to drain.

Mince the garlic cloves and place into a mortar and pestle. Sprinkle with salt and mash until a paste is formed. Set aside.

Peel and mince the shallots.

Mince the herbs and the preserved lemon, if using.

Rinse the zucchini ribbons and then dry on paper towels, blotting heavily.

Heat a large saute pan over medium high heat. Add the butter and olive oil. When the butter has stopped foaming, add the shrimp. Saute until the shrimp are nicely pink and still slightly opaque in the center - about 3 - 5 minutes. Remove shrimp from the pan and set aside. Add the shallots and garlic. Saute for 1 - 2 minutes, being careful not to burn the garlic. Add the white wine and lemon juice. Bring the mixture to a boil while scraping the bottom of the pan. Reduce heat to medium and add the zucchini, herbs, preserved lemon and white pepper, stirring well. Return the shrimp to the pan and, using tongs, stir and toss the ingredients. Divide the shrimp and zucchini noodles evenly between 4 plates. Top with 1 Tablespoon of creme fraiche and serve.
Nutrition
Calories:
289
kcal
|
Carbohydrates:
14
g
|
Protein:
27
g
|
Fat:
11
g
|
Saturated Fat:
4
g
|
Cholesterol:
300
mg
|
Sodium:
921
mg
|
Potassium:
968
mg
|
Fiber:
3
g
|
Sugar:
9
g
|
Vitamin A:
935
IU
|
Vitamin C:
67.3
mg
|
Calcium:
240
mg
|
Iron:
3.9
mg