This German influenced Cider Braised Cabbage and Sausage recipe is a terrific one dish dinner that's ready in under an hour. Flavored with apples and cider, it's ideal for busy weeknights when you need something that's warm and comforting.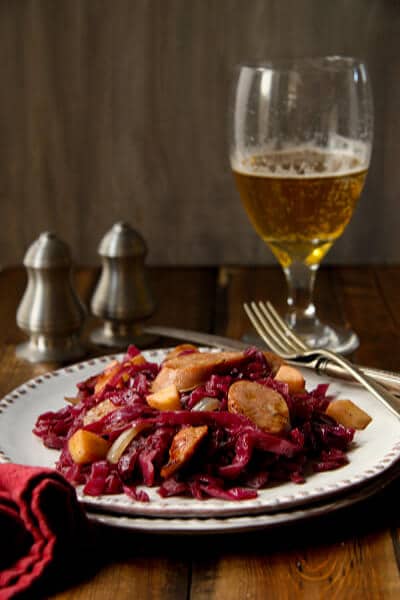 I like to think of myself as an "equal opportunity eater". There are few foods that I won't eat (like mushy peas) but while I have my favorites, I am pretty open to just about anything.. with the possible exception of cabbage. It's all well and good in a salad, but cooked? No thank you – which when I think about it is kind of strange since I am half scottish and half irish… evidently "someone" was hiding behind the door when they were passing out the "cabbage loving" gene. So, it's no secret that recipes featuring cooked cabbage aren't high on my list… in fact few have ever made the list.. except this one. Cider Braised Cabbage and Sausage. The dish was inspired by a braised cabbage side I had at The Vintage Press, a restaurant in Visalia that I visited on the Melissa's Produce Citrus Tour. The cabbage was served as a side and it was delicious. Tender and tangy it bore no resemblance to the watery, mushy and flavorless cabbage I'm all too familiar with. I could have happily made a meal on that cabbage… which got me thinking.. that braised cabbage was great as a side but what about as a main dish…with sausage?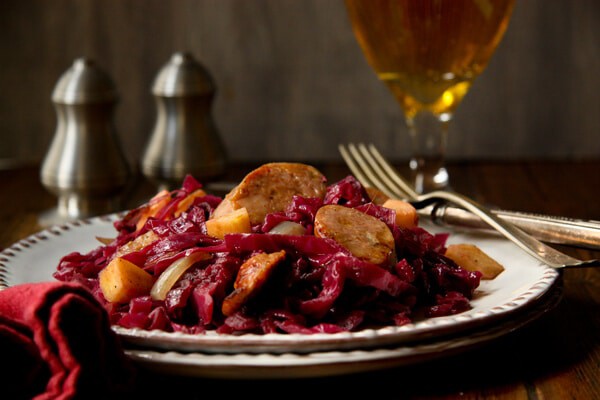 Once home from the tour, I started experimenting, thinking this would make a great "one dish" dinner – a subject I've been thinking a lot about since as of today we are entering La Crosse season- which means games… and lots of them. So between games and our other activities,weeknights are going to be hectic once again and "one dish" dinners become my weeknight mainstays. Dishes like this Cider Braised Cabbage and Sausage are a nice change from the usual rice and pasta based one dish dinners – it just needs a side of warm bread like my favorite Tuscan loaf "take and bake" from La Brea Bakery – you just bake it for 8 to 10 minutes and you have warm, freshly baked bread! The best part though? Is coming home (after being half frozen for 3 hours watching La Crosse) to a warm fire, freshly baked bread and a cozy bowl of Cider Braised Cabbage and Sausage.