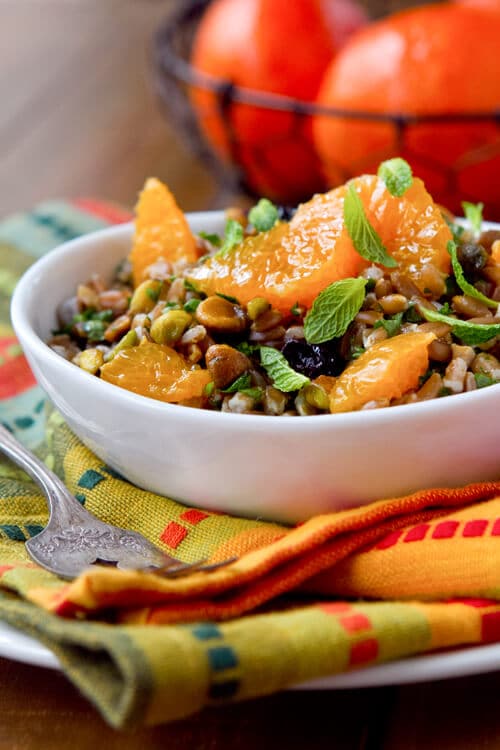 Welcome to Citruspalooza – my own little celebration of all things citrus! As you know, citrus is a subject that is near and dear to my heart. Given my love affair not only with citrus but with citrus based cocktails, I started things off with an  Orange Blossom Cocktail  – the perfect antidote to this  cold and wintry weather. In anticipation of Valentine's Day, I decided to get you off to a good start with this  Farro Salad with Tangerines and Dried Blueberries. Speaking of starting, last week at this time I was on the road to the Central Valley of California with Melissa's Produce to visit some of the growers that work with Melissas .These folks are growing some seriously gorgeous citrus… especially tangerines… and although  these tangerines are cute, these aren't the "cuties" you find in the market!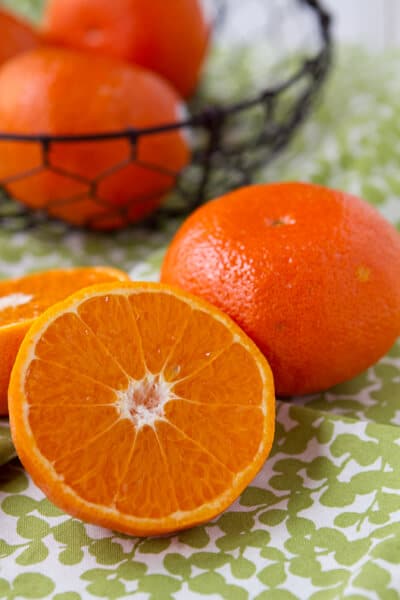 No, these tangerines are something entirely different… in fact, Melissa's is carrying a  new variety that is just hitting the markets now.. but you'll have to wait until Wednesday for that one.. and trust me it is not only worth waiting for, but finding in your local market… but more on that on Wednesday!
And now, on with the citrus tour!
Bright and early on Tuesday morning,  we headed out  for the  Phillips Ranch, home of Melissa's Shasta Gold Tangerines. As we walked among the trees, Doug Phillips, owner of Phillips Ranch tutored us on tangerines and what makes Melissa's Shasta Gold Tangerines so special. Larger than most tangerines, the Shasta is prized  not only  for it's gorgeous color and fragrance, but for it's perfect balance of sweet and tart. Walking among the trees, we got down to the hard work of "research" – picking and peeling a few (ahem) tangerines. They were, in a word, extraordinary… with a  clean, deep tangerine flavor that is beautifully  balanced  between sweet and tart. Melissa's Shasta Gold tangerines are, as Doug Phillips puts it "good eating fruit".. but don't stop there! That clean, bright tangerine flavor pairs wonderfully with all kinds of food – like this   Farro Salad with Tangerines and Blueberries.. or in a Tangerine Gimlet… or paired with some sliced Melissa's Steamed Beets and a light vinaigrette.. the possibilities are truly endless. The only challenge is making sure that you buy enough!!!
Disclaimer: Melissa's Produce provided transportation, lodging and meals for this trip. However, all opinions are strictly my own!!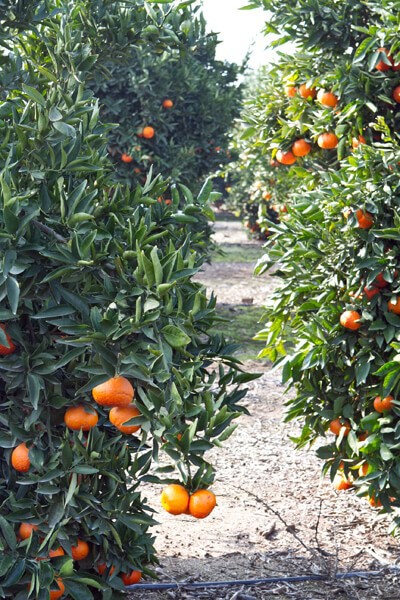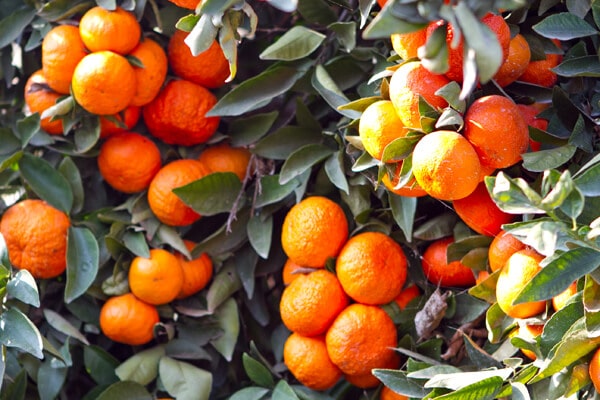 Yields 4 - 6 servings
Farro Salad with Tangerines and Dried Blueberries
This salad can be made a day ahead. Keep refrigerated and bring to room temperature before serving.
20 minPrep Time
20 minCook Time
40 minTotal Time
Ingredients
1 cup Melissas dried farro
4 Melissas Shasta Gold Tangerines
1/2 cup Melissas Dried Blueberries
1/2 cup minced fresh parsley
1/2 cup sliced fresh mint
1/4 cup pistachios
12 mint leaves for garnish (optional)
Dressing:
3/4 cup fresh squeezed Melissas Shasta Gold Tangerines ( about 2 tangerines)
2 tsp. orange blossom honey
3/4 tsp. garam masala
1/4 tsp. white pepper
1/4 tsp. salt
3 Tbsp. extra virgin olive oil
Instructions
For Dressing: Place tangerine juice in a small saucepan and boil until juice is reduced by half. Cool.
In a small bowl, combine the cooled tangerine juice and honey. Whisk to combine. Add the garam masala, pepper and salt. Whisk until salt has dissolved. Whisk in the olive oil. Set dressing aside. (Dressing can be made 1 day ahead - cover and refrigerate and bring to room temperature before using).
For Salad:
Bring 1 quart of water to a boil in a medium sized saucepan. Season water with salt. Add the farro and continue to boil for 16 - 18 minutes or until farro is cooked through (farro should be chewy but not hard). Drain farro and rinse with cold water. Drain and set aside.
Over a small bowl, peel and section two of the tangerines. Set aside.
In a large bowl combine the farro, tangerine sections, dried blueberries, parsley and mint. Drizzle the dressing over and toss to combine. Divide salad among bowls and garnish with pistachios and mint leaves if using.
7.6.4
173
https://www.acommunaltable.com/farro-salad-with-tangerines-and-dried-blueberries/