A twist on the Southern classic, this Asian Pickled Shrimp with rice vinegar, lime, chiles and shallots is a quick and easy make ahead summer appetizer.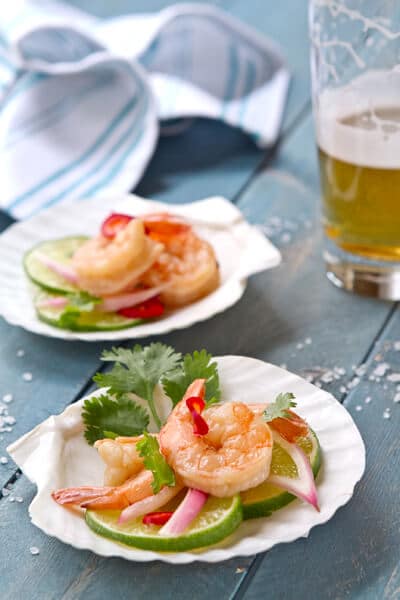 Food memories are funny.... there are a number of foods that I honestly couldn't tell you when I first tried them. It isn't that they weren't tasty, but for some reason I have no clear recollection of trying them.
Not so however, with shrimp. That I remember clearly. My parents had taken me out for a "fancy" dinner ... and for the first time the waiter actually handed me a menu!! Gingerly, I opened it and started reading it.. or rather tried to read it since I couldn't pronounce half the things on it and had no idea what they were! There were no hamburgers or steak in sight... and my heart sank. My mom, seeing my reaction, looked over and pointed.. "I think you'd like the Shrimp Scampi. " The what???
Despite living within a mile of the beach and having fish once or twice a week, I'd never had shrimp - but if my Mom said I'd like it, well who was I to argue??? So, I politely told the waiter that is what I'd like (and fervently hoped it was true!). Well, my mom was wrong... I didn't just like it, I loved it!!!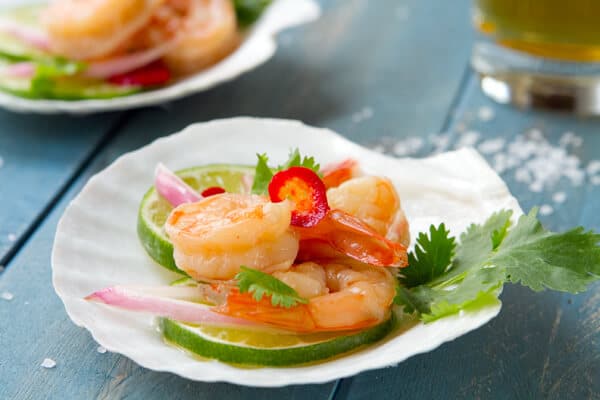 And so began my love affair with all things shrimp and with foods from different "cultures". Like pickled shrimp. A staple of southern entertaining, I only discovered this dish when I was in my thirties... and was instantly smitten. (and yes, if you are from Southern California the South is definitely a different "culture"!) The traditional recipe is made with cider vinegar, lemons, onions and various herbs and spices and is has become one of my all time favorite recipes... (and if you are looking for a great traditional recipe, my friend Lana of Never Enough Thyme has a a fabulous one!).
Although this Asian Pickled Shrimp is not "traditional" I think it's a very fitting dish for celebrating the 4th of July. Just as this country is a blend of different cultures and traditions, so is this Asian Pickled Shrimp.
So Happy Birthday America... Let Freedom Ring!
Wishing you all a Happy, Healthy and Safe Fourth of July!
📖Recipe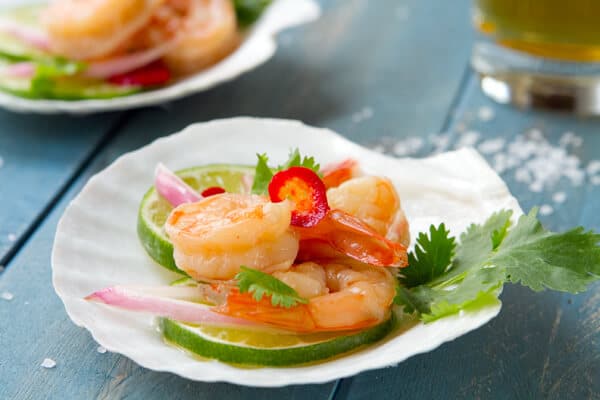 Ingredients
1

lb.

31- 40 count cooked shrimp

peeled and deveined

2

shallots

skinned and thinly sliced

1

cup

rice wine vinegar

1 ½

limes

juiced

¼

cup

fish sauce

1 - 1

inch

knob fresh ginger

peeled and minced

1 ½

tsp.

dark brown sugar

2

garlic cloves

minced

1

jalapeno

sliced into rings

5

cilantro sprigs
Instructions
Combine everything except the shrimp in a large measuring cup and stir to combine, Place shrimp in a lidded container (I find a 1 quart canning jar works great) and pour the pickling mixture over the shrimp, making sure the shrimp are covered completely. Cover the container and refrigerate overnight.

To serve, remove the shrimp from the picking mixture and mound on a platter - garnish with cilantro, lime slices, sliced shallots and jalapeno slices if desired.

Shrimp can be made up to two days ahead.
Recipe Notes
Fish sauce can be found in many Asian grocery stores or in some well stocked grocery stores.
Nutrition
Calories:
157
kcal
|
Carbohydrates:
7
g
|
Protein:
24
g
|
Fat:
1
g
|
Saturated Fat:
0
g
|
Cholesterol:
285
mg
|
Sodium:
2024
mg
|
Potassium:
212
mg
|
Fiber:
1
g
|
Sugar:
3
g
|
Vitamin A:
205
IU
|
Vitamin C:
18.2
mg
|
Calcium:
190
mg
|
Iron:
2.8
mg