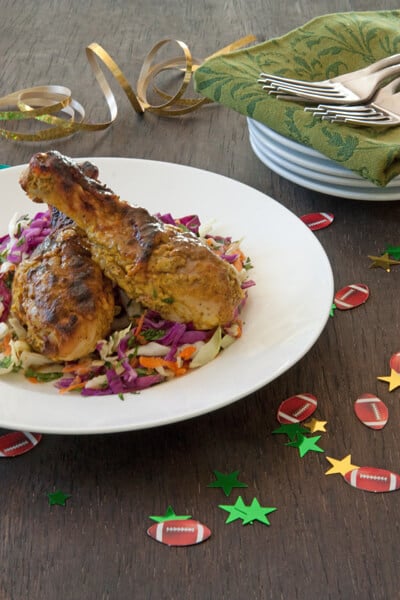 The Big Day is almost here and no, I am not talking about Valentine's Day but a  day that  elicits a similar sentiment (at least for men) ... Super Bowl Sunday!
The day has been marked on the calendar for weeks... the TV screen carefully cleaned in anticipation (and not by me) and the subject of "what to eat during the game" is actually getting some serious attention from the men in my family. To fully appreciate the significance of this, you need to understand that with the exception of Christmas dinner, my family NEVER has an opinion on what we should eat. Ever.
So, I have not one BUT two game day menus to share with you here at the Table! The first is a riff on a Super Bowl classic - Barbeque'd Chicken Wings and Coleslaw. But in this case, I made  an Indian  inspired version of barbeque (Tandoori) and added Indian influences to the coleslaw. The chicken cooks up tender and juicy from the yogurt marinade and carries  just a hint of spice. The coleslaw still has the sweet tanginess of a traditional coleslaw but is lighter since yogurt is used for the dressing base. Mango chutney provides the sweetness along with a warm spiciness from the ginger.
Pair this with some naan or pita bread and hummus  -  and of course, some Sparkling Ginger Lemonade!
Here are some other Indian inspired dishes you might like:
No Recipes - Chicken Curry
Savour Fare - Chicken Curry
[print_this]
Tandoori Chicken with Mango Curry Coleslaw
A traditional Tandoori incorporates substantial amounts of cayenne pepper  and is very spicy. If you enjoy a spicier dish, feel free to add cayenne pepper or another ground red chili to the marinade. Garam masala is an indian spice blend and can be found in the spice aisle of most major grocery stores. If you can't find it, you can make your own - I've included the directions at the bottom of the Tandoori Chicken recipe.

1 cup plain yogurt (regular or greek style)
2 cloves of garlic, minced and mashed to a paste with salt
½ jalapeno pepper, minced
juice of ½ of a lemon
2 tsp. fresh, grated ginger
1 Tbsp. garam masala
1 tsp. tumeric
8 chicken drumsticks, chicken thighs or 4 chicken breasts
Directions:
Combine first 6 ingredients in a large bowl and stir to blend. Add the chicken pieces and stir to  coat evenly with the marinade.
Refrigerate for a minimum of 30 minutes and up to 1 day.
Pre heat broiler. Line a sheet pan with foil. Spray a rack with cooking spray and place on top of the foil lined sheet pan.
Remove the chicken from the marinade (leave the yogurt mixture on) and place on the rack.
Broil for 5- 6 minutes or until cooked through.
If the chicken is getting too brown or is starting to burn, finish cooking the chicken in a 350 degree oven until the internal temperature of the chicken reaches 165 degrees - check after 15 minutes.
Serve warm or at room temperature!
Garam Masala
1 Tbsp. ground cumin
1 Tbsp. ground coriander
1 Tbsp. ground cardamon
1 tsp. ground cinnamon
½ tbsp. ground black pepper
½ tsp. ground cloves
½ tsp. ground nutmeg
Directions:
Combine all the  spices in a small, airtight container.
Mango Curry Coleslaw
1 small head green cabbage, cored and sliced ¼ inch thick
1 small head red cabbage, cored and sliced ¼ inch  thick
2 large carrots, peeled and grated
1 cup chopped fresh cilantro
Dressing:
1 cup plain yogurt (regular or greek style)
¼ cup Major Grey chutney
1 Tbsp. curry powder
2 Tbsp. lime juice
Directions:
For dressing, combine all the ingredients in small bowl and set aside.
Combine the cabbage and carrots in a large bowl.  Add ¾ cup of the chopped cilantro. Toss to combine.
Drizzle ½ cup of the yogurt dressing over the cabbage mixture. Taste, adding more dressing if needed and season with salt and pepper to taste if desired.
[/print_this]