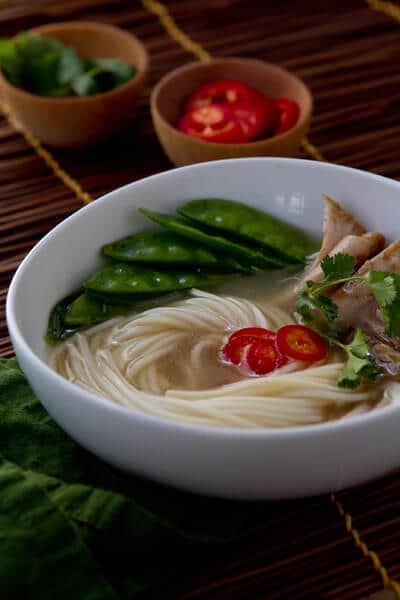 Recipe ideas come from many places – cookbooks, magazines, restaurant meals, a vacation – you name it, it probably has inspired someone to create a recipe. This Thai Hot and Sour Soup was inspired by a cookbook I was flipping through on a recent trip – although the soup that inspired it was a bit  different – combining squash, coconut milk and thai spices  (which I did end up making and it was delicious!) but this Thai Hot and Sour Soup is  the version I kept coming back to as I doodled on the plane – a variation of Tom Yum soup.
As you probably know, I love soup almost as much as I love salads and appetizers – and soups are definitely my "fall back" plan when I can't decide what to make for dinner- my version of  "fast food" . Yes, I said fast food –   and soup is definitely fast food if you have the right ingredients on hand – and by ingredients I am talking about stock. Although I love making homemade stock, my demand for it definitely outstrips my supply (and my freezer space!)  – and so there are always jars of chicken, beef, vegetable and mushroom  "Better than Bouillon" bases in my refrigerator for making quick  pasta dishes, sauces, or for soups like this  Thai Hot and Sour soup. A combination of  Better than Bouillon's Organic Chicken Base, lemongrass, ginger, garlic, shallots, fish sauce and rice wine vinegar made a fragrant and   flavorful soup and with the addition of  some cooked and shredded chicken, shitake mushrooms, pea pods, jalapeno and some slippery noodles it fit right into the category of not only fast food, but a one dish dinner. Since I'm trying to add more vegetables to our meals, I paired this Thai Hot and Sour Soup  with a simple salad of napa cabbage, cucumbers and carrots dressed with a little rice wine vinegar… easy, nutritious and delicious…truly fast food at it's best!!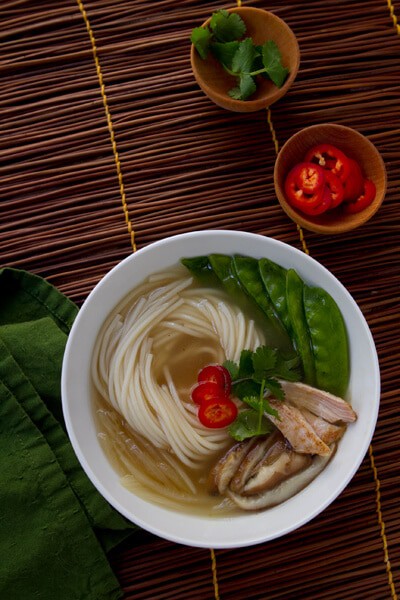 Would you like to try some Better than Bouillon?? Well, you are in luck because I just so happen to have a little giveaway for you today!! In fact, I have TWO giveaways today – two lucky readers will each receive a 5 pack of Better than Bouillon's Organic Bases – chicken, beef, mushroom, vegetable and turkey!
If  you'd like to win one of these packs of Better than Bouillon Organic Bases it's easy! Do one, or all of the following!!
1. Sign up for my RSS feed, and leave a comment that you are!
2. Follow me on Pinterest. and leave me a comment that you are!
3. Join me on Google Plus – and let me know in the comments!
4. Follow me on Twitter and let me know  in the comments!
5. Leave me a comment and tell my your favorite soup!
The more you do, the more chances you have to win! The Giveaway will end on Thursday, April 4, 2012 at 12pm PST. Winners will be selected by a Random Number Generator on Friday, April 5, 2013!
*This post was sponsored by Better than Bouillon. However, all opinions, recipes and photographs are my own.
Yields 4 servings
Thai Hot and Sour Soup
20 minPrep Time
20 minCook Time
40 minTotal Time
Ingredients
2 tsp. vegetable oil
1 lemongrass stalk, tender green portion peeled and minced
2 garlic cloves, minced
1 large shallot, minced
2 tsp. ginger, peeled and minced
5 cups Better than Bouillon Chicken Stock
2 Tbsp. rice wine vinegar
1 Tbsp. fish sauce
2 cups cooked, shredded chicken
2 cups cooked udon or spaghetti noodles
1 cup sliced and sauteed shitake mushrooms
1 1/2 cups pea pods
1 sliced red jalapeno
1/4 cup fresh cilantro, chopped
Instructions
In in large stockpot, heat the 2 tsp. of oil over medium heat. Add the lemongrass, garlic, shallots and ginger and cook until the vegetables are tender but not browned (if starting to brown, turn down the heat!). Add the stock and bring to a boil and then reduce to a simmer. Cover and simmer for 15 minutes. Arrange chicken, noodles, pea pods and mushrooms in 4 shallow bowls. Ladle hot soup over and garnish with jalapeno and cilantro.
7.6.4
187
https://www.acommunaltable.com/thai-hot-and-sour-soup/