This spanish influenced Smoky Tomato Lentil Soup recipe is rich and satisfying. Sherry and paprika boost the flavor this pantry staple soup.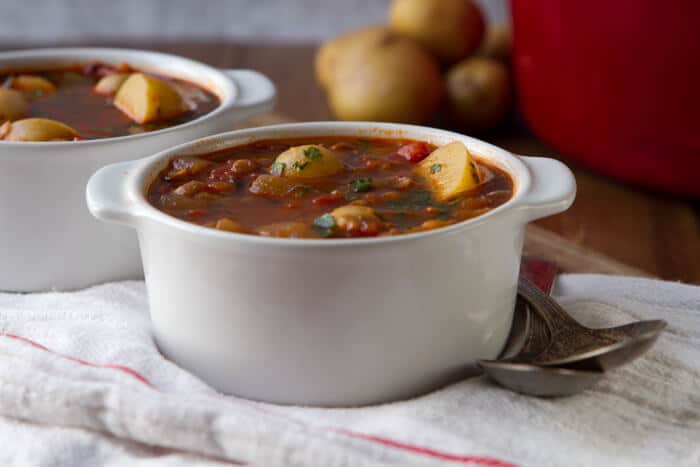 "With a little bit of this, and a little bit of that"…. is a really good way to describe this Smoky Tomato Lentil Soup which was born on a chilly, RAINY evening. Yes, folks hell has frozen over… it actually RAINED in Southern California – WOO HOO!!!!!
Which of course called for … soup. And after the eating marathon… aka "the holidays"  a hearty bowl of one of  my favorites – clam/corn chowder, French Onion or a creamy butternut squash soup was not  on the list –  too rich and too heavy and would not aid me in getting out of my stretchy pants one bit – so it was going to have to be a broth based, "heavy-on-the-vegetables one ."
And I couldn't stop thinking about lentils and about a soup my mother used to make. It's been years since I'd had it and to be honest, couldn't quite remember what it tasted like – but I did remember I liked it – and that was a good enough place to start. So I rummaged around in her recipe boxes – yes, that's right boxes as in 7 shoebox sized containers holding stacks of 3 x5 index cards.
Yup, I  do  come by my love of cooking honestly – LOL!!!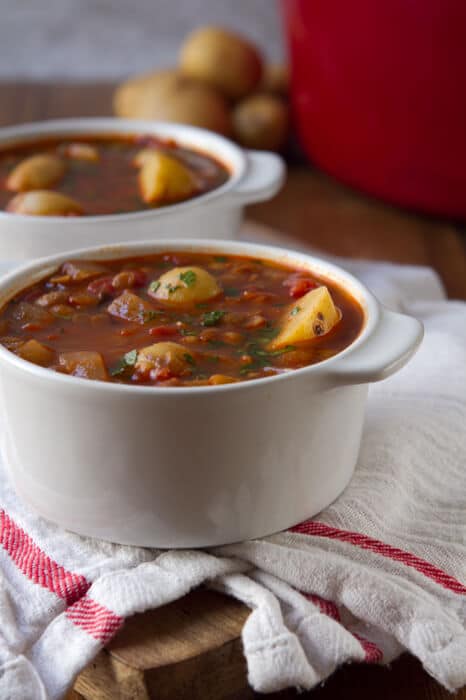 So, this Lentil Soup of My Mom's – pretty basic – onions, garlic, stock, lentils, tomatoes… but I wanted something… a little more. So I started re writing – eliminating this, subbing in that … and this Smoky Tomato Lentil Soup was the result.
Hearty and filling, it's just the thing for a rainy day… and I'm really hoping I'll be making it often this winter!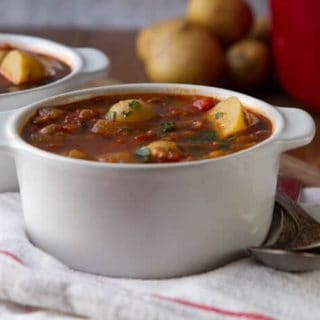 Ingredients
2

Tablespoons

olive oil

1

onion

cut into ¼ inch dice

3

garlic cloves

mashed to a paste

1

Tablespoon

smoked paprika

1

teaspoon

cumin

1

teaspoon

oregano

¼

cup

amontillado sherry

6

cups

vegetable stock

1

– 14 oz. can fire roasted tomatoes

1

cup

lentils

rinsed and picked over

2

cups

cubed Dutch yellow Potatoes

¼

teaspoon.

pimente de espellete or cayenne pepper
Instructions
In a large dutch oven, heat the olive oil over medium high heat.

Add the onions and garlic and cook until the onion is translucent - about 5 minutes.

Add the smoked paprika, cumin and oregano and stir to combine.

Add the sherry and cook until almost all the liquid has evaporated, about 5 minutes.

Add the stock, tomatoes, lentils and potatoes.

Bring soup to a boil and reduce to a simmer.

Cover and simmer for 15 - 20 minutes or until the lentils and potatoes are tender.

Taste and adjust seasonings. Add the pimente de espelette or cayenne pepper to taste.
Nutrition
Calories:
333
kcal
|
Carbohydrates:
49
g
|
Protein:
15
g
|
Fat:
8
g
|
Saturated Fat:
1
g
|
Cholesterol:
0
mg
|
Sodium:
1426
mg
|
Potassium:
917
mg
|
Fiber:
18
g
|
Sugar:
5
g
|
Vitamin A:
1760
IU
|
Vitamin C:
14.8
mg
|
Calcium:
79
mg
|
Iron:
7.3
mg