"Are you feeling lucky?"
For years, I'd always think about this quote from Dirty Harry when thinking about serving some of my favorite egg based dishes like this Frisee Salad with Poached Eggs and Pancetta to friends and family. Although I love the oozy goodness of poached, fried eggs I didn't love the risk involved– and as someone who works in the food industry I am all too aware of the risks of salmonella – and as we have seen recently in the news, Salmonella is still a concern.  Organic, free range, conventional, etc., etc. it doesn't matter – undercooked eggs have the potential of carrying Salmonella. Is a bummer – and meant that I pretty much scrapped poached, fried, eggs and raw meringues from my "friends and family" menus.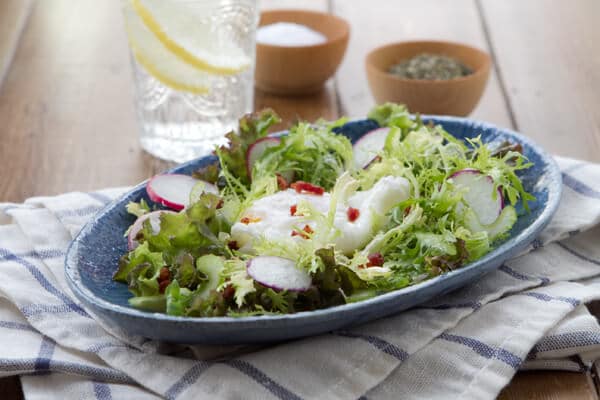 But I no longer have to … and neither do you thanks to safest choice eggs. A few years ago I came across  "Safest Choice Eggs", the first pasteurized in shell egg on the market. To say that I was ecstatic is a wee bit of an understatement.  All those wonderful dishes that I'd scrapped from my menus – like this Frisee Salad with Poached Eggs and Pancetta, Baked Alaska, Chocolate Mousse, and Shirred Eggs could now be back on the menu!!!
So what exactly are Safest Choice Eggs? They are regular eggs that, through Safest Choice's patented process, are pasteurized within their shells – which effectively kills all the bacteria without cooking the egg.
As my inner geek says "is that cool, or what?"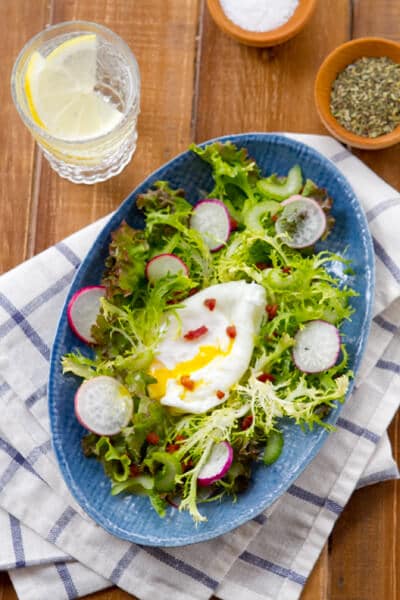 I've been using Safest Choice eggs for several years now and I absolutely love them – they cook up beautifully and are perfect for any dish that uses eggs and especially those dishes where the eggs aren't fully  cooked – like this Frisee Salad with Poached Eggs and Pancetta.
Speaking of salad, I've been enjoying this one as of late – fall hasn't quite arrived here in So Cal but my craving for heartier foods has and this Frisee Salad with Poached Eggs and Pancetta  definitely  satisfies my hunger for heartier foods!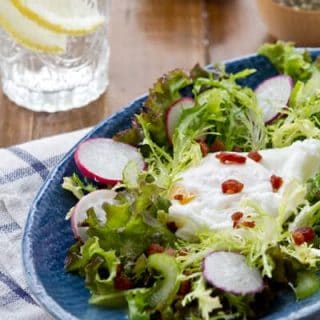 Ingredients
Fried Egg and Frisee Salad

1

head frisee

1

head red leaf lettuce

1

bunch radishes

thinly sliced

¼

cup

diced pancetta

4

Safest Choice Eggs

1

cup

celery

sliced

Dressing:

1 ½

Tbsp.

fresh lemon juice

1 ½

Tbsp.

white wine vinegar

1

tsp.

Dijon mustard

¼

tsp.

anchovy paste

4

Tbsp.

extra virgin olive oil

1

tsp.

herbs de provence

¼

tsp.

freshly ground pepper
Instructions
Dressing:
For the dressing: Combine the lemon juice and vinegar in a small bowl.

Add the Dijon mustard, anchovy paste and herbs de provence. Whisk.


Slowly drizzle in the olive oil while whisking the mixture. Add the pepper and whisk to incorporate.

Taste and add additional salt if desired. Set dressing aside.
For the Salad:
Wash and dry the greens and tear into bite sized pieces and place in a large salad bowl. Set aside.

In a small, non- stick skillet, cook the pancetta until it is brown and crispy, about 4 minutes. Place on a paper towel to drain and set aside.

Bring a large pot of water to a boil. While waiting for the water to boil, crack each Safest choice egg into a small bowl.

When the water is boiling, stir the water with a long handled spoon rapidly.

Slide an egg from the bowl into the water and reduce the heat so that the water is simmering.

Using a slotted spoon, carefully remove the egg from the water and drain on a paper towel. Repeat with the remaining eggs.

To assemble the salad: Toss the greens with the dressing and divide among four plates. Sprinkle the reserved pancetta on top and top each salad with an egg. Season with salt and pepper and serve.
Recipe Notes
Both the dressing and the eggs can be made a day ahead.
To serve, heat a shallow pan of water until the water is simmering. Gently lower the eggs into the water to re heat – about 2 minutes total. Use a slotted spoon to remove the eggs and drain on a paper towel and proceed with the recipe.
Nutrition
Calories:
222
kcal
|
Carbohydrates:
5
g
|
Protein:
7
g
|
Fat:
19
g
|
Saturated Fat:
3
g
|
Cholesterol:
164
mg
|
Sodium:
141
mg
|
Potassium:
373
mg
|
Fiber:
3
g
|
Sugar:
1
g
|
Vitamin A:
3645
IU
|
Vitamin C:
17.1
mg
|
Calcium:
115
mg
|
Iron:
2.9
mg