"Eat, drink and be merry!!'
I did.
And right now I am still feeling g a little full and craving something a little lighter ..and nutritious. Like soup and salad.
Sound familiar? I thought so.
Cruising  through my  pantry I came across a bag of farro that I had recently purchased and thought it would be wonderful in a soup.  If you aren't familiar farro, this is a great time to make it's acquaintance. Farro is a type of wheat that is popular in  Italian cooking. When cooked it has a has a chewy texture and nutty flavor. What I truly love about this grain though (aside from it's flavor and texture) is that it cooks up quickly – in about 15 to 20 minutes which makes it perfect for weeknight meals and an easy addition to soups and salads.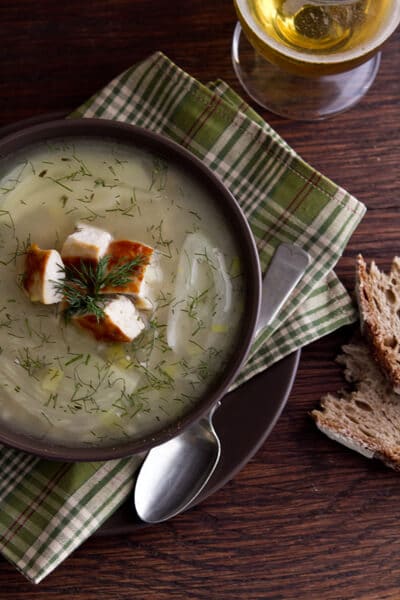 This soup was inspired by a lemon fennel soup I'd had at a restaurant several years ago. I remember that it's  fresh and bright flavors were welcome after all the heavy dishes I'd been eating – and once  home, I worked on re creating the soup. Using that as a jumping off point, I added farro and some grilled chicken. Paired with a salad, it makes an easy and filling meal that is full of fresh flavor.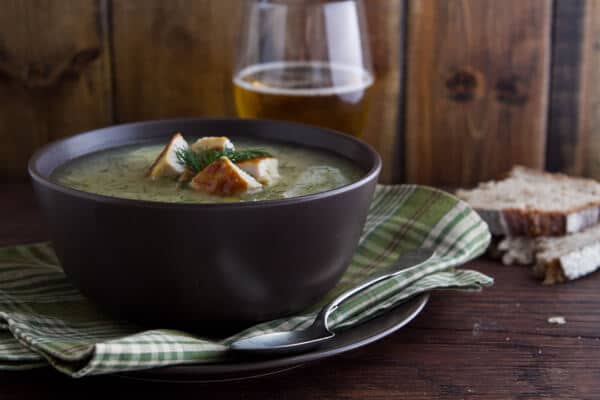 Here are some great salads to go with it…
Kale salad with dates, pine nuts and feta
Butternut Squash Panzanella Salad
Ingredients
6

cups

chicken or vegetable stock

1

Tbsp.

olive oil

1

leek

washed and cut into 1/4 inch slices

2

cloves

garlic

minced

1

small fennel bulb

cored and thinly sliced

1/2

cup

farro

juice of one lemon

2

Tbsp.

minced fresh dill

2

Tbsp.

minced fennel fronds

2

grilled chicken breasts cut into 1/2 inch dice

salt and white pepper
Instructions
In a large soup pot heat the olive oil over medium heat. Add the leeks and fennel and cook until the leeks and fennel are tender. Add the garlic and cook for 2 minutes. Add the stock and farro. Bring the stock to a boil and reduce to a simmer. Cook, covered for 15 - 20 minutes or until the farro is tender. Add the dill and fennel. Add the chicken and lemon juice. Season with salt and pepper. Garnish with additional dill and fennel fronds if desired.