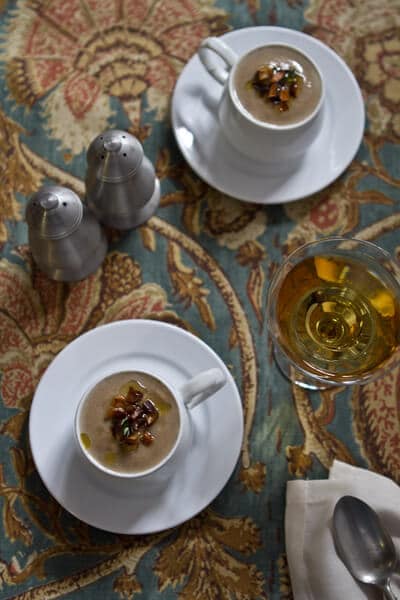 Thanksgiving used to be simple, didn't it?
I mean you had your turkey, stuffing/dressing, potatoes, green beans, cranberry sauce and pumpkin pie, right?
Today, it isn't always so simple – more and more of my friends and relatives have dietary restrictions – gluten free, dairy free, reduced sodium, etc., etc. While the sheer number of dishes at most Thanksgiving spreads assures that everyone will find something to eat, I always feel a little bad for those who don't eat turkey.
Since it's generally the star of the meal, it seems like those who don't eat turkey are kinda left out in the cold – relegated to filling their plates with "side dishes" – and that is just not right. At all.
So, I've been playing with things that have a "meaty" flavor that don't fall into the category of a "side dish". And no, a "tofu" turkey IS NOT the answer… I will do a lot of things for my vegetarian friends but THAT is not one of them!
Well, as they say, "this one's for you" – a rich, decadent and meaty soup of chestnuts and mushrooms that's laced with good Spanish Sherry and finished with a drizzle of truffle oil.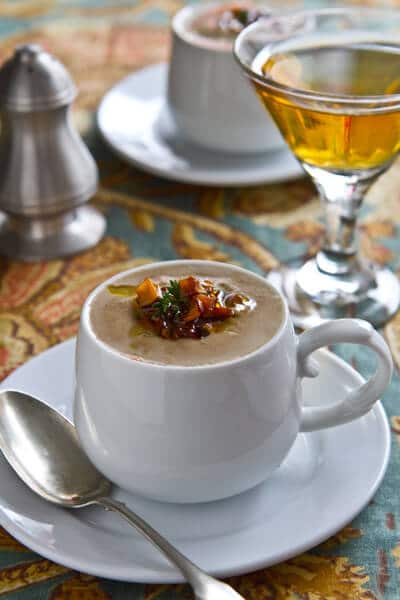 This is definitely better than a tofu turkey, don't you think??
Chestnut and Mushroom Soup
I used the vacuum packed chestnuts from Melissa's. For this soup, using a good Spanish sherry is important - if it's too harsh it will impart that flavor into the soup. If you have chestnut honey, by all means use it - if not, any good honey works fine or you can substitute agave nectar. I noticed that I had to puree this soup longer than I normally do with other vegetable soups.
Print
Pin
Rate
Add to Collection
Go to Collections
Ingredients
1 - 6.5

oz.

packaged cooked and peeled chestnuts

1 ½

cups

sliced cremini mushrooms

3

Tbsp.

butter

2

large shallots

minced

2

cloves

garlic

minced

1

stock of celery

sliced

2

Tbsp.

chopped fresh thyme

¼

plus 2 Tbsp. good Spanish sherry

4 - 6

cups

vegetable or chicken stock

½

tsp.

honey

salt

white pepper

½

cup

half and half

Garnish

¼

cup

minced cremini mushrooms

1

Tbsp.

butter

sprigs of fresh thyme

1

Tbsp.

truffle oil
Instructions
In a large saucepan, melt the 2 Tbsp. of butter over medium high heat. Add the mushrooms to the butter and cook without stirring until mushrooms are deep golden brown - about 4 - 5 minutes. Flip mushrooms and continue to cook until golden brown. Remove mushrooms from the pan and set aside. Melt the remaining tablespoon of butter in the pan over medium heat and add the shallots and garlic, cooking until softened, about 5 minutes. Add mushrooms back to the pan and increase the heat to medium high. Add the sherry and cook, scraping up the bottom of the pan and cook until almost all the sherry has evaporated, about 3 minutes. Add the chestnuts, celery, thyme and stock. Bring to a boil, cover the pan and reduce to a simmer. Simmer for approximately 1 hour until chestnuts have softened. Let soup cool slightly and then puree in a food processor. - if the mixture is too thick, thin it down with a little vegetable stock. Return soup to the pan and re warm, seasoning with salt, pepper and the honey. Add the half and half and the remaining 2 Tbsp. sherry. Garnish with the cooked mushrooms, fresh thyme sprigs and a drizzle of truffle oil.

For garnish: In a small saute pan heat the 1 Tbsp. butter over medium high heat. Add the mushrooms and cook, without stirring for 3 - 4 minutes or until mushrooms are golden brown.