This Irish Guinness Beer Bread recipe is tender, moist and incredibly easy! A little sweet and malty it's the perfect partner to irish stew!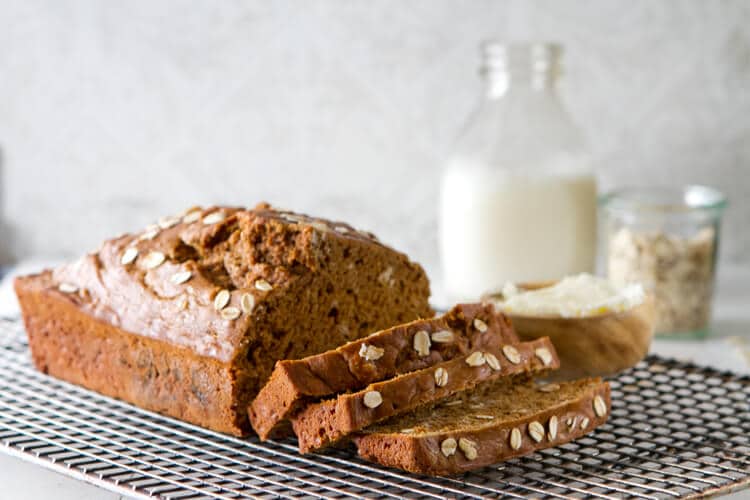 You probably are wondering why I am posting a recipe using Guinness almost two months before St. Patrick's Day. But I was so excited about this I couldn't wait!!
A couple of years ago we went to Ireland and made the obligatory trek to the Guinness Storehouse. Figuring we'd need a little sustenance before imbibing sampling, we decided to have lunch at their restaurant (well, that and we had two teenage boys with us - 'nuff said).
As we sat ogling the panoramic view of Dublin (and trying to decide if a full pint was a wee bit much at lunch!!) the waiter brought us a basket of brown bread to tide us over until our entrees arrived (and probably to help soak up some of those pints we'd decided on!) . But not just any brown bread - it was the best brown bread of the entire trip - and maybe in my whole life.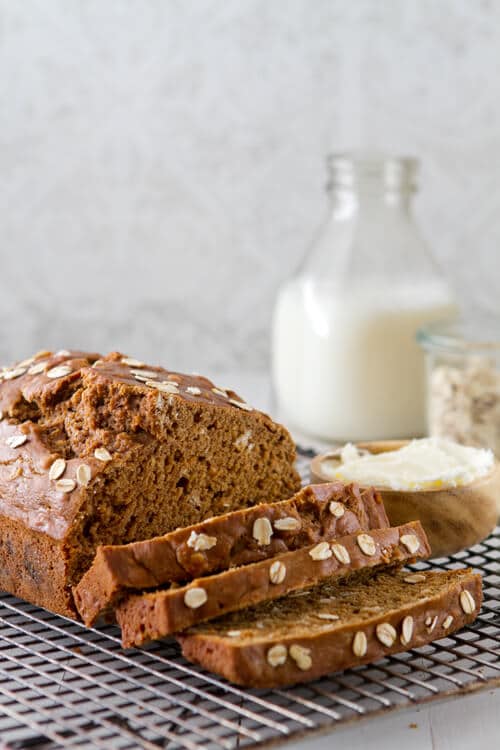 So there was no question I had to get the recipe - but despite my efforts it was a no - go. The waiter had no idea how the bread was made and the pastry chef in charge of making the bread was off. The recipe book in the gift shop had lots of great Guinness recipes - but no brown bread.
Once home I searched the web- no luck. Although I have a pretty darn good Brown Bread recipe, it isn't the same as the one I'd had at Guinness.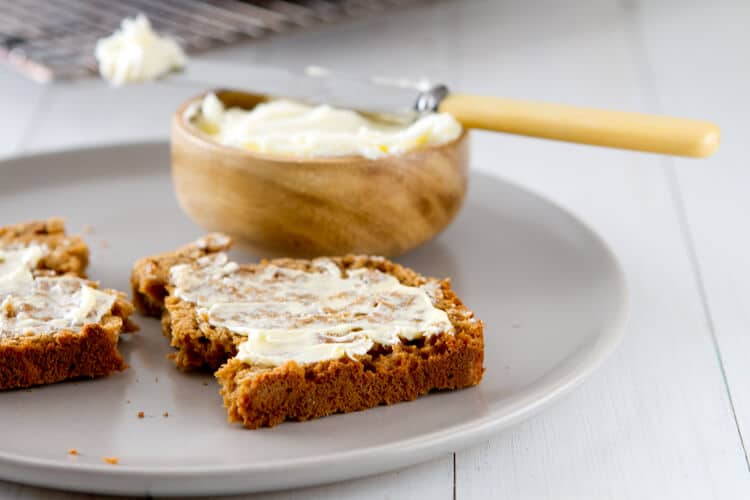 Sigh.
So, I figured it was just "one of those things" and as they say, "life moves on". Recently though I was surfing the web and came across the Guinness website and clicked on their recipe section - you know, just in case that brown bread recipe was there.
And it was. Have I mentioned how much I really love the internet?
Needless to say, I ran right out and got some Guinness and set to work on this Irish Guinness Beer Bread. Time hadn't dulled my affection for this loaf - it was as good as I remembered- and it's the perfect thing to go with soups, stews and winter salads - or as a little snack, toasted and spread with some good Kerrygold butter and a bit of Dubliner cheese.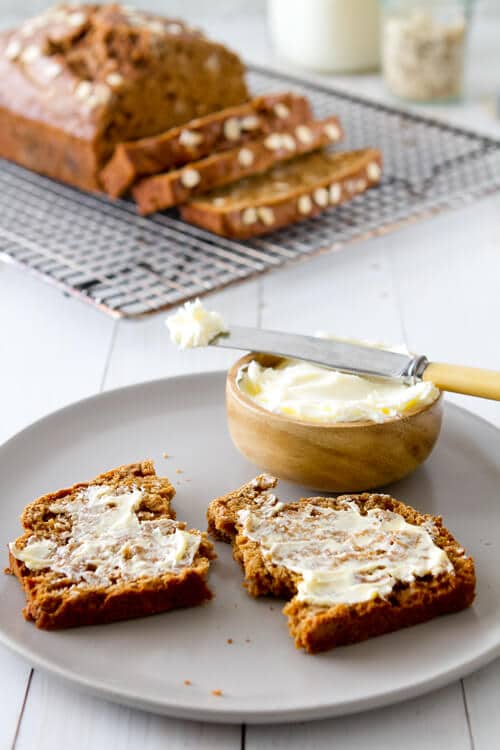 Oh, and this Irish Guinness Beer Bread is a "quick bread" - which totally works for me since as you know, I sort of have a problem remembering to make bread.
Do you love quick bread recipes as much as I do? If you do, you should definitely give these recipes a look!
📖Recipe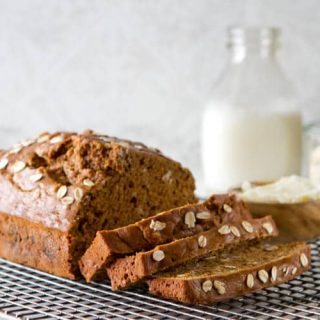 Ingredients
3 ¾

cups

whole wheat flour

1 ¼

cups

white flour

1

cup

old fashioned oats

2 ½

tsp.

baking soda

1

tsp.

salt

2 ½

Tbsp.

brown sugar

2

Tbsp.

unsalted butter

2

cups

whole milk

7

Tbsp.

plus 2 tsp. unsulfured molasses

1

cup

Guinness
Instructions
Preheat the oven to 350 degrees and grease two 81/2 x 41/2 loaf pans. the center comes out clean.

In the bowl of a food processor combine the flours, baking soda and brown sugar with the butter until the mixture resembles coarse sand. Transfer the mixture to a large mixing bowl. Stir in ¾ cup plus 2 Tbsp. of the oats.

Add the milk, molasses, and the Guinness.

Stir to combine (the dough will be very wet). Evenly divide the dough between the two loaf pans.

Sprinkle the tops with the remaining 2 Tbsp. oats. Bake for 40 - 45 minutes until the bread is nicely browned and a cake tester inserted in the center comes out clean.

Let the loaves cool on a cooling rack. I like to run a butter knife around the edges of the pan so that the loaves come out more easily.

Serve with a good slather of Irish butter!
Nutrition
Calories:
1718
kcal
|
Carbohydrates:
320
g
|
Protein:
51
g
|
Fat:
29
g
|
Saturated Fat:
13
g
|
Cholesterol:
56
mg
|
Sodium:
2780
mg
|
Potassium:
2150
mg
|
Fiber:
30
g
|
Sugar:
70
g
|
Vitamin A:
765
IU
|
Calcium:
506
mg
|
Iron:
16
mg