Have you ever noticed that just about every interview with a chef includes a question about what their favorite/most crucial piece of equipment is??
The answers are pretty predictable – knives, pans, spoons, etc. Sometimes though they are a bit wacky like a salt slab – really??? (Sorry I can't remember the name of that chef – if you know it, kindly post it in the comments section!)
Ok, so I am not a celebrity chef, but today I am going to share with you my favorite piece of equipment – the one I use almost everyday and that frankly I couldn't cook without. Want to guess???
Well, if you guessed a rimmed sheet pan, you would be correct!!! It may seem like a strange choice but seriously, I use these for just about everything – meats, vegetables, fruits – you name it, I have probably cooked it on a sheet pan.
Which brings me to this potato salad.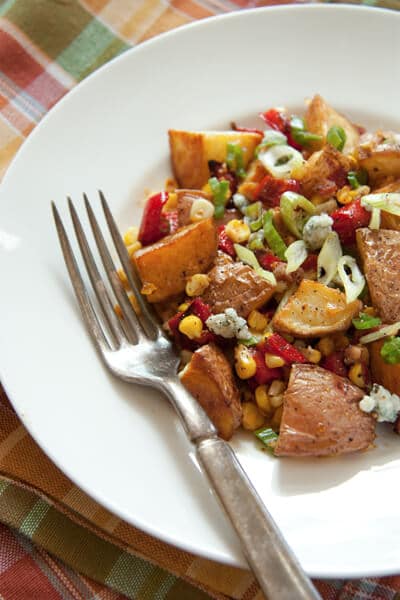 For years, I did not make potato salad.
The idea of peeling, cubing and cooking potatoes, draining them, THEN mixing them with a dressing (which of course you had to mix in separate bowl) seemed like a whole lot of dishes for a side dish – and since I wasn't a huge fan (well, except for Nate n' Al's which I would happily walk over hot coals for) I just didn't do it.
But then I tasted my first potato salad with roasted potatoes and a vinaigrette dressing…. that I couldn't stop eating. Since then, I have been experimenting with all kinds of flavor combination and this is one of my favorites – roasted potatoes, roasted corn , roasted red bell peppers and pancetta dressed with a light sherry vinaigrette and topped with a little crumbled blue cheese.
Now THAT is a potato salad worth a lot of dishes…. lucky for me it requires only two – a sheet pan and a small bowl. That's it.
"Get Grillin' with Family Fresh Cooking and Cookin' Canuck, sponsored by Ile de France Cheese, Rösle, Emile Henry,and Rouxbe .
Roasted Potato Salad with Corn, Bell Peppers, Pancetta and Blue Cheese – If you cannot find sherry wine vinegar, substitute ¼ cup white wine vinegar for the sherry and cider vinegar. Pancetta is an italian style bacon – if you can't find pancetta, you can substitute 3 -4 slices of thick cut bacon.
[print_this]
Roasted Potato Salad with Corn, Red Bell Peppers and Pancetta

(serves 4 – 6)
2 Tbsp. olive oil
1 lb. small red Idaho potatoes – quartered or cut into 6th's if large
1 – red bell pepper – seeded and cut into ½ inch dice
fresh corn kernels cut from 2 ears of fresh corn
4 oz. uncooked pancetta cut into ¼ inch dice (about ½ cup)
⅓ cup crumbled blue cheese
2 scallions, sliced into ¼ inch slices (optional)
Dressing:
2 Tbsp. sherry wine vinegar
2 Tbsp. cider vinegar
2 tsp. dijon mustard
⅓ cup olive oil
salt and pepper to taste
Directions:
Pre heat oven to 400 degrees.
Spray a rimmed sheet pan with cooking spray. Dump cut potatoes on sheet pan and spread out into a single layer. Drizzle with olive oil and season with salt and pepper.
Place in the oven and set timer for 15 minutes.
While potatoes are cooking, combine the vinegars , mustard and a large pinch of salt in a small bowl and whisk to combine. Add pepper and whisk to combine. Drizzle olive oil into vinegar mixture while whisking. Whisk until mixture is thoroughly combined. Taste and add more salt and pepper if needed. Set aside.
After potatoes have been in the oven for 15 minutes, add the red bell peppers and the pancetta. Cook for another 10 minutes and then add the corn.
Cook for an additional 10 – 15 minutes or until potatoes are golden and tender and vegetables have caramelized.
Remove pan from oven and drizzle the dressing all over. Using a spatula or a couple of spoons toss the potatoes, corn, peppers and pancetta so that they are evenly coated with the dressing. Sprinkle with the crumbled blue cheese and the scallions. Serve!!
[/print_this]