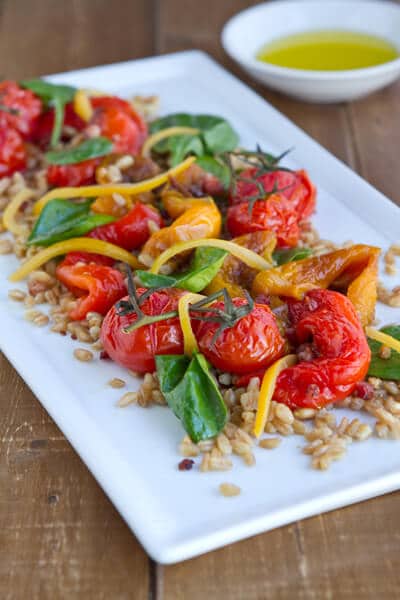 Did you make any New Year's Resolutions?
I know what you are thinking - "wha-a-a-a-t? That was like 3 months ago!" (Amazing how time flies isn't it? - but I digress...)
Well, I did and although I'd like to say that I am acing them all, that isn't true. But since I am just about one fourth of the way through the year I thought I'd take a little step back and see how I'm doing.
So what exactly were these resolutions? Well, I had a few but the one I want to talk about was... you guessed it, about food!
My resolution was to be more, shall we say "circumspect" about what I was eating - not from a philosophical point but from a nutrition standpoint. For virtually all of my life I was "blessed/cursed" (depending on how you look at) with being able to eat pretty much whatever I wanted and not have that little needle on the scale move northward.
That is no longer the case.
Which, if you love food and work with food as much as I do, can be a bit frustrating. Alright, lets be honest here. It's downright Machaevellian - I mean I can deal with wrinkles and no longer being carded when I order a drink, but having to consciously think about what I am eating - that really is hitting below the belt!!!
Ok, enough of this little "pity party" - I recognize that in terms of issues to deal with, this doesn't even rate a mention. And although my weight is well within the "healthy" range I'd prefer it to be at the lower end of that range, thank you very much... and no, I have no illusions of fitting into that bikini I used to wear - regardless of my weight, that "ship has sailed". Permanently.
So how do I reconcile these two issues - my love of food and my desire to weigh a bit less?
Talk about a loaded question! Ever tried googling it? Well, don't go there. Seriously. The amount of disinformation out there is truly mind boggling... and dangerous. But that's a discussion for another day. The simple truth is that it's not about cleanses or eating from this list of 20 or 30 items or eating this food or that food. It's really pretty simple. In short, it boils down to "eat less, move more" - or as I like to say, getting the most nutritional bang for your calorie buck.
Which brings us to this Roasted Pepper, Tomato and Farro salad. Roasted peppers, tomatoes, spinach, herbs, and farro... now that is what I am talking about! Nutrient dense but with enough flavor and texture to keep things interesting so you don't feel deprived. When I first started combining greens and grains I wasn't too sure about the combination. But I am a convert. I love it. To me it is almost a "yin yang" type of combination - crunchy greens and chewy grains combined with the sweet, tart and tangy flavor of roasted vegetables and dressed with a light vinaigrette.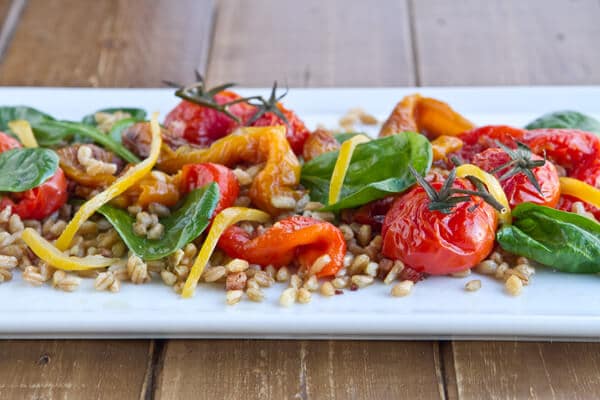 I honestly don't think it gets a lot better than this. And neither does my waistline!!!
📖Recipe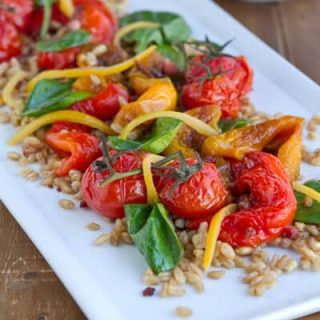 Ingredients
1

cup

farro

2

cups

chicken or vegetable stock

2

yellow bell peppers

2

red bell peppers

12

cherry tomatoes

¼

cup

pancetta cut into ¼ inch dice

1

preserved lemon

flesh removed and skin cut into ⅛ inch slivers

2

cups

baby spinach leaves

1

Tbsp.

extra virgin olive oil

2

Tbsp.

white wine vinegar

½

tsp.

anchovy paste
Instructions
In a medium saucepan place the farro and the stock and bring to a boil. Cover and reduce to a simmer. Simmer for 15 to 20 minutes until the farro is tender and the liquid is absorbed. Set aside.

Cut the bell peppers in half lengthwise and place on a foil lined sheet pan. Broil the peppers for about 7 - 10 minutes or until the skins are completely blackened and blistering. Remove pan from the oven and place peppers in a bowl. Cover with plastic wrap. Reduce the oven temperature to 400 degrees and place the tomatoes on the sheet pan. Roast the tomatoes for 5 - 10 minutes until the tomatoes are soft. Remove from the oven and set aside.

In a small non stick skillet, cook the pancetta until it is crispy and brown. Set aside.

Peel the bell pepper and cut or tear into strips.

In a small bowl combine the vinegar and the anchovy paste and whisk to combine. Drizzle in the olive oil. Season with salt and pepper.

In a large bowl, combine the cooked farro, bell peppers, pancetta, preserved lemon, capers and spinach. Drizzle with the dressing and divide among 4 plates. Garnish with the roasted tomatoes and serve!
Recipe Notes
I used farro in this salad but you could also substitute cooked barley or wheat berries.
Everything for the salad can be made the day before and refrigerated. Before serving, let the farro and vegetables come to room temperature. 
Nutrition
Calories:
264
kcal
|
Carbohydrates:
50
g
|
Protein:
7
g
|
Fat:
4
g
|
Sodium:
518
mg
|
Potassium:
586
mg
|
Fiber:
10
g
|
Sugar:
5
g
|
Vitamin A:
3890
IU
|
Vitamin C:
201
mg
|
Calcium:
46
mg
|
Iron:
2.5
mg