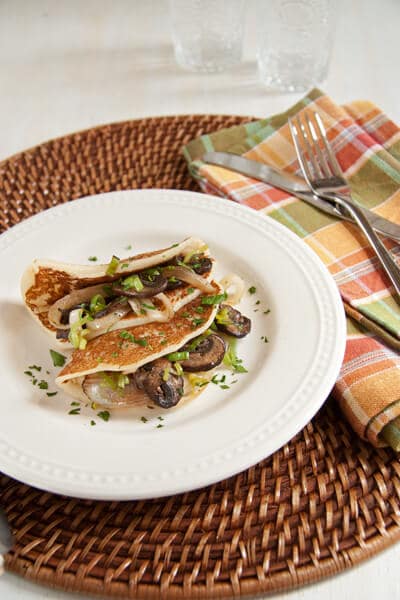 Beannachtaí na Féile Pádraig oraibh!
St. Patrick's Day Blessings on you!
Being half Irish, my family always celebrated St. Patrick's Day. We would get together with various aunts, uncles and cousins and celebrate our Irish heritage with food, music, dancing, stories and of course… drink!!! Although Corned Beef and Cabbage, Soda bread and Guinness (or green beer if that's your pleasure) dominate this holiday there are (ahem) other Irish dishes. So, I thought I'd share with you another favorite Irish dish – Boxty!! So what is boxty? Well, it is Ireland's version of the potato pancake!
The dish originated in the counties of Sligo and Donegal (where it is know as Poundy or Poundies) and in Leitrim and Cavan.
This dish became so popular in those areas where it originated, a poem was even written about it!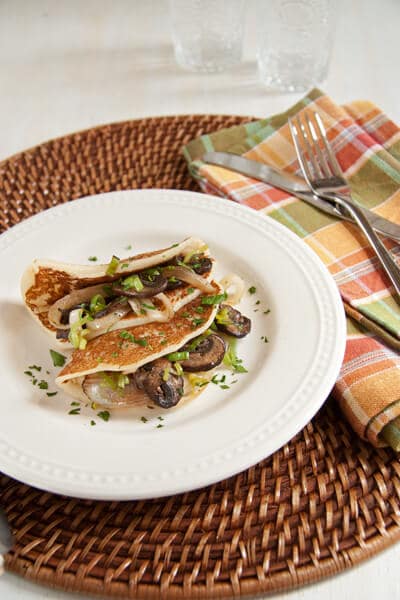 "Boxty on the griddle,
Boxty in the pan,
If you can't make Boxty,
You'll never get a man!
Like all such dishes, there are many variations – however, they all have a few things in common. They all contain grated potatoes and are fried on a griddle.. This version, which is adapted from the one used at Gallagher's Boxty House in Dublin, features grated potato, mashed potato, flour and milk.
Unlike the more familiar latke, boxty is more like a crepe and so it is perfect for stuffing!! This version is filled with sauteed onions, leeks and mushrooms and finished with a little whisky and cream but you could easily fill it with other vegetables or thinly sliced beef or chicken. The possibilities are only limited by your imagination. So if Corned Beef is not your favorite or if you are a vegetarian, this would be the perfect dish to celebrate St. Patrick's Day!!!
So, happy St. Patrick's Day – Slainte!
Other Boxty Recipes you might like
Stephen Cooks – Boxty with Mango Chutney Mustard Sauce
[print_this]
Boxty
The original recipe calls for 18 (2 oz.) beef fillet slices. I omitted them in this version but they would be delicious with the fillet or even with thinly sliced chicken. I also added sliced green onions to the pancake batter. Fresh herbs would also be a wonderful addition to the pancake batter.
(adapted from Gallagher's Boxty House)
Serves 6
1 cup grated raw Idaho russet potato
1 cup mashed Idaho russet potato
1 cup flour
1/4 cup thinly sliced green onions
2 cups whole milk
salt and pepper to taste
2 onions, peeled and thinly sliced
1 leek, washed and cut into 1/4 inch rounds
1 cup sliced mushrooms
1 tbsp. butter
1/4 cup Irish whisky
1 cup cream or half and half
1/4 cup chopped parsley
salt and white pepper
Directions:
Pre heat oven to 200 degrees. Line a sheet pan with parchment and set aside.
Wrap the grated potato in an old, clean dishcloth and twist ends, wringing out any excess moisture.
Place drained, grated potatoes and mashed potatoes in a large bowl. Stir to combine. Stir in the flour and green onions and milk. Stir until a a smooth batter forms. Season with salt and pepper.
Rub a griddle with a little vegetable oil and heat over medium high heat.
Drop a small ladle of batter onto the griddle. Cook approximately 2 minutes (until small bubbles form on the top) and then flip the pancake over and cook for another 2 – 3 minutes or until golden brown. Remove cooked pancakes to parchment lined sheet and place in the 200 degree oven to keep warm while cooking the remaining pancakes.
For filling:
In a medium saute pan, heat 1/2 tbsp. butter over medium high heat. Add the onion and cook until soft and lightly brown. Add the leeks and cook for 2 – 3 minutes or until leeks are tender. Remove onions and leeks from pan and set aside.
Add remaining 1/2 tbsp. butter to pan and heat over medium high heat. Add the mushrooms and saute until mushrooms are tender and golden brown.
Pull the pan off the heat and add the whisky. Return the pan to the heat and cook until the whisky is reduced to about 1 tbsp. Add the onions and leeks to the pan and the cream or half and half. Continue to cook until the sauce is reduced to a sauce consistency. Season to taste with salt and freshly ground pepper.
Place 2 or 3 pancakes onto a plate and place 2 – 3 Tbsp. filling on one side of pancake. Fold over. Garnish with additional sauce if desired and chopped parsley.
[/print_this]