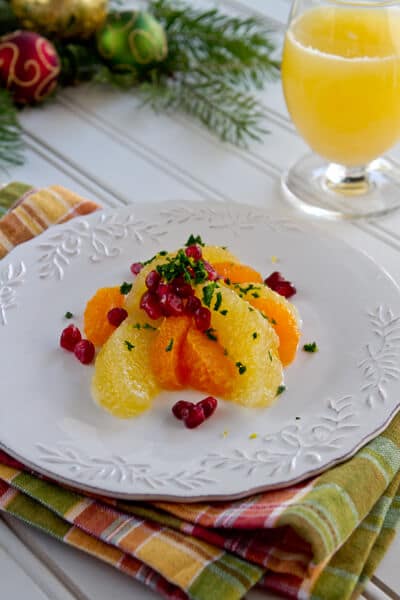 "Mom... Dad, is it time yet?"
For the past 14 years or so, that is the first thing that has greeted me on Christmas morning.
In our house, we have a rule - no going downstairs until 7am on Christmas morning (unless of course you are me or my husband since we seem to always be up during wee hours of Christmas morning   - because really, who knew that it takes at least 4 hours to set up a basketball hoop in the dark at 1am?? )Evidently not me. So, the 7am rule worked well  when my children were little - we managed to grab a some sleep before the "big" day and... most importantly we didn't miss the magical look on our children's faces when they saw what Santa had brought on Christmas morning.
As my kid's have gotten older times have changed a bit - the 7am rule  however is still in force.... but at least they don't ask if it' "time" yet!!!
One thing that hasn't changed though is Christmas breakfast/brunch. The recipes of course change, but the game plan? Not a chance.
Now, some people manage to pull off being right in the middle of the Christmas morning mayhem while whipping up large batches of freshly cooked waffles, pancakes, omelets and the like. I however, am not one of them. Maybe because I am  sleep deprived, but on Christmas morning, I just don't seem able to manage it and to be honest, I don't want to. Heresy, I know. But there you have it.
I want great food, but food I don't have to fuss over  since there are other, far more important things to do! Because we  generally have a stream of family and friends stopping by  "breakfast" has evolved to more of an all day brunch affair... and so I have to have things that I can make ahead and either just re heat or assemble! Fortunately, I've found some great recipes that I will be sharing with you over the next week or so - and to get the ball rolling I am starting with... fruit!
When Melissa's Produce sent me some beautiful Cocktail Grapefruit and Jeju Mandarins I knew exactly what I was going to do with them - make a fruit salad that is perfect for breakfast/brunch. If you haven't tried either  of these citrus fruits you are in for a treat! The Cocktail grapefruit are delicious - they aren't too tart and are incredibly juicy!!! The Jeju mandarins are a new type of Mandarin that is grown on the Jeju Island which is just south of the Korean peninsula. They are similar to a Satsuma tangerine - very easy to peel, seedless and very sweet... and lasted about 3 days in my house because no one could keep their hands off them!!
Both of these fruits are terrific by themselves - but they work beautifully in this salad, providing a fresh, tart and sweet start to the day!
📖Recipe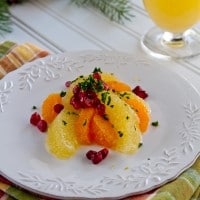 Citrus Salad with Mint Gremolata
The grapefruit and tangerines can be peeled and sectioned the day before. Refrigerate them separately. The mint mixture can also me made the day before and refrigerated. You may wonder why the mint leaves are blanched. The blanching allows the mint to retain its color - you can certainly skip this step -especially if you are making the gremolata right before serving it. I found I preferred the salad without the simple syrup but you could easily offer it on the side if you wish.
Print
Pin
Rate
Add to Collection
Go to Collections
Ingredients
4

Cocktail Grapefruit

peeled and sectioned

8

Jeju Mandarin oranges

peeled and sectioned

½

cup

pomegranate seeds

¼

cup

fresh mint leaves

1

Tbsp.

sugar

1

Tbsp.

grapefruit zest

plus additional for ganish

simple syrup

optional
Instructions
Zest one of the grapefruits over a small bowl. Cover and set aside.

Peel and section the grapefruits and mandarins. Set aside.

Bring a small saucepan of water to a boil and fill a small bowl with ice and water. Blanch the mint leaves for about 10 seconds in the boiling water. Remove immediately to the ice water. Remove mint leaves to 2 layers of paper towel to drain. Pat the leaves until they are very dry - they will be limp!

Mince the mint leaves and place in a small bowl. Add the sugar and the 1 Tbsp. grapefruit zest.

In a platter or individual plates, divide the grapefruit and mandarin sections. Top with the pomegranate seeds and a teaspoon of the mint mixture. Garnish with additional grapefruit zest and a little simple syrup if desired.
Nutrition
Calories:
232
kcal
|
Carbohydrates:
58
g
|
Protein:
4
g
|
Fat:
1
g
|
Saturated Fat:
1
g
|
Sodium:
5
mg
|
Potassium:
689
mg
|
Fiber:
9
g
|
Sugar:
42
g
|
Vitamin A:
4145
IU
|
Vitamin C:
131.5
mg
|
Calcium:
131
mg
|
Iron:
0.7
mg