A couple of weeks ago, we took a short vacation and rented a houseboat on Lake Shasta. 4 days with no schedules, no computer and no internet – a "time out" from the crazy schedule that has dominated our summer and a chance to spend some  uninterrupted time together as a family before my oldest heads off to college in Texas next month.
Planning the meals for this trip got me thinking about what I used to make when we went camping – and that's where these marinated sun dried tomatoes come in. They just might be one of the most perfect foods for camping – and even if you don't "camp" they are definitely worth making because they not only taste amazing but are incredibly versatile. A sauce for  pasta, an appetizer with feta cheese and crackers and a perfect dressing for salads. I can't think of many foods that are that versatile – can you?
Now, you can obviously buy these already marinated – but these are so much better. Really.
I'd been thinking about using them in a grain based salad -a very  loose riff on tabbouleh.   Great on the first day and even better on the second. This salad too would be perfect for camping, a picnic or even hiking – have it as a side with some grilled meat or chicken and then pack the leftovers for lunch the next day.
But  even if your idea of camping is just eating outside on a patio or deck, these tomatoes and this salad deserve a place in your refrigerator and on your table. Trust me on this.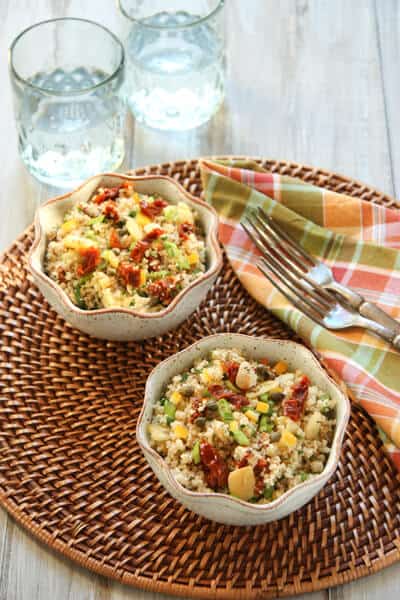 Bulgur Salad with Marinated Tomatoes – This recipe calls for using the sliced garlic cloves in the finished dish – they are pungent so if you are not a garlic fiend like I am, feel free to not include them in the salad. As for the preserved lemons they really do make a huge difference in this dish. They couldn't be easier to make – see the link for how to make them!! Finally,  I made this with bulgur but it would also be very good with quinoa or couscous.  Garbanzo beans would also be a delicious addition and when combined with the grains provides a complete source of protein.
(serves 4 – 6 people)
Marinated Tomatoes
1- 3 oz. package sun dried tomatoes
1 cup  cup white wine vinegar
¾ cup extra virgin olive oil
4 garlic cloves, sliced thin
2 tsp. herbs de provence
¼ tsp. freshly ground black pepper
2 Tbsp. capers
2 tbsp. grated parmesan cheese
Directions:
In  a medium sized glass bowl (preferably wit a lid) l, combine the tomatoes and ½ cup of the white wine vinegar. Let sit for 30 minutes. Add the remaining ingredients and stir. Refrigerate overnight.
Bulgur Salad with Marinated Tomatoes
1 cup bulgur (I used #12 grade)
1 cup hot water
1 recipe marinated  tomatoes
2 – 3 Tbsp. white wine vinegar
2 Tbsp. minced preserved lemon(or you can use lemon zest but flavor won't be as pronounced)
1 cup minced fresh Italian parsley
⅓  cup sliced green onions
1 cup chopped, canned artichoke hearts
½ cup shelled pistachios
Directions:
In a large bowl, combine bulgur and hot water. Cover and set aside for 5 to 10 minutes.
Remove sun dried tomatoes from marinade and slice into ¼ inch pieces.
When bulgur has absorbed all the hot water stir in the marinated tomatoes, preserved lemons, parsley, green onions and artichoke hearts.
Measure out ½ cup of the marinade (making sure to get the capers and the sliced garlic!) and pour over the bulgur mixture. Stir to combine. Taste and adjust seasonings, adding more vinegar/marinade to taste.
Top with pistachios and serve.