One pan Black Bean,Rice and Sausage Salsa Bowls are an easy 30 minute one dish dinner! Smoked sausage, vegetables quick cooking  rice and beans make this a complete meal!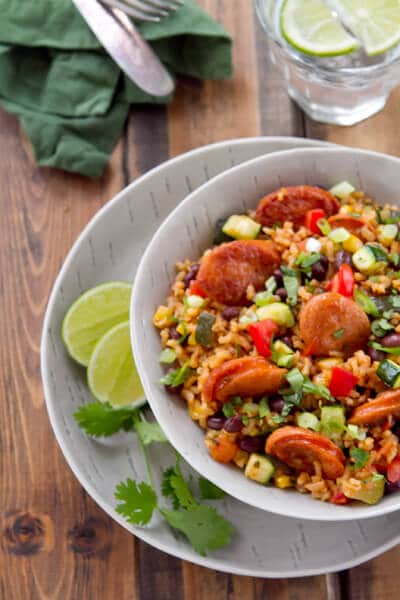 Black bean, rice and sausage salsa bowls... it's what's for dinner!! You can tell the lazy, hazy days of summer are over when the morning conversation goes something like this "What's for dinner tonight  Mom? I've got  practice this afternoon and then a study session at 6" which is sometimes followed by "hey hon, we've got a meeting so I'll be home around 7 -ish.". Oh, and just about then you remember that you've got a committee meeting at 4 pm... and  dinner  preparation is supposed to happen exactly when??
Welcome to my world. Yours too??? Yeah, I thought so - seems just about everyone has a version of this story these days. While it's tempting to just do take out, or re heat a frozen dinner, it's just not practical -especially when your having this conversation 3 or 4 mights a week! Well, as they say a good offense is a good defense, which for me means stocking my pantry, fridge and freezer with things that make quick and easy meals... and if they are nutritious and can be re heated like these  one pan Black Bean, Rice and Sausage Salsa Bowls.. bring it on!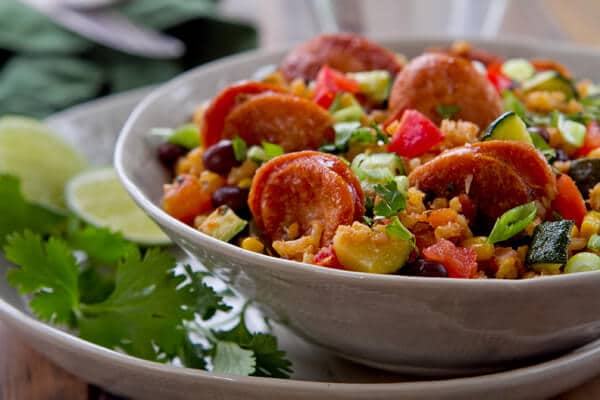 So, when  Farmer John contacted me and offered to let me try their brand new Hot Louisiana Brand Chicken Smoked Sausage I was more than excited to try it. Pre cooked chicken sausage is one of my "quick dinner" mainstays and I'm always looking for new kinds to try. Needless to say the Farmer John Louisiana Brand Chicken Smoked Sausage did not disappoint - both my DH and my son loved it - which is saying something since my DH tends to like spicier food than our son C. So, yes, the sausage has a bit of a kick, but, in my "humble opinion" I think it's just right -  enough for those who like a bit of a kick and not enough to scare off those who don't like "spicy stuff" - yes I am talking to you Mr. C!!!
So, what can you make with sausage?  Well, there isn't room for me to list everything I can think  of to make with this sausage - but things like this Barley Sausage Skillet, Quick and Easy Cassoulet and Cider Braised  Cabbage and Sausage come to mind. But since I've "been there and done that" I wanted to try something new that's been rattling around in my brain for a while... this Black Bean, Rice and  Sausage Salsa Bowl! Made from some of my quick dinner must have's" this dish was a breeze to make - I timed it at 20 minutes start to finish and I only got 1 pot dirty!  I have to admit I was pretty pleased with myself. And the family? Well, DH just asked if "we could please have those Black Bean, Rice and Sausage Salsa bowl things this week"...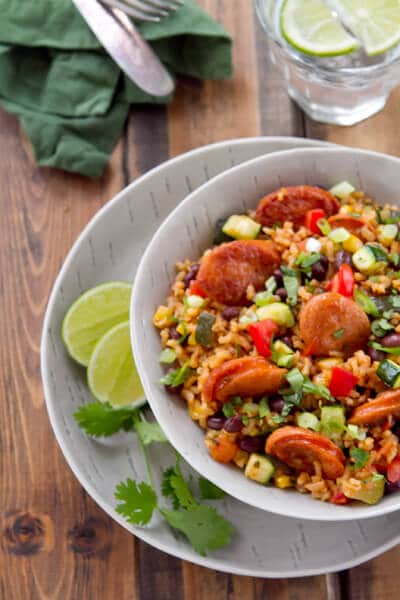 📖Recipe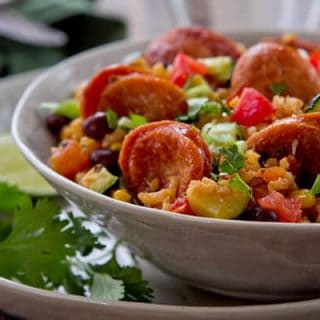 Ingredients
1

tsp.

vegetable oil

4

links Farmer John Louisiana Style Chicken Sausage

sliced

2

medium zucchini

cut into ½ inch dice

½

cup

frozen corn kernels

1

tsp.

cumin

1

cup

quick cooking brown rice

1 ¼

cups

low sodium chicken stock

¾

cup

fresh salsa

drained

1 - 14

oz.

can black beans

drained and rinsed

2

green onions

sliced

¼

cup

chopped fresh cilantro

1

lime

cut into quarters
Instructions
In a medium sized lidded pan, heat the 1 tsp. of vegetable oil over medium high heat. Add the sausage and cooked for 2 - 3 minutes. Turn sausage over and cook for another 2 - 3 minutes.

Add the zucchini and corn and cook for 2 - 3 minutes until the vegetables are slightly caramelized. Sprinkle with cumin. Add the rice and stir. Pour in the chicken stock and the salsa and stir. Bring mixture to a boil and reduce to a simmer. Cover the pan and cook for approximately 10 minutes or until the liquid is absorbed and the rice is tender. Divide between 4 bowls/plates and garnish with green onions, cilantro and lime wedges.
Recipe Notes
I used a mild salsa but if you like things spicier, use a medium or hot salsa! This dish also re heats very well - if making ahead, cool the sausage and rice mixture, cover and refrigerate.
Nutrition
Calories:
332
kcal
|
Carbohydrates:
35
g
|
Protein:
19
g
|
Fat:
14
g
|
Saturated Fat:
3
g
|
Cholesterol:
60
mg
|
Sodium:
1287
mg
|
Potassium:
542
mg
|
Fiber:
3
g
|
Sugar:
6
g
|
Vitamin A:
875
IU
|
Vitamin C:
26.2
mg
|
Calcium:
59
mg
|
Iron:
3.9
mg