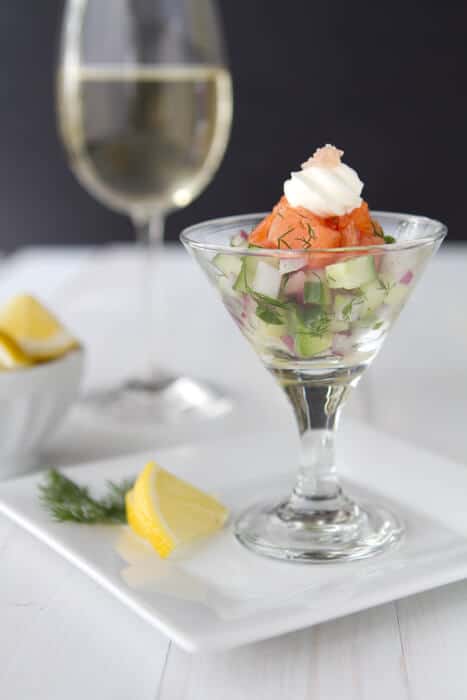 We are in the home stretch – and while kid's dreams may be filled with visions of sugar plums mine  are  filled with… savory treats!! At about this time of the year I am pretty much over Christmas cookies and my thoughts are turning to… appetizers. As you may have noticed,  I have a "thing" for appetizers.
They fascinate me.
Well,  "good things come in small packages" so perhaps that is why I am so enamored of them – but for whatever reason, I adore playing with appetizers. So today, I actually have two of them for you. Either would be perfect for any holiday gathering you've got coming up and, of course, they not only can be made ahead (in fact they have to be!) but they don't require much time because if they did, well, they would not be on on my blog at this time of year – I know I am a little crazy, but not that crazy.
If you've never made Salmon Gravlax before, this is your lucky day!  It may sound a little scary, but honestly, it is perhaps one of the easiest and most foolproof things you will ever make. Really. Gravlax is a  cured salmon and one that tastes infinitely better that just about  smoked salmon  you can find in the refrigerated section of any store and it is, as I said, incredibly easy to make.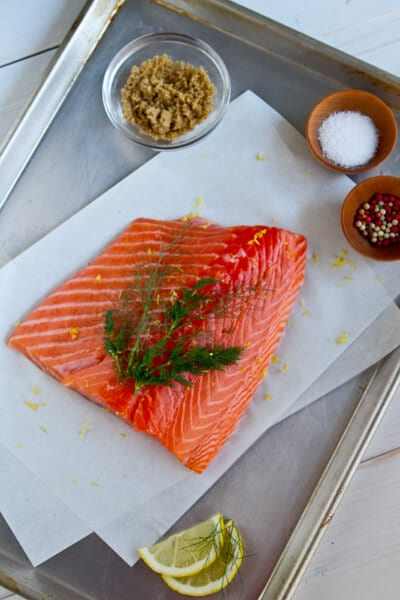 So what exactly is this "curing" business? Well, smoking or curing with salt and sugar (which is what is used in Gravlax) does two things – it removes much of the moisture from the salmon which allows it to be stored for a longer period of time (because it reduces one of the things bacteria need – water!)  and imparts flavors to the salmon based upon what ingredients are used to cure it. I've been making gravlax for a number of years and have finally found the perfect recipe – one that balances  salty, sweet and tart and results in a silky and rich gravlax!
Once the salmon is cured (which takes about 36 hours) you can serve it "as it" – thinly slice it, place it on a platter and add crackers, capers, creme fraiche and some finely minced red onion to go with it – everyone can make up their own little bite and  it makes a very easy and elegant appetizer that  travels well.
Or you can do what I did –  make "martini's".
Not the drinkable version of course, but a little "cocktail" served in a martini glass.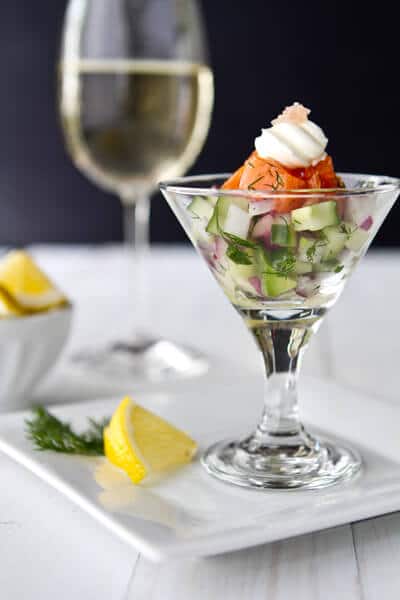 See what I mean – I am obsessed!
Seriously though, these little martini's are easy and just a little whimsical – which makes them perfect for the holidays. A little salad of cucumber, onion and avocado topped with some cubed gravlax, a dollop of creme fraiche and topped with whatever you like. I topped mine with finger limes. Finger limes are a specialty lime that is now being grown in California. Inside the juice is contained is little crunchy spheres that resemble caviar and have the tart, refreshing taste of lime. If you can find them (Whole Foods carries them) they make a fun topping to the martini's. But if you can't, a little fresh lemon zest or even salmon caviar make a terrific garnish!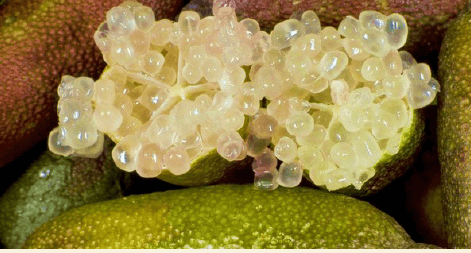 The gravlax recipe is adapted from one by Chef Larry Johnson. Once cured, the salmon will keep, well wrapped in the refrigerator for 5 to 7 days. The serving size for the martini's is based upon using a "mini" martini glass. If using a larger martini glass, simply double the recipe! The cucumber, onion and avocado can be cut up to two hours in advance - toss the avocado with a little fresh lemon juice to prevent discoloration. The gravlax recipe will yield more salmon than needed for the martini's.
Ingredients
For Gravlax:
1 lb. skinless salmon filet, preferably wild
1/2 tsp. freshly ground white pepper
1 Tbsp. fresh lemon zest
3/4 Tablespoon maple syrup or brown sugar
3/4 Tablespoon kosher salt
2 Tbsp. fresh dill, bruised
1 Tbsp. fresh fennel fronds, bruised (optional)
1 Tbsp. gin
For Martini:
1/4 lb. gravlax, cut into 1/2 inch dice
1/2 cup English cucumber, cut into 1/8 inch dice
1/2 cup red onion, cut into 1/8 inch dice
1/2 cup avocado, cut into 1/8 inch dice
2 Tbsp. fresh lemon juice
1 Tbsp. fresh dill, minced
1/4 cup creme fraiche or sour cream
4 - 6 finger limes OR 2 Tbsp. fresh lemon zest or 1 Tbsp. salmon roe
Instructions
For Gravlax:
Place salmon on a large sheet of plastic wrap. Mix pepper, maple syrup and salt together in a small bowl and rub all over the top of the salmon. Toss dill, fennel and lemon zest together and place on top of the salt/sugar mixture on salmon. Drizzle the gin over the salmon. Wrap the salmon tightly so the juices won't leak out. Place on a rimmed baking sheet or large plate in the refrigerator. Allow to sit in the refrigerator for approximately 36 hours. Remove salmon from the refrigerator, open up the plastic wrap and scrap off the seasonings (some will adhere to salmon and that's ok). Wipe salmon with a damp paper towel. Either slice paper thin against the grain for traditional gravlax or cut into cubes as directed for the Gravlax Martini.
Gravlax Martini:
In a medium bowl combine the cucumber, red onion and avocado. Drizzle with the fresh lemon juice and dill. Season to taste with salt and pepper. Toss to combine. Divide mixture evenly between small martini glasses. Top with a tablespoon or so of the cubed gravlax. Dollop with a teaspoon of creme fraiche or sour cream and garnish with the finger lime caviar", lemon zest or salmon roe. Serve!
Copyright A Communal Table - www.ACommunalTable.com