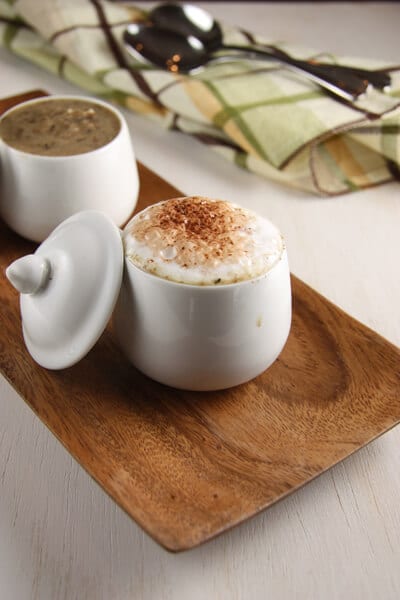 I am honored to be partnering with Share Our Strength in their "Share Our Holiday Table"  progressive dinner party event to raise awareness and funds for "Share Our Strength", an organization devoted to eliminating childhood hunger in the U.S.
Decorations, lights, music.  The hallmarks of this season,  they represent the joy and wonderment of the  miracles we celebrate at this time of year.  As adults, our joy and wonderment no longer come from what is under the tree or the menorah for us, but from what we have placed under that tree or menorah for others. Our joy comes from the act of giving.
We choose gifts that we hope will  create that  sense of wonder and breathless anticipation we knew as  children. One way we do it is through food -whether we are preparing  rich and indulgent dishes, an old family recipe  or  beautifully decorated desserts we make dishes that both surprise and delight,  that elicit those much sought after "oohs and ahhs". This soup is such a dish. Ladled into a cappuccino cup or a mug and topped with foam and a little unsweetened cocoa it is a whimsical and surprising starter that will have everyone guessing - is it dinner or is it dessert?
But I have another gift idea  for recapturing that sense of wonder and breathless anticipation. It's easy to find and doesn't even require a bow.  So what is it? It's a donation to Share our Strength. Sadly, many families at this time of year can't afford to provide basic food for their families, let alone those foods that are part of the joy and wonderment of the holidays. A donation to Share Our Strength is a heartfelt way to give a gift of joy and wonderment to those children  - but also  to yourself and to those you love. To make a donation, all you have to do is click on the "Share Our Strength" button on my website.
[print_this]
Mushroom Cappuccino Soup
Notes: The addition of unsweetened cocoa powder may seem odd but trust me, it really works - the chocolate enhances the earthy characteristic of the mushrooms.
Serves 8 - 10 (depending upon size of serving cup)
¾ lb. assorted wild mushrooms, cleaned and  cut into ¾ inch pieces
¾ lb. cremini mushrooms, cleaned and cut into ¾ inch pieces
4 Tbsp. canola oil
32 oz. low sodium chicken or vegetable stock
1 ½ Tbsp. butter
½ onion, peeled and  chopped
3 shallots, peeled and  chopped
3 garlic cloves, minced
6 Tbsp. madiera
3 Tbsp. flour
½ tsp. freshly grated nutmeg
¾ tsp. fresh thyme, chopped
salt and white pepper to taste
1 cup whole milk
1 Tbsp. unsweetened cocoa powder
Directions:
In a large stockpot, heat half of the  canola oil over medium high heat.
Add ½ of  the mushrooms and cook - do not stir until the bottoms of the mushrooms have browned  and have started to release their liquid - about 4 minutes. Continue to cook until the mushrooms are golden brown and most of the liquid has evaporated, about another 4 minutes.
Remove the mushrooms from the pot and set aside. Heat the remaining oil in the pot and cook the remaining mushrooms. Do not wash the pot.
In a blender, puree ½ of the mushrooms with 1 cup of the stock until smooth. Set puree aside.
In the same stockpot, over medium high heat, add the butter. When the butter has melted, add the onions, shallots and garlic. Saute until the onion and shallots are tender, about 5 - 6 minutes. Add the Madiera and simmer until almost all of the liquid has evaporated - about 2 minutes.
Add the flour and stir until cooked, about 2 minutes. Add the nutmeg and thyme. Season with a little white pepper.
Add the remaining stock and stir, scraping up any browned bits on the bottom of the stockpot. Bring the stock to a boil and reduce to a simmer. Simmer until slightly thickened. Add the reserved mushroom and mushroom puree and cook for approximately 2 minutes until the soup is hot.
Taste and adjust seasonings.
Place milk in a milk frother or, using an expresso machine, foam the milk.
Ladle the soup into capuccino cups or mugs and top with a layer of the milk foam. Dust the top with a little unsweetened cocoa powder and serve.
[/print_this]