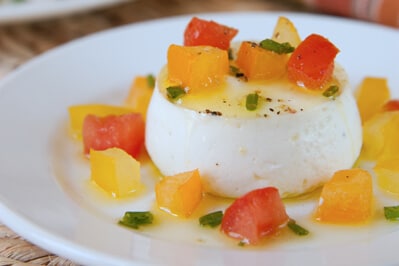 There is a lot to be said for simplicity - especially right now.
Right now it seems my life is moving at a breakneck pace. It's all good, but it's hectic.
My brain is stuffed full and anything that requires complex thought or concentration will, I fear, short out all the circuits. This is not where you want to be when developing and experimenting with recipes for upcoming events. But on second thought, maybe it is. Because if this panna cotta is any indication of what happens when my brain is overloaded then I may just have to work at a breakneck pace more often.
As I said - simplicity has a lot going for it.
6 ingredients.
20 minutes or less to make with a couple of hours to chill.
The result? A cool, creamy and tangy first course or salad that can be served with infinite variations (and yes, I am going to tell you all about them!). This one will definitely be on my menus this spring and summer... and definitely should be on yours!!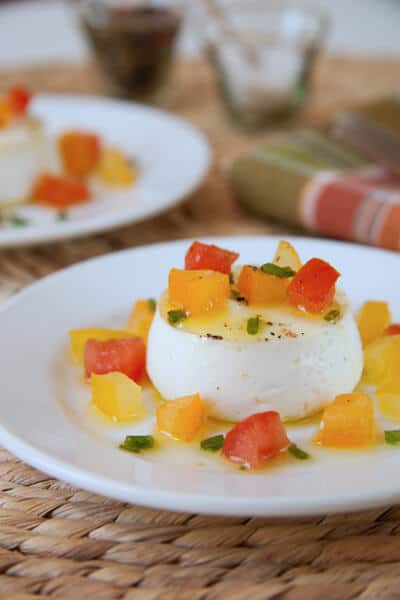 Goat Cheese Panna Cotta - For an appetizer serving, I made these in 2 oz. ramekins. If you don't have 2 oz. ramekins you could make these in a mini muffin tin or even in 4 oz. ramekins. If using the 4 oz. ramekins, fill about ½ inch full which will make approximately 2 servings. This is the basic recipe but experiment with garlic, herbs and spices. To infuse the panna cottas with garlic and/or herbs, place 2 peeled cloves of garlic or 3 sprigs of a fresh herb (thyme, rosemary or oregano would all work well) in a small sauce pan with the milk and warm over low heat. Remove from heat and let steep for 30 minutes and then strain out. Proceed with recipe.

½ cup milk
1 ¼ tsp. unflavored gelatin (or agar agar for vegetarian version)
⅔ cup plain, whole milk yogurt
½ cup goat cheese
ground white pepper
kosher salt
red, orange and yellow tomatoes - 1 each
1 small bunch of chives, sliced ⅛th inch wide
Good quality olive oil (for drizzling)
Directions:
Brush the ramekins with a good extra virgin olive oil.
In a medium saucepan, warm the milk over medium high heat. Sprinkle the gelatin over the milk.
Let gelatin stand until softened, about 5 minutes.
Rewarm the milk over low heat for about 1 - 2 minutes, stirring to dissolve the gelatin.
Remove the pan from the heat and stir in the goat cheese. Stirring until the goat cheese is fully incorporated and no lumps remain.
Evenly divide the mixture between the ramekins. Place the ramekins in the refrigerator and chill for 2 hours or overnight.
To serve, run the tip of a small knife around the edge of the ramekin and invert onto a plate. Garnish with extra virgin olive oil, chives and tomatoes.