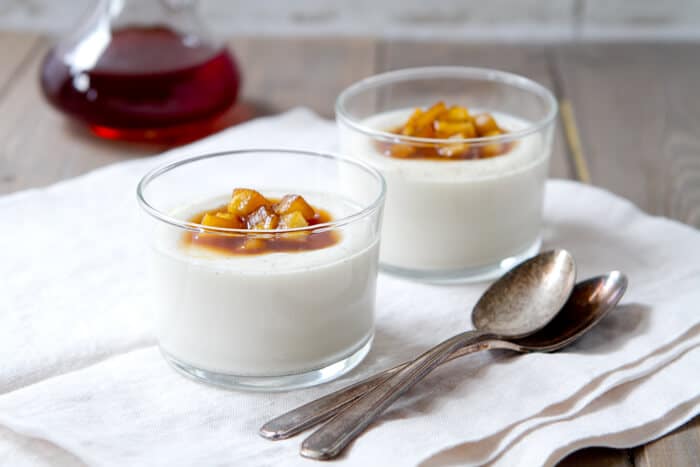 An easy to make fall dessert, this spiced panna cotta with apple cider compote features a delicious syrup that is as great on pancakes as it is in cocktails. A great "alternative" dessert for the holidays!
I love pie. I've always loved pie - sweet, savory, it doesn't matter. Probably has something to do with my celtic heritage - pies after are very popular in English and Scottish cuisine so I come by that love honestly.
And my grandmother made the best pie. Ever.
So what does pie have to do with Cinnamon Spiced Panna Cotta with Apple Cider Compote? Glad you asked!!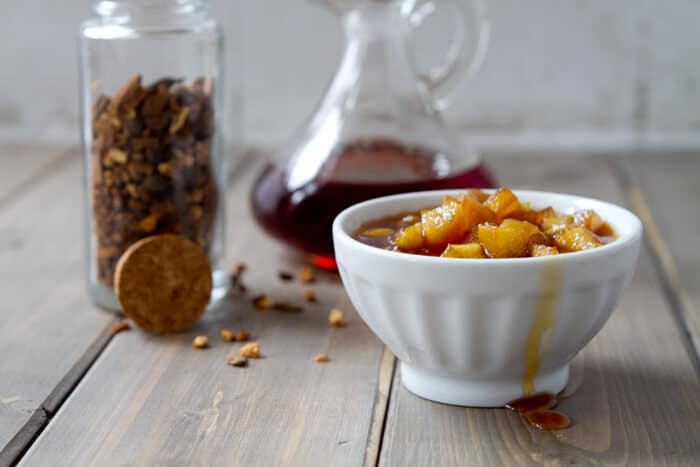 See, despite my absolute and utter adoration of pie I don't like it for Thanksgiving. I know... blasphemy!!!!! But seriously, after the turkey,gravy, the potatoes, more potatoes ('cuz you can't just have one kind, right??), green beans, cranberry sauce, the rolls, stuffing.... need I say more?
Yeah... pastry, filling, whipped cream... pass the alka seltzer.....
Which brings me to this Cinnamon Spiced Panna Cotta with Apple Cider Compote. Because even though I am not a huge fan of pie for Thanksgiving I am a huge fan of dessert... and after my favorite meal of the year I want dessert.
Just not that much of it... which is where Cinnamon Spiced Panna Cotta with Cider Sauce comes in. It's pretty much like having apple pie with ice cream - and without the crust.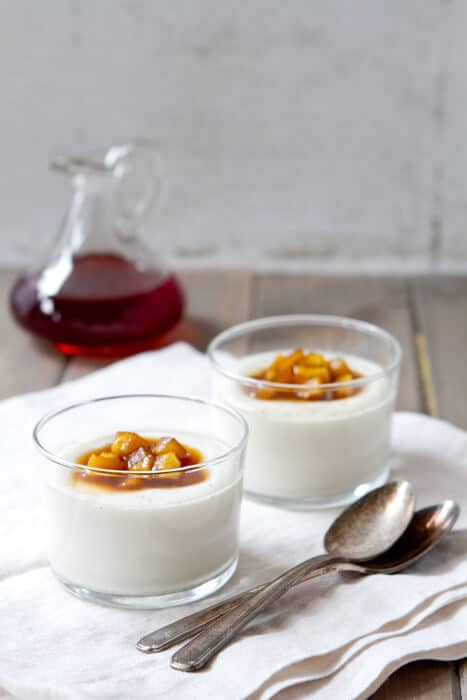 And for Thanksgiving this is exactly what I want - sweet and spicy without a lot of heft. The "secret" to this is the spiced apple cider syrup - which is pretty much something you all should have in your refrigerator this fall.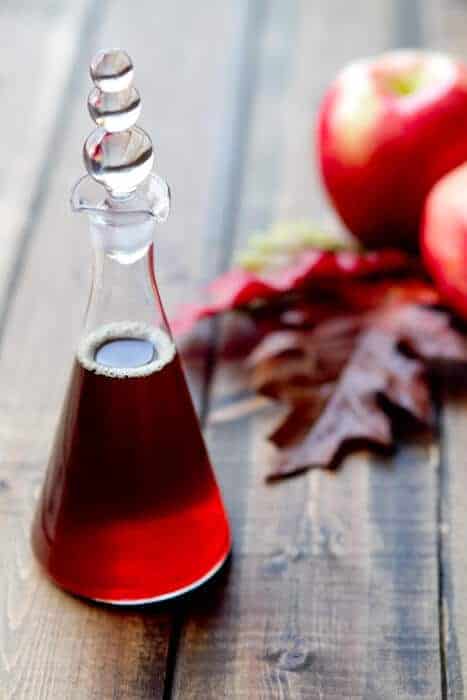 Because not only is it terrific in this Cinnamon Spiced Panna Cotta with Apple Cider Compote, but it is absolutely delicious drizzled over pancakes, waffles and french toast - and it is absolutely fantastic in this sherry based cocktail called Falling Leaves. Which would be a lovely way to start off your Thanksgiving feast.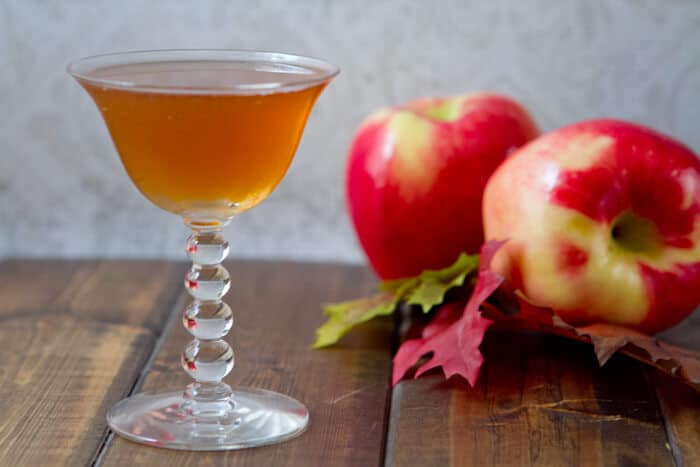 Which brings me my ulterior motive in serving this Cinnamon Spiced Panna Cotta with Apple Cider Compote at Thanksgiving... I don't have to "save room" for pie.....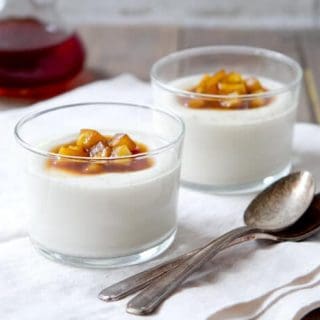 Ingredients
For the Panna Cotta:

2

cups

heavy cream

2

cups

whole milk

½

cup

sugar

2

cinnamon sticks

2

vanilla beans

split OR 2 tsp. vanilla bean paste

2

packets plain gelatin

6

Tbsp.

cold water

64

oz.

plain

filtered apple cider

2

Tbsp.

mulling spices

wrapped and tied in cheesecloth OR use a tea infuser

½

cup

demerara sugar

For the compote:

2

medium sized granny smith apples

peeled, cored and cut into ½ inch dice

2

Tbsp.

unsalted butter

1

cup

Apple Cider Syrup
Instructions
Combine the cream and milk in a medium saucepan. Bring to a simmer over medium heat. Add the cinnamon sticks and the vanilla. Remove from the heat and let sit for 30 minutes to infuse.

Remove the cinnamon sticks and vanilla bean pods (if using) from the cream/milk.

Add the cold water to a small bowl. Sprinkle the gelatin on top and let sit to soften - about 5 minutes.

Re heat the saucepan with the cream/milk mixture until the cream/milk is very warm - not simmering but you want it warm. turn off the heat, remove the pan and add the gelatin. Stir until the gelatin completely dissolves. Divide the panna cotta evenly between 8 small glasses or bowls. Refrigerate for 2 to 4 hours or overnight to set.

In a large saucepan, add the apple cider. Over high heat, bring the mixture to a boil. Reduce to a simmer. Add the mulling spices and simmer for 20 minutes. Remove the mulling spices and bring the apple cider to a boil. Boil for 30 - 40 minutes or until the apple cider is reduced to about 21/2 cups. Add the demerara sugar and stir until the sugar is completely dissolved. Remove from heat and cool. Store in a covered container in the refrigerator.

For the compote:

In a medium saute pan, melt the butter and add the diced apples. Cook for 4 minutes until apples are softened. Add the apple cider syrup. Let cool for 10 minutes.

Spoon a small amount of the compote on top of each panna cotta and serve!
Nutrition
Calories:
570
kcal
|
Carbohydrates:
72
g
|
Protein:
3
g
|
Fat:
27
g
|
Saturated Fat:
16
g
|
Cholesterol:
95
mg
|
Sodium:
88
mg
|
Potassium:
390
mg
|
Fiber:
2
g
|
Sugar:
64
g
|
Vitamin A:
1100
IU
|
Vitamin C:
3.3
mg
|
Calcium:
167
mg
|
Iron:
2.9
mg