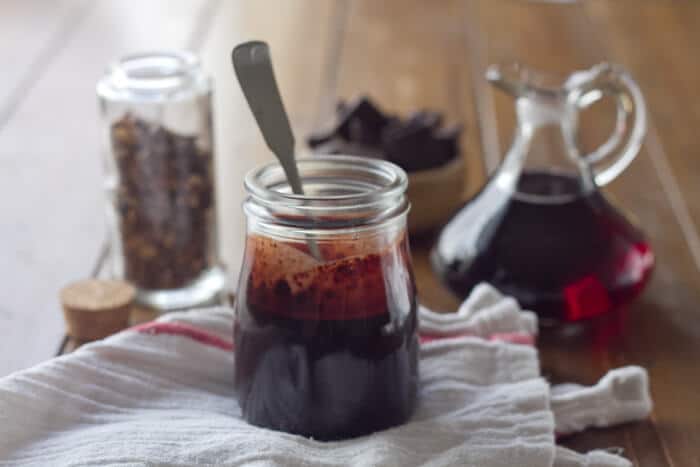 A few weeks ago my friend Diane of Created by Diane posted these Chocolate  Red Wine Cupcakes. Yes, two of my very favorite flavor combinations. In a cupcake. Heaven.
Which of course got me thinking... I know, a dangerous proposition, but there you have it - what about a Cabernet Chocolate Sauce? Having no idea if it would work, I decided to "give it a go". Pulling out my favorite chocolate sauce recipe from David Lebovitz I started tinkering, substituting Cabernet Sauvignon for the water.
After "fudging" around with it a bit, I finally got it right. And I was tempted to grab some vanilla ice cream and eat  it right there and then.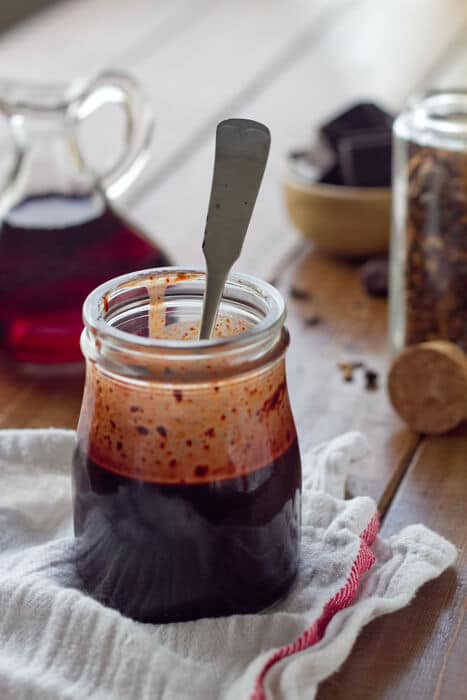 But I didn't.  I saved it, so I could share it with you.
So, you might be thinking one of two things. OMG, this sounds fantastic (and of course you would be right!) or... OMG... this sounds awful - in which case you would could be right  - but only if you don't like red wine and dark chocolate.
And if that is the case, we need to have a chat. Because red wine and chocolate are fantastic. And together? Sublime.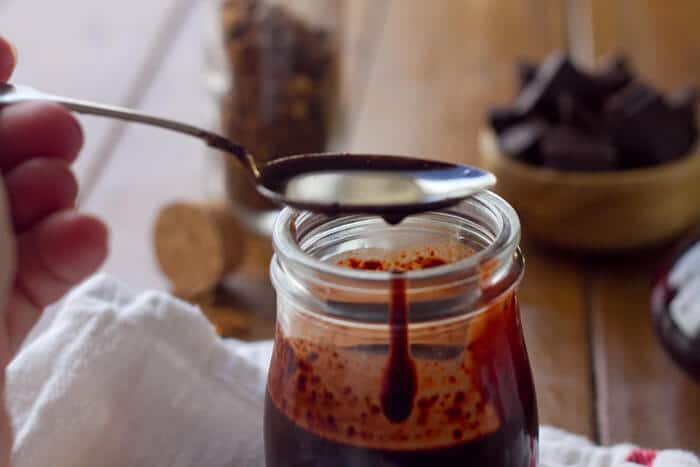 This is a grown up chocolate sauce. Not too sweet, but with a deep, rich chocolate flavor with just enough red wine to round out the flavor and give the sauce a warm, ever so slightly spicy flavor. Poured over vanilla ice cream, pound  cake or drizzled over profiteroles, this Cabernet Chocolate Sauce is just the thing to have in your fridge to "gussy up" a simple dessert. Or just to dip your spoon in after a tough day. Because in my experience  there is little that chocolate and red wine can't  make better, whether it's in a sauce - or a  cupcake.

📖Recipe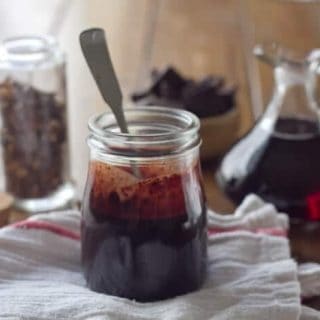 Ingredients
1 ½

cups

Cabernet Sauvignon wine

½

cup

granulated sugar

2

Tbsp.

mulling spices wrapped and tied in cheesecloth

½

cup

dutch process cocoa

½

cup

light corn syrup

2

oz.

dark

70% cacao bittersweet chocolate, chopped
Instructions
Combine the wine and sugar into a small saucepan. Stir to combine. Add the mulling spices and heat over medium high heat and bring to a simmer. Simmer for 5 minutes. Remove the mulling spices. Add the cocoa and corn syrup and whisk until the mixture is smooth and simmer for 2 minutes. Remove from the heat and stir in the chocolate. Let cool. If not using right away, refrigerate for up to 2 weeks.
Nutrition
Calories:
752
kcal
|
Carbohydrates:
142
g
|
Protein:
5
g
|
Fat:
4
g
|
Saturated Fat:
2
g
|
Cholesterol:
0
mg
|
Sodium:
73
mg
|
Potassium:
654
mg
|
Fiber:
9
g
|
Sugar:
117
g
|
Vitamin A:
40
IU
|
Vitamin C:
3.5
mg
|
Calcium:
154
mg
|
Iron:
6.7
mg