If you have been searching for the best Braised Short Ribs recipe - you've found it. These Braised Short Ribs with Fingerlings, Bacon and Pearl Onions are, hands down, the BEST short ribs I've ever had!!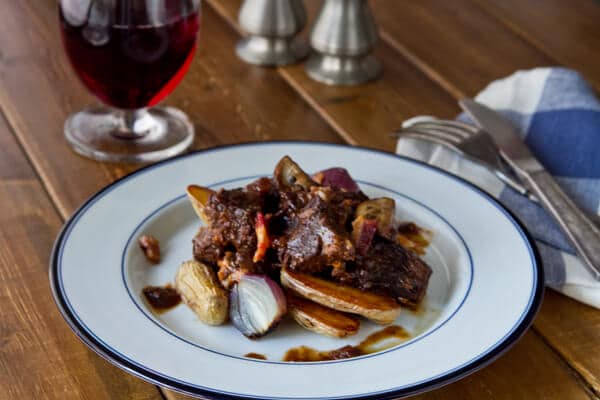 I found it.
I've been searching for years and I finally found it... the holy grail.
Not the "real" holy grail of course - but in the world of cooking and entertaining, these provide their own version of salvation.
The perfect winter entertaining dish. It does exist, these Braised Short Ribs with Fingerlings, Bacon and Pearl Onions.
And this weekend I just made them again, proving to myself this was no fluke.
I hope, after reading this blog you know that I don't say those things lightly. When it comes to food, I have a hard time terming anything "the best" - I am pretty much an "equal opportunity eater". I generally like all (ok, not ALL but most!) variations of dishes. But in this case, these braised short ribs are so far above any other recipe for short ribs I've made (and I have made a lot!) that I think they deserve the title. These are tender and meaty and covered in a luscious sauce surrounded with fingerling potatoes, mushrooms and pearl onions. Oh, and did I mention that bacon is also involved and um... a bottle and half of wine?
Five Reasons why these Braised Short Ribs are the best for parties!
You really should make them a day ahead.
They are easy to eat - no bones to have to cut around!
You can get all the ingredients in a well stocked grocery store. Amen.
They are rich and indulgent.
And because they're rich and luscious, everything else you serve as part of the meal (appetizer, salad, dessert) should be simple.
So, what do you serve with these Braised Short Ribs?
Greens, Endive, hazelnut vinaigrette
Braised Short Ribs with Fingerlings, Bacon and Pearl Onions
Profiteroles with Vanilla Ice Cream and Chocolate Sauce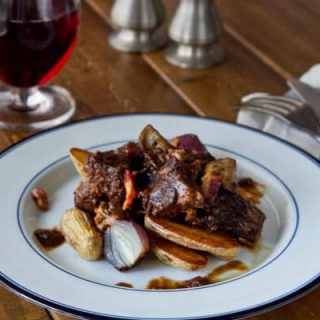 Ingredients
4

pounds

boneless beef short ribs

2

Tablespoons

vegetable oil

1

medium onion

diced

3

shallots

diced

10

garlic cloves

peeled and chopped

3

large tomatoes

cored and roughly chopped

3

stalks celery

sliced into ¼ inch pieces

¼

cup

tomato paste

1

bay leaf

2

cups

sauvignon blanc

1 750

ml

bottle cabernet sauvignon

2

quarts

low salt beef stock

2

Tablespoons

soy sauce

10

oz.

fingerling potatoes

4

oz.

bacon

cut into ¼ inch crosswise strips

6

oz.

pearl or cippoline onions

2

Tablespoons

olive oil

1

Tablespoon

butter

6

oz.

wild or cremini mushrooms

1

bunch fresh thyme

optional

truffle oil

optional
Instructions
Pre heat the oven to 400 degrees.

Pat beef dry and season lightly with pepper. Don't salt the beef since both the bacon and stock have salt!

Heat 2 Tablespoons vegetable oil in a heavy bottomed 8 quart dutch oven over medium high heat.

Sear the meat, in batches until deeply browned on both sides.

Remove beef and set aside on a rimmed baking sheet.

Add onions and shallots to the pot and cook until vegetables are lightly brown.

Add garlic - do not brown garlic - reduce heat if necessary.

Stir in tomatoes, celery, tomato paste and bay leaf.

Cook for 1 -2 minutes, stirring constantly.

Add the white wine and red wine, scraping the bottom of the pan to get all the browned bits.

Add the stock and the soy sauce and stir to combine.

Add meat and accumulated juices back into the pot and bring to a simmer.

Place in the 400 degree oven, uncovered, for 1 hour.

While beef is cooking, place bacon on a sheet pan.

Place in the oven until the fat has rendered, about 5 to 10 minutes.

Add the sliced fingerlings, pearl or cippoline onions and toss in the bacon fat.

Return the sheet pan to the oven and cook for approximately 5 - 10 minutes until the bacon, potatoes and onions are nicely browned.

In a medium sized skillet heat the 1 Tablespoon butter over medium high heat.

Add the mushrooms and saute until the mushrooms are nicely browned.

After 1 hour, reduce the heat to 350 degrees and cover the pot.

Cook for an additional 1 ½ hours.

Remove the ribs from the oven.

Remove the meat and vegetables and degrease the sauce as necessary.

Bring the sauce to a boil and reduce to approximately 3 cups.

Return the meat the the pan and add the bacon, onions and potatoes to the pot.

Taste and adjust the seasonings.

To serve, spoon the sauce over the meat and vegetables in large, shallow bowls and top with the mushrooms.

Drizzle with truffle oil if desired and garnish with fresh thyme.
Recipe Notes
This is a wonderful dish to make ahead - which I recommend!! Complete through reducing the sauce. Then cover the pot and refrigerate, packaging the potatoes, onions and bacon separately. When you want to serve, pull the pot out of the oven and let sit at room temperature for 1 hour. Re heat in a 350 oven until the stew is hot! For the vegetables, I like to re heat these of a separate sheet pan and add to the serving dish so the vegetables don't become waterlogged. The mushrooms can be done ahead, but I prefer to cook them the day I plan to serve the dish. You can serve this "as is" with crusty bread or over a celery root puree which is truly divine!
Nutrition
Calories:
1013
kcal
|
Carbohydrates:
31
g
|
Protein:
70
g
|
Fat:
50
g
|
Saturated Fat:
21
g
|
Cholesterol:
195
mg
|
Sodium:
1412
mg
|
Potassium:
2477
mg
|
Fiber:
4
g
|
Sugar:
8
g
|
Vitamin A:
825
IU
|
Vitamin C:
27.1
mg
|
Calcium:
103
mg
|
Iron:
8.9
mg
Save