We are interrupting our normally scheduled programming to bring you .... cookies.
I know, I know,  they don't exactly go with the appetizers I posted last week - but no worries, I have some wonderful dishes to go with those appetizers coming up - so stay tuned!
So, why am I posting about cookies? Well, beyond the fact that no one needs an excuse to talk about cookies I do have  a better reason - the 2nd Annual  Food Blogger's Bake Sale!!! On Saturday, MAY 14th, food bloggers FROM ALL OVER THE COUNTRY are hosting bake sales - bringing out their most delicious and creative treats to raise money for Share our Strength, an organization dedicated to eradicating childhood hunger in the United States. Between the economy and the recent storms in the south, the need has never been greater - and neither has the compassion of Americans  ready to lend a hand ... and if that hand happens to be grasping a home baked treat - all the better!!!
So, what can you do? The answer of course is LOTS!! Click on the links above  to learn more about a bake sale in your area and for a few dollars you can  not only help out America's children but also  sample some of the best darn baked goods on the planet!! Now really, does it get ANY BETTER than that???
Now, if you can't get to a bake sale not to worry!!  You can still support the Bake Sale by making a donation!! Big, small, it doesn't matter - every little bit helps! Which of course, brings me back to .... the cookies, or Anzac biscuits to be exact.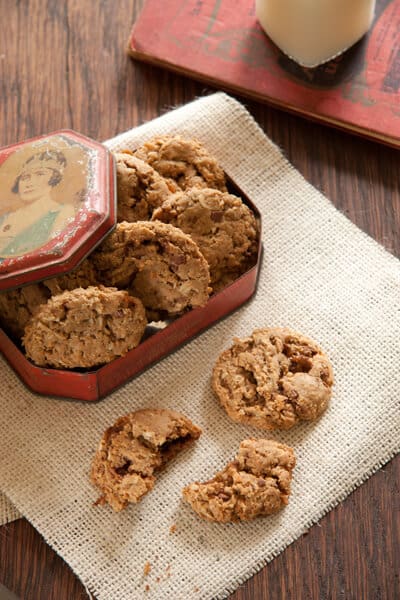 I chose these cookies for a couple of reasons. One, because I have made 5 6 batches of these.. and haven't gotten a photo yet - they went that quickly. Considering that my family doesn't like coconut this was amazing, so I figured these cookies had to be good. The second reason has to do with the cookies themselves. These biscuits (or cookies as we call them!) were developed in Australia during the First World War. The wives, mothers, sisters and daughters of Australia's fighting men developed these cookies to send to them - a way to express their love and concern in one of the most basic of ways - by providing food.  So, on May 14th, bloggers from all over the country will be doing the same thing - helping to feed America's neediest children via our bake sale proceeds...  and I'll be there  selling these  Anzac "Biscuits."
Oh, and if you don't care for coconut either, I'll also be selling a Tequila Spiked Caramel Corn......
Now, if you aren't in the LA area, I have started a list of other bake sales and will be updating it as they become available!!
[print_this]
Anzac Biscuits - I added crushed candy bars to these but they would also be good just as they are or with raisins, chopped dates and/or nuts! If you can find Lyle's Golden Syrup (generally available at stores like Gelson's, etc.) I really recommend it. Lyle's is basically a cane syrup and imparts lovely caramel flavors! if you can't find it, not to worry, honey works very well too!!

(makes about 2 ½ dozen cookies)
1 cup flour
½ tsp. baking soda
1 cup old fashioned rolled oats
1 cup dark brown sugar
½ cup shredded coconut
¼ cup butter, melted
3 Tbsp. hot water
2 Tbsp. Lyle's Golden Syrup or honey
½ cup crushed Heath or Skor candy bars (optional)
Directions:
Pre heat oven to 325 degrees.
Place butter in a small saucepan and melt over medium low heat.
In a large bowl (or the bowl of a mixer) combine the flour, baking soda, oats, brown sugar and coconut. Mix to combine.
Add the water, golden syrup and butter. Stir or mix until the mixture is thoroughly combined and has a paste - like texture. Stir in the crushed candy if using.
Drop by teaspoonfuls onto parchment lined sheet pans.
Bake for 12 - 14 minutes or until cookies are golden brown at the edges. R
[/print_this]
emove pans from the oven and cool.
Store in an airtight container.