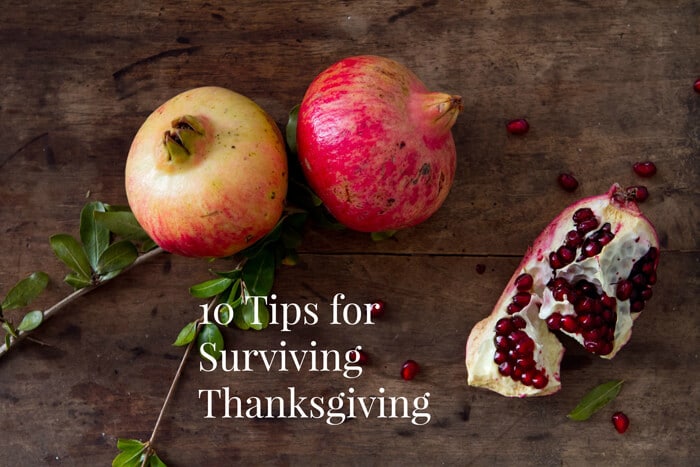 Few holidays are as stressful as Thanksgiving for those who are hosting.  From worrying about the turkey, to stressing over how to get everything done in preparation for the holiday, Thanksgiving can seem more like a curse than a blessing. But it doesn't have to be that way! Here is a list of 10 Tips for Surviving Thanksgiving so that you can enjoy the day and those who are gathered around your table.
 1.  Set your table ahead of time. Pull out your table linens, glassware, dishware and silverware.  Do you have enough? If not, borrow or purchase. Clean/polish as needed.
2. Pull out all the serving dishes and utensils. Do you have enough? If not, borrow or purchase. Label each with a sticky note – that way everyone knows "what goes in what" and can help with serving!
3. Go through all the recipes you are making and make a prep list. If you have three recipes that need chopped onions, include the total for all three recipes in your prep list.
4. Make a schedule. List what time each dish needs to go into the oven and for how long and at what temperature. Then re arrange that  list in chronological order and post this in your kitchen!
5. Take inventory of your pantry and shop for non perishable items this week. Purchase beverages and staples like butter, flour, sugar and eggs.
6. Figure out what you are going to wear!!! Is it clean - does it need to go to the cleaners???
7. Clean out your fridge. Throw out anything that's past it's expiration and if you have a second fridge, move rarely used items into that one.
8. Things like cranberry sauce, pie dough, compound butters and turkey stock can all be made ahead. Make them this week and refrigerate the cranberry sauce and freeze everything else!
9. Stock the bathrooms with extra toilet paper.  Re fill soap dispensers,   wash the guest towels and if you use paper hand towels, make sure you have a good supply.
10. Breathe!!! Remember, the most important thing is not what is on the table, but who is around it. Take a moment to relax and think about all that you have to be thankful for.
Looking for some Thanksgiving Recipe Inspiration??
Check out my Thanksgiving Recipe Index!