This low carb main dish Tri Tip Salad with Bloody Mary Salsa recipe combines tomatoes, greens and olives with a zesty dressing that will satisfy even the most ardent meat eaters!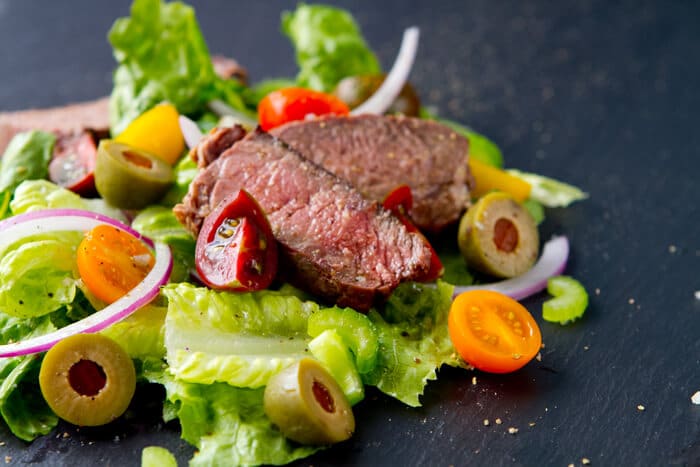 My grill has been working overtime this summer, has yours? Lately, I've been throwing anything and everything on the grill and so I am always trying to come up with new dishes . With three confirmed carnivores in the house, trying to come up with dishes that everyone likes can be a challenge! Through all this exploration, each summer I come up with my "go to meal". It's the one I make for parties and get togethers, something that's hearty enough for the carnivores but with enough vegetables and "plant material" to to satisfy those whose idea of a Saturday dinner is not a side of beef.
This summer it's this Tri Tip Salad with Bloody Mary Salsa. Capitalizing on all those luscious heirloom tomatoes in the farmers markets (or hopefully in your backyard!!) gives the dish fabulous color and the sherry vinegar, worcestershire and horseradish are assertive enough to stand up to meaty cuts like Tri Tip but also works great with other beef cuts – flank steak, rib eyes, t – bones… pretty much any other cut you'd throw on the grill.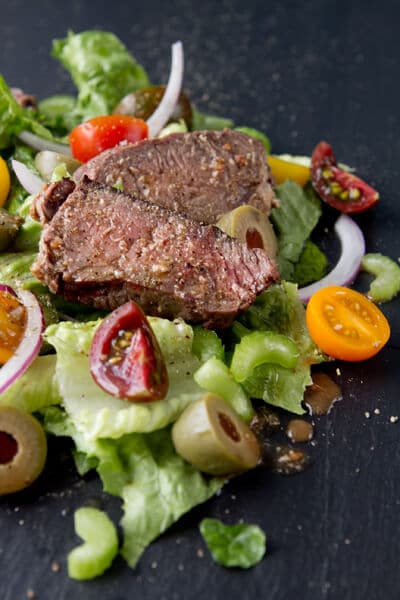 So what makes it a "go to" dish? Ah, let me count the ways! First, with the exception of grilling the meat, all of this Tri Tip Salad with Bloody Mary Salsa can be assembled in advance so it's ideal for camp outs, beach BBQ's, potlucks, etc., etc. It"s also really flexible – for those who don't eat meat, you can just assemble the salad portion and you can add as little or as much meat as you like! Finally, this Tri Tip Salad with Bloody Mary Salsa plays really well with other dishes – grilled potatoes, potato salad, rice salads and sides – which makes planning the rest of your menu really, really easy.
And as I've said, summer is all about keeping it easy!!!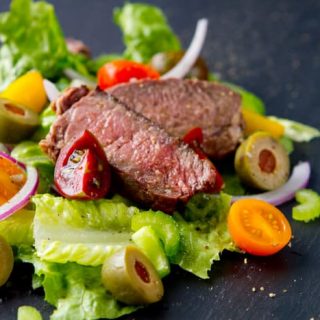 Ingredients
1 - 2

lb

tri tip roast

1

tsp.

salt

1

tsp.

pepper

1

tsp.

paprika

¼

tsp.

cayenne

1

tsp.

garlic powder

½

tsp.

onion powder

Salad:

½

red onion cut into ¼ inch dice

1

pint

baby heirloom tomatoes

halved or 2 cups chopped large tomatoes

1

cup

sliced celery

½

cup

manzanilla olives

sliced

3

Tbsp.

sherry vinegar

1

Tbsp.

worcestershire sauce

2

tsp.

prepared horseradish

1

tsp.

tabasco

1

Tbsp.

olive brine

¼

cup

olive oil

2

heads romaine lettuce

washed, spun and torn into 2 inch pieces
Instructions
In a small bowl, combine the salt, pepper, paprika, cayenne, garlic and onion powder. Stir to combine. Rub over the tri tip and let sit at room temperature for 30 minutes.

In a medium bowl, combine the onion with the sherry vinegar. Let sit for 10 minutes. Add the worcestershire sauce, prepared horseradish, tabasco and olive brine. Stir to combine. Whisk in the olive oil. taste and season with salt and pepper. Add the tomatoes and celery and toss.

Pre heat one side of the grill to high heat. Sear the tri tip on each side - about 5 minutes per side. Reduce the heat to medium and close the lid. Let the tri tip cook for about 25 - 35 minutes or until the internal temperature is 130 degrees for medium rare - the temperature will rise after you remove the tri tip from the grill! After removing the tri tip let it rest on a cutting board for 15 minutes. Slice.

For the salad, place the romaine on a large serving platter. Spoon half of the tomato salsa mixture on top. Top with the tip tip and garnish with the remaining salsa.
Recipe Notes
This is also really good garnished with some crumbled blue cheese!
Nutrition
Calories:
131
kcal
|
Carbohydrates:
7
g
|
Protein:
1
g
|
Fat:
11
g
|
Saturated Fat:
1
g
|
Cholesterol:
0
mg
|
Sodium:
638
mg
|
Potassium:
326
mg
|
Fiber:
2
g
|
Sugar:
3
g
|
Vitamin A:
2080
IU
|
Vitamin C:
13.9
mg
|
Calcium:
34
mg
|
Iron:
0.9
mg