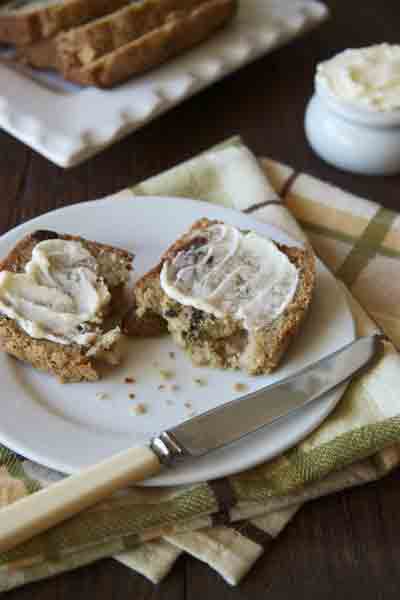 "I got the call today I didn't wanna  hear, But I knew that it would come…"
Don Henley, "The Heart of the Matter"
And come, it did.
My cousin called a few days ago to tell me that my aunt had passed away. It wasn't unexpected –  her mind and  body had been failing in recent months. I was prepared for this, but it still hit me – our hearts it seems, are always slower to accept what our minds know as fact.  I would miss her infectious laugh and her bright blue eyes eyes. I would miss this last connection to my mother. But she had lived a long and very happy life and I know she would not have wanted to continue with what was, at best, a half life.
But this post isn't about loss or grief. It's about Zucchini Bread.
So  what  does all this have to do with Zucchini Bread and why I am posting a recipe for it in the middle of January?
I guess I need to back up a little bit for this to make sense.  Ok, a week or so ago I was really in the mood to make a quick bread. A friend had given me a loaf of cranberry orange quickbread over the holidays and I remembered just  how much I enjoyed them.  Growing up, there was always a loaf of something in the fridge – banana bread, apricot lemon, poppyseed, date nut, etc., etc. It would be fair to say that my mother was a tad obesessed with them… I mean anyone who has a recipe in their collection titled "Granny Franny's Banana -wana bread" must be obsessed right? (and no, I am not making that up.. seriously).  Anyhow, I went through my mom's recipes,  pulled out her recipe for Date Nut bread (which I will post at some point because I honestly think it's the best I've ever tasted) checked the ingredients, wrote down the ones I was missing.  But, with one thing and another the bread did not get made… and then my cousin called.
Whenever I am feeling a bit out of sorts or off balance (and yes, a bit teary too) I cook… or bake. So, I decided to make the Date Nut Bread.  But I had put the recipe away…. so, it was back upstairs to the recipe boxes (yes, you read that right, I have 7 shoe size boxes of my mother's recipes !!) I opened the one with "breads" in it and expected the Date Nut Bread recipe to be right in front.
But it wasn't.
Instead, my aunt's recipe for Zucchini Bread was there, front and center.
Coincidence? Maybe. Or maybe it was just a friendly reminder from my aunt that those things about her that I loved will always be with me.. in my heart and in my memories,  just like her recipe for Zucchini Bread.
Ok, on to what you really are interested in… the Winner of the CSN Stores Giveway!! The Winner is…
Priscilla of She's Cookin'!!!!! Congratulations Priscilla!! I'll email you the details ASAP!!
Here are some other Zucchini Bread Recipes you might like to check out..
Creative Culinary – Zucchini Bread with Brown Butter Cream Cheese Frosting
Two Peas and Their Pod – Zucchini Bread
[print_this]
Zucchini Bread
This recipe makes two loaves and it freezes wonderfully. Note that the batter will be very thick like chocolate chip cookie dough. Don't worry though – the zucchini will release additional moisture to make the bread moist. Also, I did not add nuts to this but it would be delicious with an additional 1 cup of toasted walnuts.
2 cups grated zucchini (about 4 medium)
2 cups sugar
1 cup butter, softened
3 eggs
1 tsp. vanilla
3 cups flour
1 tsp. salt
1/2 tsp. baking powder
1 tsp. baking soda
1 tsp. cinnamon
1/2 cup raisins (I used a mixture of regular and sultana (yellow) raisins
Directions:
Pre heat oven to 350 degrees (if  using a convection oven, pre heat to 325). Grease 2 9 x 5 loaf pans and set aside.
Place the grated zucchini on 3 layers of paper towels to drain.
In a medium bowl, combine the flour, salt, baking powder, baking soda and cinnamon.
In a large bowl, cream the butter with the sugar until light and fluffy. Add in the eggs, one at a time, adding the vanilla with the last egg.
Beat in the flour mixture.
Gather up the zucchini in the paper towels and squeeze to release additional moisture. Stir the zucchini and the raisins into the  batter.
Divide batter evenly  between the two pans. Place in the pre heated oven and bake for 50 – 55 minutes or until a tester inserted in the center of the loaf comes out clean.
Cool on racks. Run a knife around edges of the pan to loosen and turn out. Wrap in saran wrap and foil.
[/print_this]