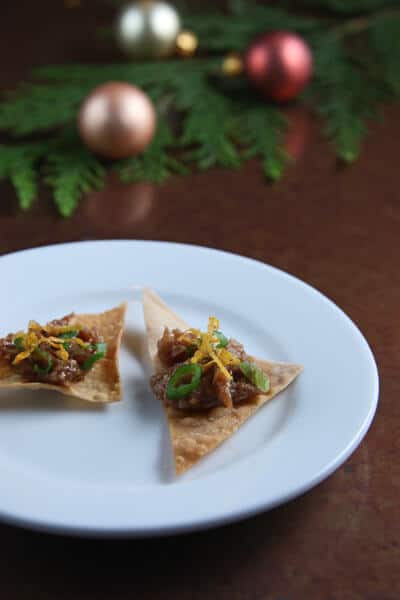 It's getting down to the wire… the "big day" is almost here and I've come down with a terrible case of Obsessive Compulsive Appetizer Disorder. I just can't seem to help myself – I am a tad obsessed with them and this appetizer is so easy and so good I just had to share it!
This all started with a tweet from Erika of In Erika's Kitchen. She was tweeting about this wonderful duck she was roasting … and of course it got me thinking about duck – and nachos. I'd been seriously craving them and then there was the mention of duck and well… what else? Duck confit nachos of course!! I'd bought some duck confit a few days before and it was just sitting in my refrigerator (and yes, this definitely belongs on your list of basics to have on hand during the holidays!). I pulled it out and started playing and came up with this. Tender shreds of duck confit mixed with a little fresh tangerine juice, hoisin sauce and freshly grated ginger. Put it on a wonton chip and garnish with some tangerine zest and thinly sliced scallions – viola an asian inspired nacho!! Don't have any duck confit in your fridge?? No worries – cooked and shredded chicken or pork would also work. Easy, elegant and a little unusual.. what more could you want? Well, maybe that Roasted Duck over on In Erika's Kitchen……
Duck Confit "Nachos
1 pkg. egg roll wrappers
non stick cooking spray
2 cups duck confit (from about 2 duck legs)
1 cup hoisin sauce
1/2 Tbsp. freshly grated ginger
1/4 cup fresh tangerine juice (1 or 2 small tangerines)
3 Tbsp. thinly sliced scallions
Zest from 1 – 2 tangerines
Pre heat oven to 350 degrees. Line two sheet pans with parchment paper and set aside.
Using a sharp knife, cut the egg roll wrappers in half diagonally. Cut each half again to form two large triangles and then cut again to form two more triangles. Cut each triangle in half again – this should give you 16 triangles from each square egg roll wrapper.
Place triangles on the parchment lined pans and spray lightly with cooking spray and season with salt.
Bake in a 350 degree oven for 5 – 7 minutes or until triangles are golden brown and slightly bubbled. Remove from oven and let cool. (These can be made 1 day ahead. After cooling, place in an airtight container and store at room temperature.)
Cut meat off of duck legs and shred. In a medium saucepan combine the meat, hoisin sauce, ginger and tangerine juice. Stir to combine. Heat over medium heat until duck is hot.
Place wonton triangles on a serving platter. Top each triangle with about 1 tsp. of the duck. Garnish with a few slices of scallions and a little of the tangerine zest. Serve.
Notes: This is also lovely garnished with some toasted sesame seeds!!!
[/print_this]