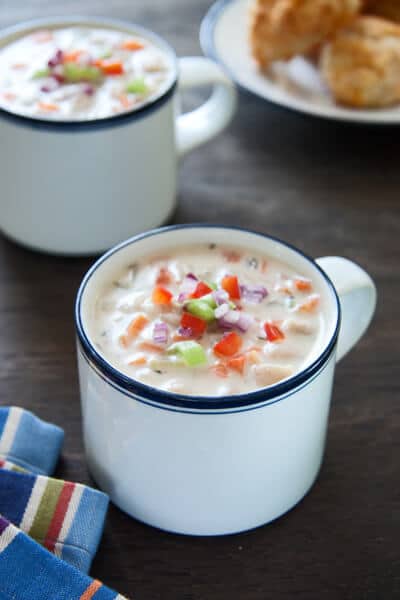 We interrupt our normally scheduled programming to bring you "Soup-a-palooza"!!! The brainchild of Kristen at Dine and Dish and Cheryl at Tidy Mom, today is the day we are celebrating soup, and in my case, White Bean Chowder – and hopefully win some cool prizes from Bush's Beans, Pillsbury,  Hip Hostess and Westminster Crackers.
I don't know about you, but it seems the last 5 months  have been nothing but parties – Halloween, Thanksgiving, Christmas, New Year's, Superbowl and Valentine's Day –  and despite my best intentions, I managed to pick up a few extra pounds and so a wee bit more discipline and attention to my diet is in order – and this is where soup fits in.
Easy to make with infinite varieties, it is a terrific way to get more vegetables in your diet – or in my case legumes – beans to be specific. I've always been a black bean fan, but cannelli beans? Eh…. not my favorites. So, I decided to challenge myself to develop a soup using white beans that I would not only eat but enjoy. This White Bean Chowder  is a riff on clam chowder – I amped up the vegetables and replaced most of the milk with stock. The result? A soup that still has  a rich, satisfying flavor with more vegetables and fiber!
"Come join Soup-a-Palooza at TidyMom and Dine and Dish sponsored by Bush's Beans, Hip Hostess, Pillsbury and Westminster Crackers"
[print_this]
White Bean Chowder
For a vegetarian version of this soup, feel free to use vegetarian bacon and of course use vegetable stock.
(Serves 4)
4 slices thick cut bacon, cut into 1/2 inch pieces
1 cup finely diced red onion
1/2 cup finely diced celery
1/2 cup finely diced carrot
1/2 cup finely diced red bell pepper
1/2 cup dry sherry
1 Tbsp. flour
1 tsp. minced fresh thyme or 1/2 tsp. dried
5 cups  low sodium chicken or vegetable stock
2 – 15 oz. cans white cannelli beans, rinsed and drained
1/2 cup milk or fat free half and half
salt and white pepper to taste
Directions:
In a dutch oven or large soup pot cook the bacon over medium high heat until browned and crisp. Remove from the pot and drain on a paper towel.
Pour out all but 1 tsp. bacon fat. Return pot to medium high heat and add the onions, celery, carrots, and red bell pepper. Saute until vegetables are softened – about 3 minutes.
Increase heat to high and add the sherry – scraping up any browned bits on the bottom of the pan. Cook until almost all the sherry has evaporated – about 4 minutes.
Reduce the heat to medium and sprinkle flour and thyme over the vegetables. Stir and cook for 1 – 2 minutes.
Add the chicken or vegetable stock, stirring and scraping the bottom of the pan. Increase heat to high and bring soup to a boil.
Reduce heat to medium and simmer the soup for about 4 minutes. Add the beans, bacon and the milk or half and half.
Taste and adjust seasonings.
Garnish with additional minced vegetables or fresh thyme if desired.
[/print_this]