Hola!!! While you all have been working hard trying to stay warm this week, I've been working hard too – at the Grand Velas Riviera Maya Resort in Cancun, Mexico attending Food Blogger Camp 2011. But  I'm not  going to talk  about the gorgeous resort, the delicious food or the amazing scenery – and yes, it was ALL that… and so much more.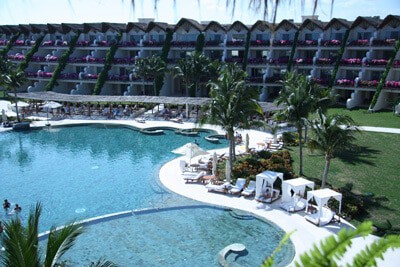 I am also not going to talk about our "fearless" leaders – Jaden Hair , Elise Bauer , David Lebovitz, Diane Cu and Todd Porter , Matt Armendariz and Adam Pearson because there aren't words (that I know of anyway) to accurately  describe how truly talented, amazing and incredibly gracious these people are – the only way to  fully understand this is to read their blogs (or in Adam's case – see his work on his website). If you haven't all I can say is this- do it, and do it now – you will be so glad that you did.
I am also not going to be talking about SEO, Photography and Light, RSS feeds, or any of  the other subjects we covered at camp because well, that is why  I went to Camp and it  would  pretty much amount  to "the blind leading the blind".   So for that information, again you need to be reading the blogs of these gifted individuals and of the other bloggers who attended – I will be  adding links to their posts so check them out! Fellow campers –  leave me your links!!!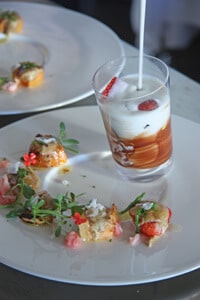 No, what I am going to talk about is what I  found….and about what I learned.
So, what did I find? I found my "tribe".
Since starting this blog almost a year ago, I have attended a few blogger get togethers and a few blogging workshops. The information I gleaned from each of these was invaluable as were the relationships I made with other bloggers. But it was here, at Food Blogger Camp that I truly understood.
I  learned that whether your passion is foodblogging or underwater basketweaving, we all need a" tribe" – to be part of a group that shares a passion equal to our own. A group  that not only doesn't look at you strangely when you whip out your camera to take a photo of the plate that has been put before you, but willingly holds up a napkin to help "bounce the light" for the perfect shot.  A group that  truly appreciates discussing the finer points of  butter – and in this case that would be Kerrygold Butter, our sponsor for Food Blogger Camp.  To be part of group that encourages you and inspires you to be better than you ever imagined you could be – in short, a group that "gets" you.
So, as you emerge from your holiday coma and focus on the year ahead my wish for you is simply  this –  find your "tribe".
And if  you are a food blogger, start making plans now to attend Food Blogger Camp 2012…  come and be part of the "tribe" – you will be so glad that you did!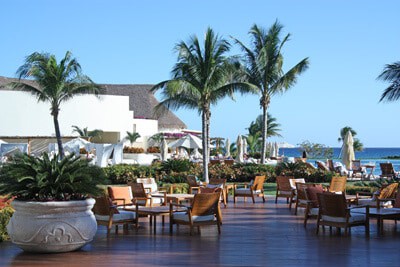 Food Blogger Camp 2011 links
What's Gaby Cooking? Food Blogger Camp – Cancun
David Lebovitz – Food Blogger Camp 2011
Food Woolf – 10 Lessons from Food Blog Camp 2011
Family Fresh Cooking – Food Blogger Camp Riviera Maya
Confections of a Foodie Bride – Food Blog Camp – the Round – Ups
The Urban Baker – Community Across the Globe – Food Blog Camp 2011
SaVUryandsweet – Food Blog Camp 2011 – Day Two
Kitchen Corners – Food Blogger Camp
Frantasticfood – If You Are Happy and You Know It, Eat Foie Gras
Pinch my Salt – What I learned In Mexico
Undercover Caterer –  Escape from Grand Velas
Ladles and Jellyspoons – Food Blog Camp 2011
Mommie Cooks – Food Blog Camp 2011
Kitchen Cunondrum – Food Blog Camp 2011