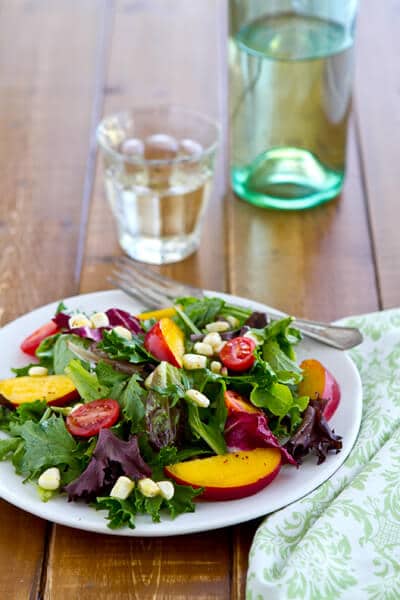 Having a child away at college is a bittersweet experience for a parent. So in early May  I found myself counting down the days until my oldest came home – if  you remember when you were a kid waiting for Christmas to come then you know exactly  what I am talking about.  In anticipation of the "great homecoming" I asked him what foods he'd like me to make/buy when he came home.  I  was expecting the usual –  m and m cookies, his grandma's lemon cake, and of course,  ice cream.
But that isn't what he said.
What he said might just surprise you because it sure as heck surprised me. He told me he wanted "lots of salads and fruit".
After picking up my jaw from the floor  and  doing the "happy dance"  all around the kitchen thinking "yesss… my work here done"!!! I  very casually told him "no problem" and happily stocked the fridge with lots salad ingredients and lots of fruit.
So when I decided to host a gathering for his friends and their families to welcome everyone home from college,  I knew exactly what was going to be on the menu –  salads (and yes, there were steaks and  potatoes – these are, after all, college boys!!) .
But the ones I intended  to make and the ones that  we ended up  serving  were two very different things.
So, in  the interest of passing on what I have learned,  let me pass on a couple  of my best tips for entertaining.
1. Do not throw your back out 24 hours before a big party. It really isn't helpful – doable, yes, but helpful… not so much.
2. Do use Dole Salads (more on this in a bit!).
But as they say, the "show" must go on… and with a little help from the "Buchanan Boys" and Dole salads, it did – and pretty much without a hitch if I do say so myself.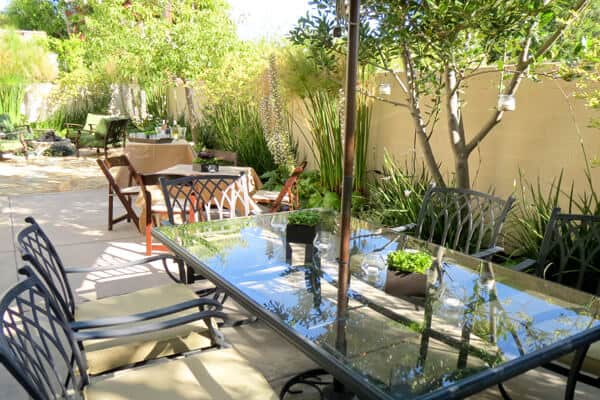 You see, I did follow some of my advice and had most of the food, the dishware, glassware, etc. etc.  already prepped.
Except  the salads.
Under normal circumstances, this could be a  "wee" bit of a problem. "Handy" as my men are, washing and drying salad greens for 30 people is definitely "above" their pay grade and would probably sent them over the edge. But since I had all of these lovely bags of Dole salads on hand, that wasn't necessary. Nope, a quick decision to change  from homemade to purchased salad dressing, a small  change of additional ingredients, and  with some last minute  assembly help from our friends we were in business… or should I say salads??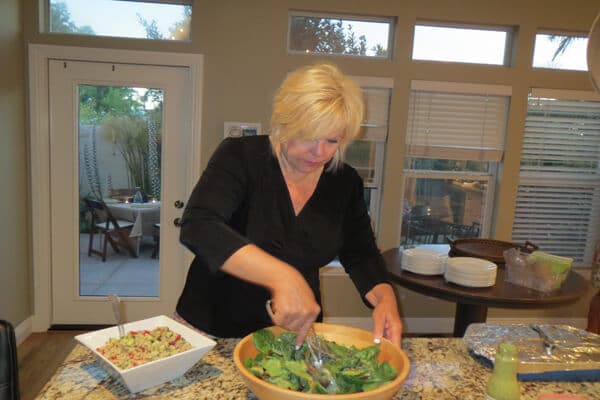 It doesn't matter, because  it was all good… and my "change of plans" salad?? Well,  we went through quite a few bags of Dole salad that night. Although this wasn't the "exact" salad that I'd planned, I would definitely make it again  and am planning on taking this one with us when we go camping in a few weeks and will be sharing that one with you in a future post.
And the salad I planned to make? Here it is … Tomato, Nectarine and Corn Salad!!!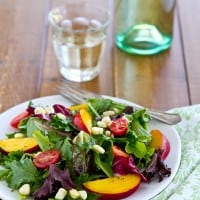 Ingredients
Salad Dressing:

3

Tbsp.

fresh orange juice

1

Tbsp.

white wine vinegar

1/4

tsp.

salt

2

tsp.

agave nectar or honey

2

cloves

of garlic

mashed into a paste

1/2

tsp.

chili powder

4

Tbsp.

corn oil

Salad:

1

bag Dole Extra Veggie Salad with Grape Tomatoes

2

nectarines

pitted and sliced

1

ear fresh corn

kernels sliced off the cob

2

Tbsp.

toasted pepitas or pistachios

1

tsp.

Tajin seasoning

a blend of ground chili pepper and lime optional
Instructions
For Salad dressing: Combine orange juice, white wine vinegar, salt, garlic and chili powder in a small bowl. Whisk to combine. Add agave nectar or honey. Whisk until agave nectar/honey is thoroughly mixed in. Slowly drizzle in the corn oil. Taste and adjust seasonings.

For Salad: Place the salad greens in a large salad bowl. Add the tomatoes and the corn. Drizzle the salad with about half of the dressing and toss. Taste and add more dressing if desired. Divide salad evenly between 4 plates. Top with nectarine slices and pepitas or pistachios. Sprinkle with a little tajin seasoning if desired.
Nutrition
Calories:
240
kcal
|
Carbohydrates:
16
g
|
Protein:
4
g
|
Fat:
19
g
|
Saturated Fat:
2
g
|
Sodium:
612
mg
|
Potassium:
297
mg
|
Fiber:
2
g
|
Sugar:
10
g
|
Vitamin A:
485
IU
|
Vitamin C:
11.4
mg
|
Calcium:
10
mg
|
Iron:
1.1
mg