Happy Spring Everyone!
It's time for another addition of the Sunday Paper – a place where I share tips, tricks and things that I've come across in my travels that I think you might find useful !!
So without further ado, let's get to "the news!"
Trick: Citrus Salt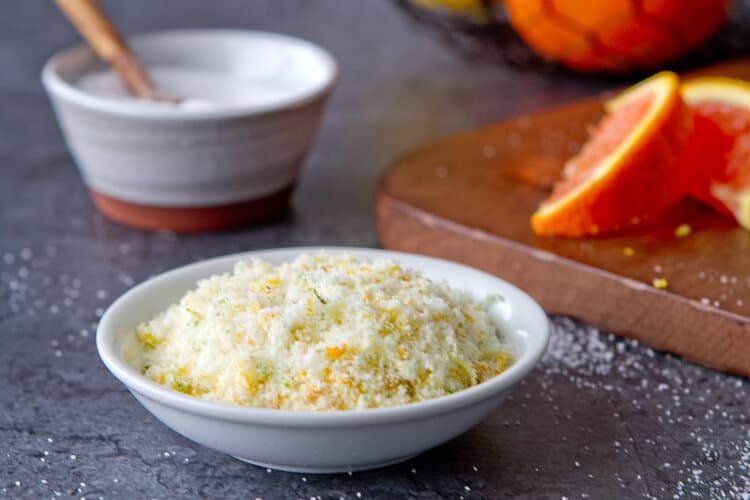 This isn't really a recipe, simply just a "technique" if you will. The other day I made a citrus salt for the rim of my Hisbiscus Margarita. Being somewhat forgetful, I just left the bowl with the citrus zest and salt out. The next day I was cooking some fish and grabbed a large pinch of the citrus salt to season the fish.  I loved the subtle citrus notes this citrus salt added and thought that this citrus salt will now be on my counter permanently!  As for proportions, I've got to be honest- I didn't measure it! I simply grabbed a lemon, an orange and a lime and zested them, added about 1/2 cup salt and mixed and used a portion to rim my margarita glasses.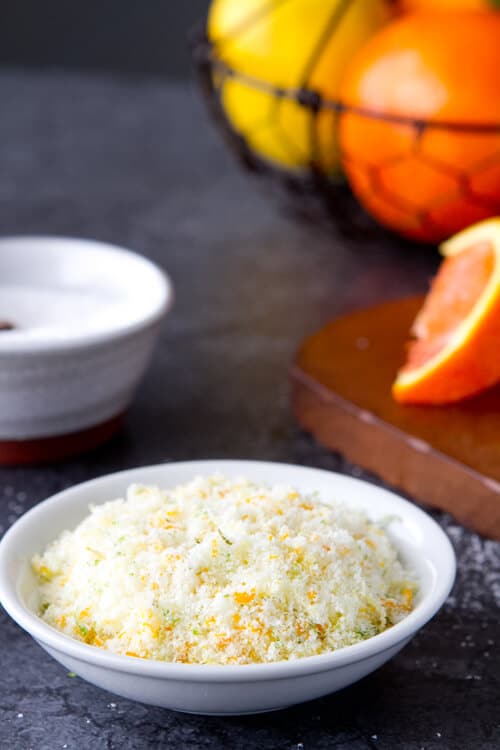 You don't have to mix all the fruits together  if you don't want to – you could make a separate salt for each fruit – but I like 'em all mixed together. With summer grilling season almost here, this is a terrific seasoning to have on hand and a good way to get a little bit more "bang" out of your citrus purchases – just zest the fruit and mix it will salt and put it in a bowl by your stove – that's it!
Stuff I'm loving right now:
That's It Fruit Bars: I recently attended the California Dietetics Conference and was introduced to this fruit bars – and when they say "that's it" they mean it. It is fruit -that's it! These bars were delicious and I loved the fact that fruit is the only ingredient!! I will definitely be stashing some of these in my carry on next month!
Zwilling Pro Paring Knife:
One of the first "real" kitchen knives I had was a Henckel's knife – which I still own and use today. So when I was contacted by Zwilling J.A. Henckel's about reviewing their new line,  Zwilling Pro I said "yes!!!" I have put the Zwilling Pro 3 inch paring knife through it's paces.. peeling and trimming  all kinds of fruits and vegetables and… I love this knife. It fits my hand beautifully and is wonderfully balanced. I found I had  excellent control and comfort which are the two important considerations when purchasing a knife. The blade is made from high carbon stainless steel and has wedge shaped blade with not only provides a very sharp edge but stability for more efficient cutting – two things that are extremely important for knives but especially paring knives. So if you are in the market for a new knife – I would highly recommend you look at the Zwilling Pro series of knives.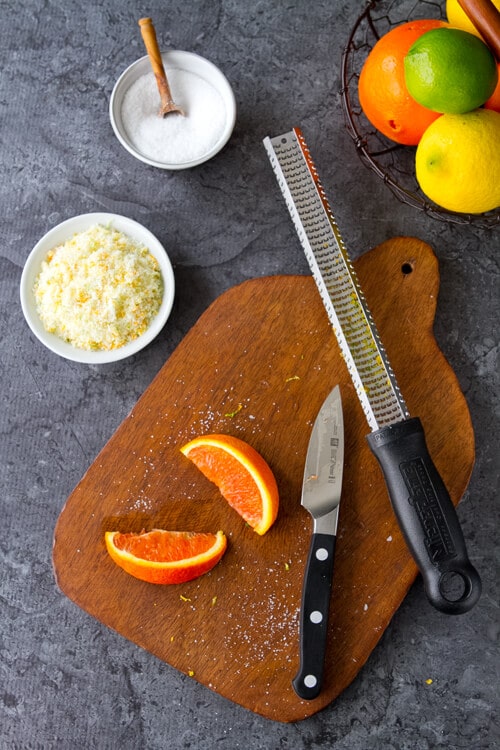 I was provided samples of the That's It fruit bars and the Henckel's knife. As always, all opinions expressed are my own!