Rich, chocolately and decadent, Texas Cake is the the answer when you are craving a frosted brownie. These luscious, moist, chocolate flavor bombs go together in minutes and only need a saucepan – no mixer required!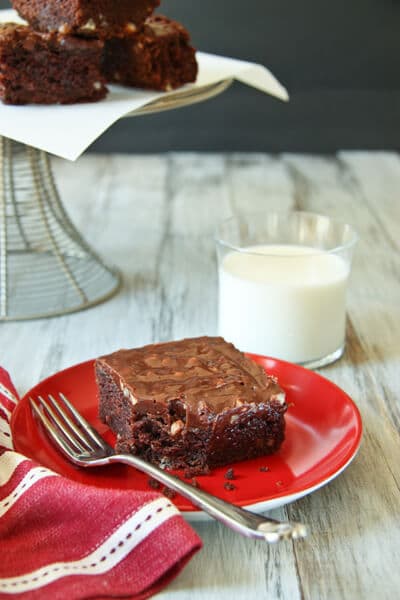 As you are reading this I am on my way to the Lone Star state. Yes, I know – "Dallas, Texas at the end of July – are you crazy"?
The thought has crossed my mind once or twice.
But, this is not a leisure trip but a business one  – the business  being  getting my son launched on his college career (take a breath Mom, he's gonna be fine – you on the other hand – not so much).
So, it's only fitting that I post this – I mean how could I not, right? Texas Cake, along with Chile Con Queso or simply "Queso" are synonymous with Texas… oh, and if you're looking for a good queso recipe, hop on over and try my Chile Con Queso – made with roasted hatch chiles and tomatoes – you'll never reach for that box of Velveeta again!
I'd never thought about posting this recipe , and you'll see why. I've been making this Texas Cake since I first met my husband. He'd grown up with it  and just assumed that everybody made it.
Evidently, "everybody" did not –  so I happily commandeered his copy of the recipe – and then of course I  started assuming that "everybody" made it too.
Well, "Everybody does not" as I learned once again this past week when a friend and his son came by for dinner – a friend of my husband's from high school and a friend of mine from college (yeah, I know life is kinda strange that way, isn't it? But that's a story for another time).
Anyhow, when I was debating about dessert my husband said "you know, you can never go wrong with Texas Cake".
– I thought it would be boring – after all everybody makes it, right? But, having a crisis erupt the day of the dinner   I decided Texas Cake  would be perfect.
After clearing the dinner dishes,  my son wasted no time dishing  out slabs of the cake. As II sat down I glanced over at our friend's son who was scraping his plate clean – and then with a little prompting from me  happily went in for seconds telling his father that " this is really good, we need to get this recipe "!!
Ah hem.
So, since it seems "everyone" does not make Texas Cake I have posted the recipe – and if a certain young man is reading this – this is for you!!!
Texas Cake
This cake is great at room temperature but is even better cold IMO!
Ingredients
1

cup

butter

1

cup

water

2

oz.

unsweetened chocolate

2

cups

flour

2

cups

sugar

1/2

tsp.

salt

1

tsp.

baking soda

2

eggs

1/2

cup

sour cream
Frosting:
1/2

cup

butter

6

Tbsp.

milk

2

oz.

unsweetened chocolate

1

lb.

of powdered sugar

1

tsp.

vanilla

1/2

cup

chopped pecans
Instructions
Pre heat the oven to 350 degrees. Spray a 9 x 13 inch pyrex casserole with cooking spray. Set aside.

In a medium saucepan combine the butter, water, and  unsweetened chocolate. Cook over medium heat until the butter and the chocolate have  completely melted.

Add the flour, sugar, salt, soda, eggs and sour cream to the melted butter/chocolate. Stir well to combine.

Pour batter into the prepared pyrex dish. Bake 25 - 30 minutes until cake is baked through.

Remove from oven.

Frosting:

In a small saucepan combine the butter, milk and  chocolate. Melt over medium heat. Stir in the sugar, vanilla and pecans and mix until thoroughly combined. Pour over warm cake, spreading evenly. Let cool.
Nutrition
Calories:
802
kcal
|
Carbohydrates:
109
g
|
Protein:
6
g
|
Fat:
41
g
|
Saturated Fat:
23
g
|
Cholesterol:
112
mg
|
Sodium:
504
mg
|
Potassium:
188
mg
|
Fiber:
3
g
|
Sugar:
85
g
|
Vitamin A:
19.7
%
|
Vitamin C:
0.1
%
|
Calcium:
5.5
%
|
Iron:
19.4
%