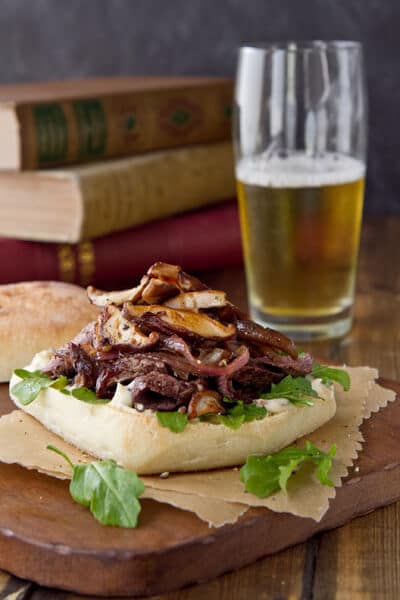 "What do you crave and what food couldn't you live without?" Recently, I was asked this question and, being the food lover that I am, I had to think long and hard about my answer. And after hours (ok, it was more like 10 minutes but when contemplating  a world in which I could only have one food I didn't linger over that horrifying idea) my answer was… bread. But I'm not talking about that pale, white spongy sandwich bread version of childhood.  No, I am talking about hearty, rustic toothsome bread, bread that will hold up to a load of ingredients, that can handle the likes of this Steak, Mushroom and Talera Sandwich.
Ever since Nancy Silverton opened her eponymous bakery on La Brea I've been a fan. Ok, let's be honest here, an obsessive fan (read on to see exactly how obsessive) . I distinctly remember the first time I had La Brea Bakery's  bread – it was  sublime and I honestly recall hearing angels sing because it was that good – a crispy, chewy crust with a tender yet toothsome center .. and the flavor!!!   I'd never had bread that good in my life. But since I lived in Orange County and the La Brea Bakery was in L.A. my opportunities to sample this food of the gods (IMHO) was limited and every trip to L.A. pretty much had to include a stop at the bakery.  So, when La Brea Bakery first began selling their bread outside of the bakery well…. I am here to tell you that dreams do indeed come true!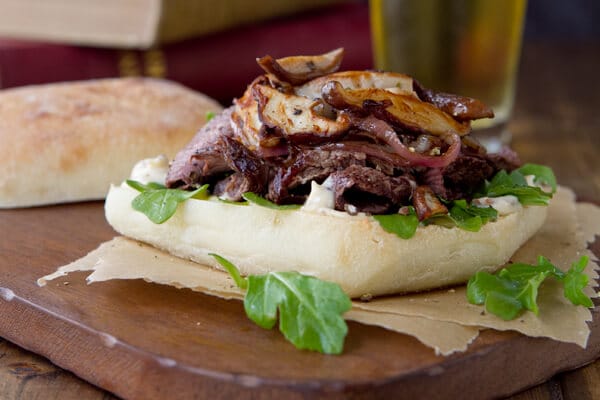 Since that day, La Brea bread has been the bread of choice in our household. Our standard "fast food" meal consists of a store bought rotisserie chicken, spring mix salad greens, a mango, any kind of berry available and a loaf of La Brea's "take and bake" bread. Hamburger buns have been permanently replaced by the Talera rolls and our everyday sandwich bread is the Multigrain Artisan Sandwich bread.
In addition to these bona fides of our fan status, La Brea Bakery's "take and bake" loaves were also included in the Christmas gifts my husband's company sent to their clients.
I think it's safe to say that if La Brea Bakery had a fan club, we'd be charter members. Told you I was a bit obsessed with it, didn't I?
So, when I decided to pen this paean to all things La Brea Bakery I knew I needed something special – this Steak, Mushroom and Talera Sandwich. Based on one of my all time favorite salads (another obsession!) it's made with layers of grilled, thinly sliced flat iron steak,  red onions and shitake mushrooms sauteed with a little olive oil and sherry wine vinegar, arugula and finished with a good slather of a spicy chipotle laced mayonnaise and piled on top of a La Brea Bakery Talera roll.
Obsession has never tasted this good.
Disclaimer: This is NOT a sponsored post. ALL opinions expressed here are my own. I honestly and truly love these products and just wanted to "share the love" with all of you!!
Steak, Mushroom and Talera Sandwich
If you don't have a grill you can cook the steak on the stove in a cast iron skillet. If cooking in the skillet, add a tablespoon of vegetable oil to the skillet and heat until the oil shimmers but isn't smoking. Cook steak as directed.
Print
Rate
Add to Collection
Go to Collections
Ingredients
1 10

oz

or larger! flat iron steak

1 - 8

oz

package shitake mushrooms

1

red onion

peeled, cut in half and thinly sliced

1

Tbsp.

olive oil

2

tsp.

sherry wine vinegar

4

La Brea Bakery Talera rolls

lightly toasted

1

cup

fresh arugula leaves

Chipotle mayonnaise

1/2

cup

mayonnaise

2

Tbsp.

whole grain dijon mustard

1/2 - 1

tsp.

chopped chipotle chiles in adobo

2

Tbsp.

white wine vinegar
Instructions
To make the chipotle mayonnaise: Combine the mayonnaise, whole grain dijon mustard, chipotle chiles and white wine vinegar in a small bowl and whisk to combine. Season with salt and pepper to taste and set aside. Chipotle mayonnaise can be made 3 days in advance and stored in the refrigerator.

For the steak, blot dry with a paper towel. Season with salt and pepper. Grill steak for 3-4 minutes per side over a medium high fire for a medium rare steak (130 - 135 degrees, internal temperature). If you like your steak more well done, cook for an additional 1 - 2 minutes (140 - 145 internal temperature). Remove steak from grill and let rest for 5 - 10 minutes.

While steak is resting, heat a skillet over medium high heat and add the olive oil. Add the onions and the mushrooms and saute until mushrooms are browned and onions are tender - about 4- 5 minutes. Add the sherry wine vinegar and stir to loosen any browned bits on the bottom of pan. Continue to cook until the vinegar evaporates, about 1 minute. Set aside.

Slice steak and assemble the sandwich.

Spread a layer of mayonnaise on the bottom of the Talera roll. Top with about 2 Tbsp. of the arugula. Place about 1/4 of the steak slices on top of the arugula and top with 1/4 of the red onion and mushroom mixture. Add the top of the roll and repeat with the remaining rolls and sandwich fillings and serve!