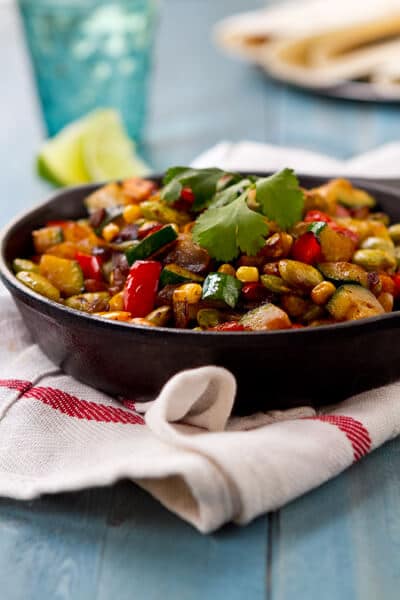 It's no coincidence that February is Heart Health Month.. after all what better month to think about heart health than February  when we celebrate St. Valentines Day – a day dedicated to affairs of the heart!
Heart health is something that is near and dear to my heart, and something that I am very familiar with – my father suffered from heart disease and as a result, I was raised on a "heart healthy" diet. Back then, not nearly as much was known about the relationship between diet and heart health… but as they say, "we've come a long way baby" and today we know even more about the relationship between diet and heart health. In short, the message for heart health is the same as for good health – eat lots of fruit and vegetables, whole grains, low fat dairy and lean protein sources. For most of us, eating more fresh fruit, switching to low fat dairy and leaner meat is pretty easy… its the "getting more vegetables" that  can be a problem… and that is why I love this Southwestern Succotash. It's bursting with peppers, onions, zucchini, corn and lima beans which are sauteed over high heat in a little corn oil…
Wha.. wait a minute, corn oil? Yes, corn oil!! I know, I know you were expecting olive oil, right? For most of us, olive oil is now our "de facto" oil  – we cook with it, drizzle salads with it, dip our bread in it and make desserts with it.  But there are other "heart healthy" oils out there and they definitely deserve a space in your pantry – like corn oil.  So why corn oil?  Well, it has a higher smoke point than either canola or olive oil, making it a perfect oil for high heat cooking –  like this Southwestern Succotash which is cooked over high heat to caramelize the vegetables. Corn oil also is  high in in both monosaturated  and polyunsaturated fats.  Corn oil  also  has high levels of phytosterols which recent studies indicate can help reduce the absorption of cholesterol. Just as eating a wide variety of fruits and vegetables is good for our heart, so is consuming  different vegetable oils – each has a little different mix of fats as well as micronutrients.  But aside from the nutritional benefits, each oil has a slightly different flavor profile  – corn oil is a natural fit with this Southwestern Succotash!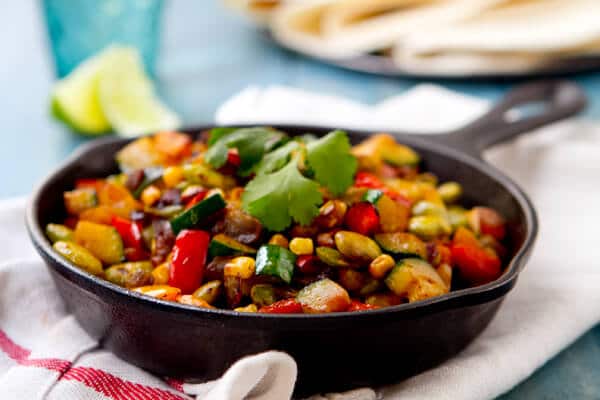 An easy weeknight side dish, this Southwestern Succotash is great with just about anything from the grill or tossed with romaine lettuce for a salad. It also (believe it or not) makes a terrific filling for burritos or quesadillas! It is definitely as easy and tasty way to get those vegetables!
Mazola provided me with the corn oil used in the recipe. All opinions however are my own!
Yields 6 generous servings
Southwestern Succotash
If you like your food a little spicier, feel free to add a couple of drops of tabasco! This is great served as is or with a little dollop of plain greek yogurt on top.
15 minPrep Time
15 minCook Time
30 minTotal Time
Ingredients
2 Tbsp. Mazola Corn oil
1 large red onion, cut into 1/2 inch dice
2 medium zucchini, cut into 1/2 inch dice
1 red bell pepper, cut into 1/2 inch dice
1 orange bell pepper, cut into 1/2 inch dice
1 - 10 oz. package frozen lima beans
1 - 10 oz. package frozen corn
3 garlic cloves, minced
2 tsp. cumin
2 tsp. chili powder
1 tsp. salt
1/4 tsp. pepper
juice of 1 fresh lime
Instructions
In a large skillet (preferably cast iron), heat the corn oil over medium high heat. When the oil is hot (but not smoking!) add the onions and the peppers. Stir the onions and peppers until they begin to color and soften, about 5 minutes. Add the garlic, lima beans, corn and zucchini. Stir to combine and then add the cumin, chili powder, salt and pepper. Continue to stir over medium high heat until the corn, lima beans and zucchini are golden brown. Just before serving, add the lime juice and stir to combine. Taste and adjust seasonings.
7.6.4
176
https://www.acommunaltable.com/southwestern-succotash/