As the birthplace of Disneyland, Apple and MGM many people think that California is ahead of the curve.
I disagree…. at least when it comes to the weather.
While many parts of the country are enjoying a cool tinge in the air and breaking out their sweaters, California had one of it's hottest weeks all summer.  Evidently we didn't get the memo that it's SEPTEMBER  – which means it's supposed to be FALL… pumpkins, sweaters, falling leaves, you know the drill.
Nope, we had temps hitting over a hundred degrees in many places which means…
I wasn't turning on my oven. No way, no how.
But, a girl has got to eat so…..  time to fire up that grill!!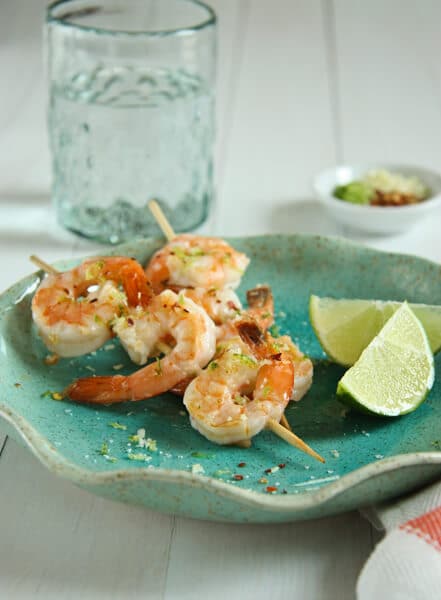 But since it was so hot, steaks, burgers, and even a lovely piece of meaty fish didn't appeal to me. On days like that I go for the "hot weather standard" of my childhood – shrimp.
Growing up, whenever it was hot, my mom would make a huge salad topped with shrimp – and to this day, it is one of my "go to" dishes when the mercury is in the triple digits.
But I wanted something a little spicy (notice a trend here folks? Sorry, I promise to get off my "spicy bender" soon!!)
Cruising through the Donna Hay website, I saw a reference to a spiced salt with lemongrass, lime zest and red chile flakes. Perfect.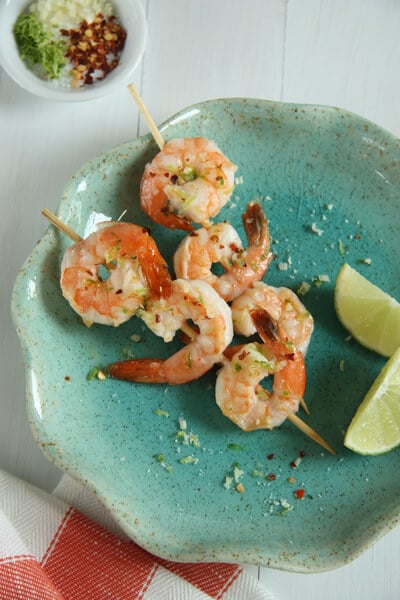 This might be the easiest recipe I have ever posted here at the  Table. Which is a good thing because when the mercury is in the triple digits it's enough of a job  just to stay cool. So the next time temperature heats up (or when you wish it would!)  these skewers are just the thing. They are great on their own or paired with asian style salads, noodles or rice for a quick dinner and also make great before dinner appetizers.
Shrimp with Lemongrass and Chile Salt
Ingredients
Chile Salt

2

Tbsp.

kosher or sea salt

1

Tbsp.

grated lime zest

2

tsp.

chile flakes

1

Tbsp.

finely minced lemongrass

Shrimp:

1

lb.

peeled and deveined shrimp

30/40 count

3

limes

1

Tbsp.

canola oil
Instructions
Soak 10 - 14 small (6 inch) bamboo skewers in warm water.

Combine all of the salt ingredients in a small bowl. Set aside.

Thread 3 shrimp on each skewer (depending upon how many shrimp you have this will give you 10 - 13 skewers)

Pre heat grill to medium high heat. Clean and oil grill.

If using a grill pan, brush pan lightly with canola oil and heat over medium high heat.

Blot shrimp skewers dry with a paper towel. Brush lightly with canola oil.

Grill shrimp 2 - 3 minutes per side until shrimp is pink and slightly opaque in the center.

Remove shrimp from grill and sprinkle liberally with the Lemongrass salt and a squeeze of fresh lime juice if desired. Serve skewers with lime wedges.