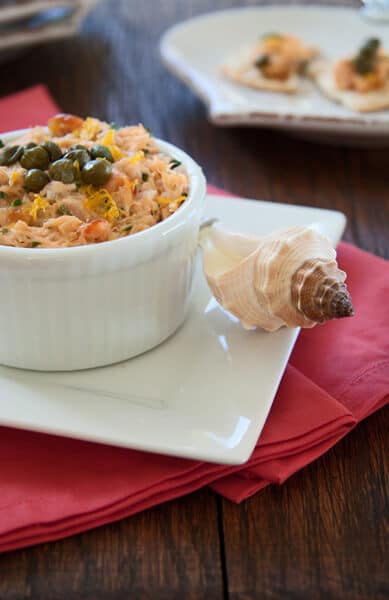 They say that the holidays are the busiest time of the year.
Wrong!!!. Spring is the busiest time of the year –  or at least it is for me.  Between graduations, showers, weddings and birthdays it seems there are very few "open spaces" on the calendar. Which also means less time to spend in the kitchen preparing for said graduations, showers, wedding and birthdays.
But that doesn't mean you can't have fabulous food for those celebrations … and that, dear readers is what my next series of posts are all about! I know when my calendar gets crowded (and my brain!) I don't have time to experiment with new recipes and rely upon my collection of tried and true "go to" recipes – and this recipe is one of them.
So, to "get this party (or parties!!) started" here is a great appetizer – Salmon Rillettes.  I know it's sounds a bit fancy, and even a bit complicated, but Rillettes is just  an elegant  term for what really amounts to a salmon spread. I could go on and on why I think this is one recipe everyone should have in their collection but I'll see if I can keep it to a minimum. To start, the color is gorgeous. Secondly, it's easy to assemble and of  course it can and should be made a few hours ahead – oh, and yeah, it tastes amazing. Paired with a nice glass of bubbly, it's the perfect way to start a dinner party, is equally at home as part of a buffett and travels beautifully.
And let's be honest here… it is way more interesting than cheese and crackers.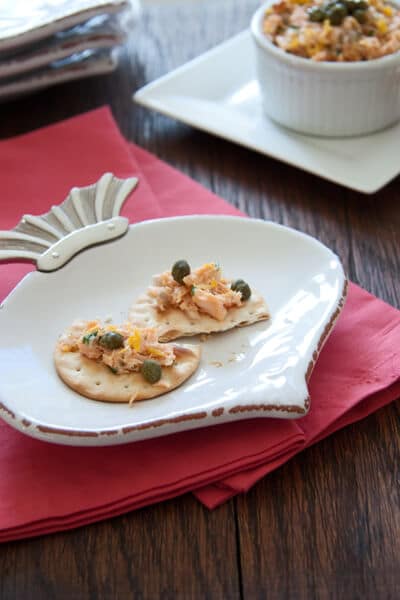 So, what are your favorite, "go to"a appetizers??? Let me know in the comments section – I'd love to hear from you!
Here are some other easy salmon appetizers!!
Salmon, Cream Cheese and Lox Appetizer – WorththeWhisk
[print_this]
Salmon Rillettes
(adapted from Gourmet)
Makes approximately 2 cups
1 1/2 cups water
1/2 lb. fresh salmon fillet
1/2 lb. smoked salmon, finely chopped
6 Tbsp. unsalted butter, softened
1 large shallot, minced
3 Tbsp. minced fresh parsley
2 Tbsp. fresh lemon juice
2 tsp. dijon mustard
2 Tbsp. capers, drained
2 tsp. whiskey
grated zest from 1 lemon
additional lemon zest and capers for garnish
Baguette slices or crackers
Directions:
In a large skillet, place the salmon and add water to cover. Bring water to a simmer and cook approximately 4 – 6 minutes or until salmon is cooked. Remove salmon from the water and cool.
Using a fork, shred the cooked salmon. Place shredded salmon, smoked salmon, butter, shallots, parsley, lemon juice, mustard, capers, whiskey and lemon zest in a large bowl. Season with salt and pepper.  Stir mixture until well combined. Taste and adjust seasonings.
and pack into a serving dish and refrigerate until serving. Garnish with additional capers and lemon zest if desired.
[/print_this]