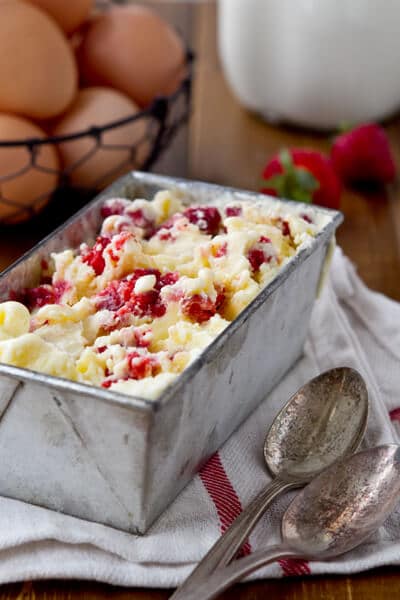 "I can't have dairy, I'm lactose intolerant". Does that sound familiar? Lately it seems everything and everyone is going lactose free for a variety of reasons and as a result, there is a lot of confusion surrounding lactose intolerance. It's a subject I'm very familiar with both personally and professionally. My son C is lactose intolerant – a condition he was diagnosed with as a toddler. As a nutrition professional, lactose intolerance is not only a subject I studied in school  but it's also a subject I teach about in my food and nutrition classes. So, when the National Dairy Council asked if I would be interested in doing a series on lactose intolerance and developing some recipes for people with lactose intolerance I couldn't wait to get started! Over the next few months I'll be doing a series on lactose intolerance – and since this is a food blog those posts will definitely be featuring some new and tasty recipes like this Roasted Strawberry Sherbet that are terrific whether you are lactose intolerant or not!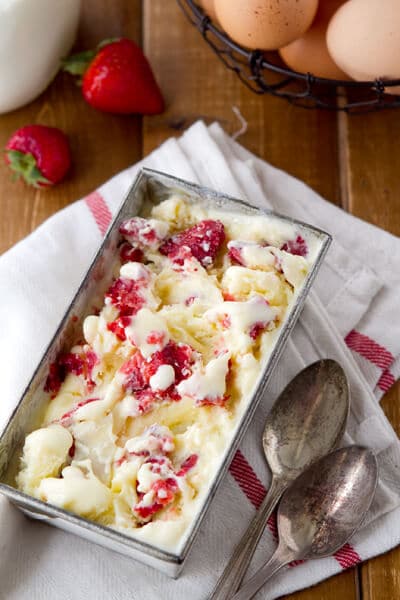 So what exactly is Lactose intolerance?  Simply put, it means the body doesn't produce enough of the digestive enzyme lactase which is needed to break down the lactose contained in dairy products. Symptoms include bloating, gas and diarrhea but unlike food or milk allergies, these symptoms aren't an immune response. They are caused by the growth of intestinal bacteria that is "fed" by the undigested lactose. In general, the symptoms of lactose intolerance aren't harmful, but they definitely are uncomfortable – which explains why so many people who are lactose intolerant avoid dairy. Over the next few weeks, I'll be sharing my experiences dealing with C's lactose  intolerance and what I've learned through the process (such as even if you're lactose intolerant you can have dairy!)  along with tips, tricks and of course recipes!
One thing I have learned though, is that a major challenge for those with lactose intolerance is ice cream – or rather the lack of it! But those days are over because I've got the solution – a lactose free sherbet! Yep, I've been experimenting here at the Table and have to say I am pretty excited about this Roasted Strawberry Sherbet! In fact, I think it's going to be my "ice cream" of choice for the summer months. It's smooth and creamy but definitely lighter than traditional ice cream – and it is delicious with fruit, providing just the right balance to showcase the flavor of whatever fruit you decide to use.
The secret? I used whole lactose free milk and eggs to create a light custard. Since my strawberries weren't at the peak of sweetness, I decided to roast them with a little good balsamic vinegar and then layered them in with the ice cream. To be honest, my family was downright skeptical of this experiment but after one taste, were easily won over!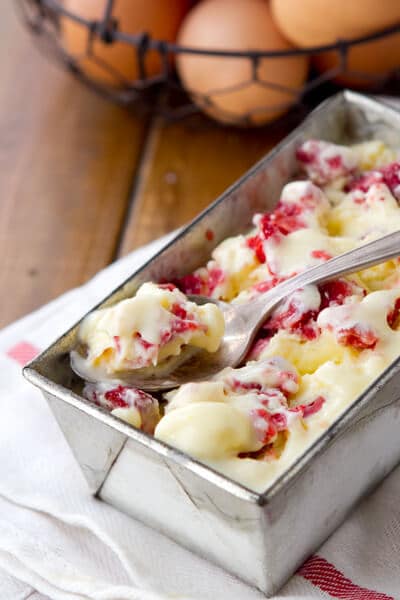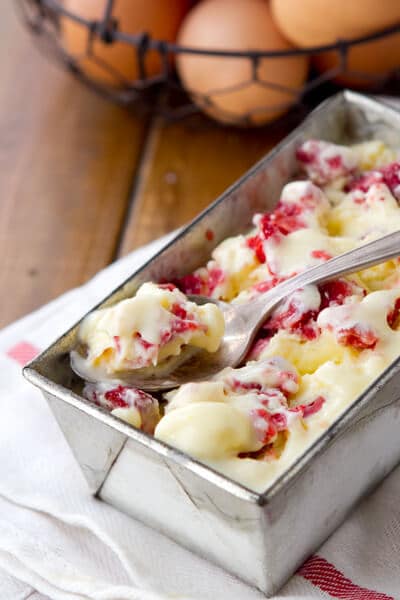 Ingredients
1

pint

fresh strawberries

hulled and cut into halves

3

Tbsp.

good balsamic vinegar

3

cups

lactose free whole milk

5

egg yolks

3/4

cup

sugar

1/4

cup

corn syrup

1

tsp.

vanilla
Instructions
In a large bowl, combine the egg yolks and whisk to combine. In a large saucepan combine the milk, sugar and corn syrup. Heat over medium heat until the milk simmers and the sugar and corn syrup have dissolved. . Remove from the heat Slowly drizzle some of the hot milk into the egg yolks, whisking the egg yolks constantly. Continue to add the milk to the eggs. Pour the egg and milk mixture back into the saucepan and place over medium heat. Cook until the mixture thickens and can coat the back of a spoon. Remove saucepan from heat and chill mixture for 4 hours or overnight.

Pre heat the oven to 300 degrees. Line a sheet pan with parchment paper. Toss the strawberries with the balsamic vinegar and spread on the sheet pan. Roast in the oven for 20 minutes or until the stawberries are tender and and the balsamic vinegar has evaporated. Remove from the oven and cool.

Fill your ice cream maker with the cold milk/egg custard and churn according the the manufacturers instructions. Either add the strawberries to the mixture in the last minute or so of churning or layer it into the container you are going to store/freeze the sherbet in.

Freeze sherbet for about 1 hour before eating.
Recipe Notes
When frozen the sherbet will be much harder than ice cream - let it sit out for about 5 - 10 minutes to soften so you can scoop it!
Nutrition
Calories:
294
kcal
|
Carbohydrates:
50
g
|
Protein:
7
g
|
Fat:
8
g
|
Saturated Fat:
4
g
|
Cholesterol:
175
mg
|
Sodium:
71
mg
|
Potassium:
306
mg
|
Fiber:
2
g
|
Sugar:
47
g
|
Vitamin A:
425
IU
|
Vitamin C:
46.4
mg
|
Calcium:
174
mg
|
Iron:
0.8
mg