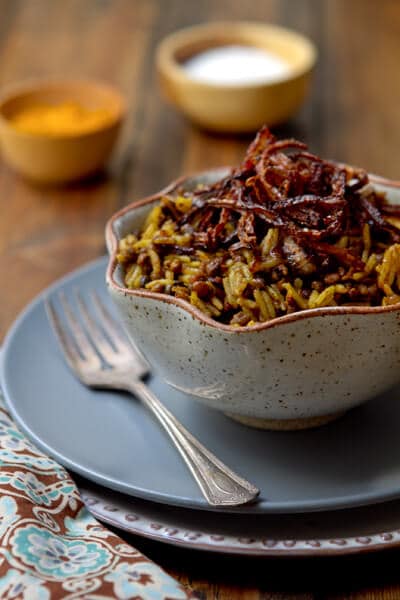 This vegan Rice with Caramelized onions and lentils recipe is an easy, weeknight main dish pilaf you'll crave all winter long.
Oh, baby it's cold outside!" Ok, so it's in the low 50's which I know for some of you is considered "shorts weather" but for us "hot house flowers" here in Southern California that is COLD!!! Which of course means …hearty comfort food. So in keeping with my New Year's plan to eat more vegetables and more nutrient dense food, this Rice with Caramelized Onions and Lentils is perfect. Easy on both the wallet and waistline it's also quick to prepare, which is a must for a busy weeknight… and if you use these convenient steamed lentils , it's even faster!
I'd love to take credit for creating this dish, but it's an ancient dish – the Middle Eastern version of rice and beans. Like most common dishes, it goes by a variety of names – Mejadra, Megadarra and Mujadara to name a few and the choice of seasonings is just as varied- some have garlic, cumin and lemon, others include the sweeter spices of cinnamon and allspice. But whatever you choose to call it, this Rice with Caramelized Onions and Lentils is delicious and a dish I think everybody should have in their recipe file. It's easy and quick to make, its reheats beautifully and is has plenty of protein and fiber which makes it a perfect vegetarian main dish.
And speaking of vegetarian I am teaching a vegetarian nutrition class this semester so you may be seeing a few more vegetarian dishes here at the Table!
Rice with Caramelized onions and Lentils
I like to use both the ready to eat steamed lentils and dried lentils and prefer the lentils du puy (french green lentils). Although a bit harder to find, the french green lentils stay firm after cooking - look for them in health food stores and specialty grocers
Print
Rate
Add to Collection
Go to Collections
Ingredients
1 1/4

cups

brown or green lentils OR 1 pkg. Melissa's Steamed Lentils

4

medium onions

peeled and thinly sliced

3

Tbsp.

flour

1

cup

canola oil

2

tsp.

cumin seeds

1 1/2

Tbsp.

coriander seeds

1

cup

basmati rice

2

Tbsp.

olive oil

1/2

tsp.

ground turmeric

1 1/2

tsp.

round allspice

1 1/2

tsp.

cinnamon

1

tsp.

sugar

1/4

tsp.

white pepper

1 1/2

cups

water
Instructions
If using dried lentils, place lentils in a medium saucepan and cover with water. Bring lentils and water to a boil and cook for 12 to 15 minutes or until the lentils have softened but are still firm to the bite. Drain, rinse with cold water and set aside.

Line a colander with a couple of paper towels and set aside.

Place the sliced onions on a plate and sprinkle with the flour and 1 tsp. of salt, mixing well with your hands until the onions are evenly dusted with the flour (they will get a little gummy and thats ok). In a large saucepan, heat the canola oil over high heat until it is hot. Test the oil by placing a small piece of onion in the oil. If it sizzles and bubbles then the oil is hot enough! Place a large handful of the onions in the oil and reduce the heat to medium high - you want the onions to sizzle but not burn. Fry for 5 to 7 minutes or until the onions are golden brown. Using a slotted spoon, remove the onions from the oil and place in the paper lined colander. Repeat with the remaining onions. Sprinkle onions with a little salt and set aside.

Pour out the remaining oil from the saucepan and add the cumin and coriander seeds. Cook over medium heat for 1 to 2 minutes to toast the seeds - being careful not to burn them! Add the rice, olive oil, turmeric, allspice, cinnamon, sugar, white pepper and a large pinch of salt. Stir to coat the rice with the oil. Add the water and the lentils. Bring the mixture to a boil, cover with a lid and reduce the heat to a simmer. Simmer for about 15 minutes, until the rice is tender and the water has been absorbed. Remove the pan from the heat and remove the lid and cover the pan with a clean dishtowel and place the lid back on top - let sit for 10 minutes. Remove the lid and the towel and add half of the fried onions. Stir to combine. Taste and adjust seasonings. Serve on individual plates/bowls or in a large serving dish topped with the remaining onions.
Recipe Notes
Adapted from Yottam Ottolenghi's New Cookbook - Jerusalem.
I like to use both the ready to eat steamed lentils and dried lentils and prefer the lentils du puy (french green lentils). Although a bit harder to find, the french green lentils stay firm after cooking - look for them in health food stores and specialty grocers
Nutrition
Calories:
321
kcal
|
Carbohydrates:
51
g
|
Protein:
8
g
|
Fat:
10
g
|
Saturated Fat:
1
g
|
Cholesterol:
0
mg
|
Sodium:
13
mg
|
Potassium:
402
mg
|
Fiber:
7
g
|
Sugar:
4
g
|
Vitamin A:
20
IU
|
Vitamin C:
7.3
mg
|
Calcium:
97
mg
|
Iron:
4.2
mg